Kluber just one of the guys? Yeah, right
Indians ace modest in demeanor, detailed in preparation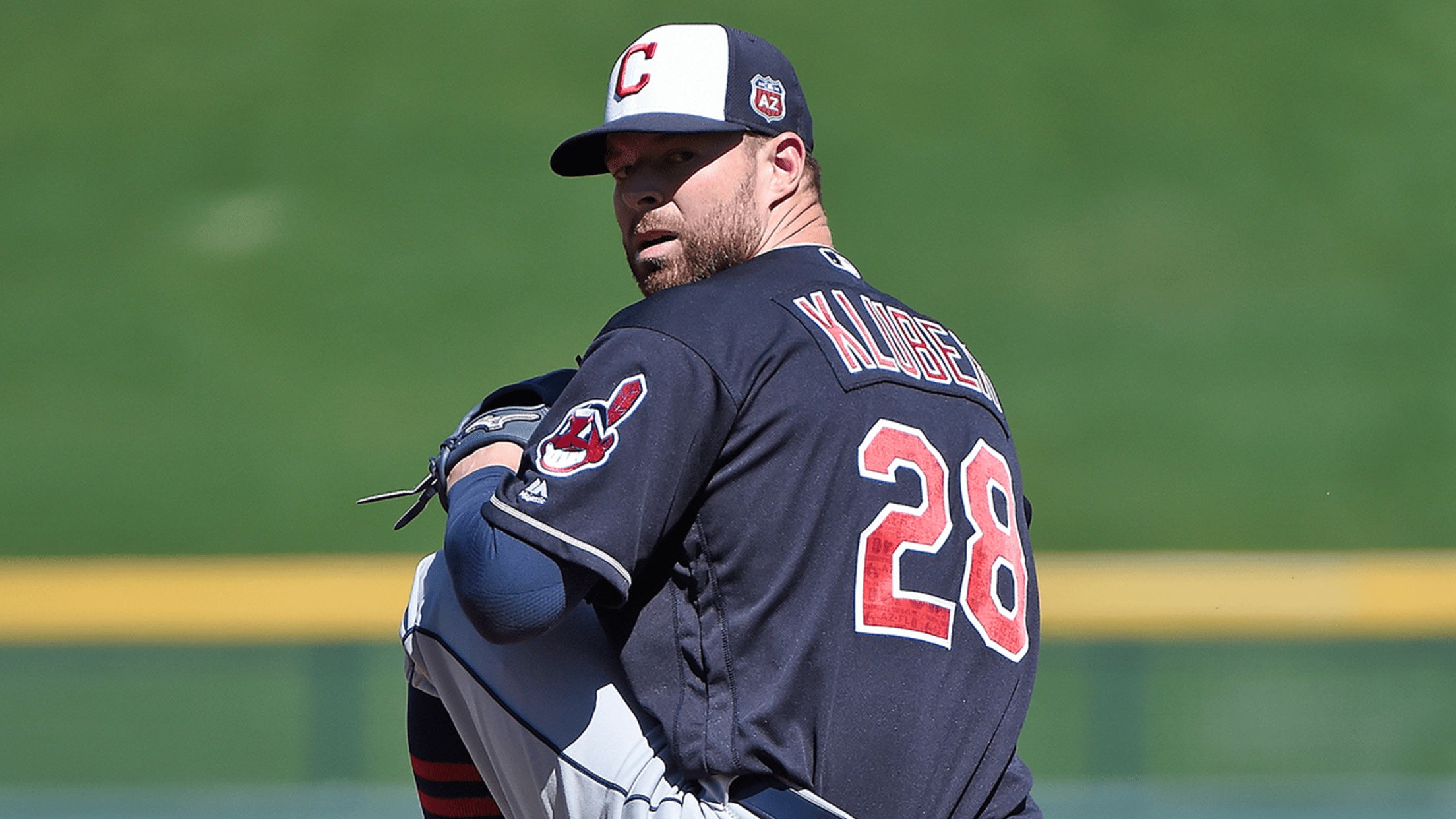 Corey Kluber, who worked around seven baserunners to deliver four shutout innings, anchors the Indians' staff. (Getty)
GOODYEAR, Ariz. -- Right-hander Corey Kluber says he is just one of the guys in the Indians' rotation."We don't have one guy on a pedestal," Kluber said. "We have a staff working together, helping each other, pushing each other. I'm just one of the guys."Yeah, right. And Yellowstone is just
GOODYEAR, Ariz. -- Right-hander Corey Kluber says he is just one of the guys in the Indians' rotation.
"We don't have one guy on a pedestal," Kluber said. "We have a staff working together, helping each other, pushing each other. I'm just one of the guys."
Yeah, right. And Yellowstone is just one of the parks, Everest just one of the mountains and George Strait just one of the country singers.
"That's more him being modest than anything," Cleveland manager Terry Francona said. "He anchors our staff, and we're glad he does."
Glad? Hey, the Indians are considered a contender in the American League Central, and that expectation is based off the fact they are considered to have as good a rotation, one through five, as any team in the game.
The Tribe went 81-80 last year and the rotation was 65-64, tied with the Royals for the second-most wins of any AL rotation, seven behind the Blue Jays. And 11 of those 64 losses came in games where the starting pitching allowed one or two runs.
And it all starts with Kluber, the soft-spoken Texan who doesn't seek the limelight but can't hide from it. He sets the pace, not just with the results on the field, but with his approach between starts.
"He pays attention to detail so well," Francona said. "You kind of wind him up and let him go. There's a reason when we talk to our young pitchers, we say, 'Watch what he does.' He does everything with precision."
The easy days are days like Monday, when Kluber pitched four scoreless innings in a 4-2 Cactus League victory against the Texas Rangers. It's the next four days that makes the difference, and his teammates know it.
"His approach shows with the rest of our staff every day," catcher Yan Gomes said. "They follow the way he goes about it. He wasn't the guy who was brought in to be the ace. He earned it and people saw that. It motivates everyone else. They know what can happen with dedication."
• Kluber carries scoreless spring to top Texas
What can happen is a kid who was a back-of-the-rotation starter on the Coppell (Texas) High School team, a kid pitching for a summer league team in the Dallas area, was spotted by the coach from Stetson University. Three years later, in the 2007 Draft, Kluber was a fourth-round choice of the San Diego Padres, finally making it to the big leagues with the Indians for good in '13, and earning the AL Cy Young Award in '14.
"That was 2014," Kluber said at mention of the Cy Young season. "This is 2016. That year has no bearing on this year."
Kluber is, however, one of those feel-good stories of an underdog who made good, but it isn't one that he dwells on.
"I don't think about it," Kluber said. "My mindset is to look forward. I do what I need to do to get ready for the next day. When I am done playing, I might look back and think about things, but right now, I am preparing for the next day and getting ready to win."
That's why Kluber can call Monday's game an important effort. He didn't allow any runs in the four innings, but there were seven baserunners. Kluber gave up four hits, all singles, walked a batter, and there were two errors, including a dropped bunt play by him that loaded the baes with one out in the second.
Kluber responded by striking out leadoff hitter Delino DeShields and getting Nomar Mazara to ground out.
"I was fighting my mechanics," Kluber said. "Sometimes you have to fight through it. It was a chance to compete and see if I could find a way to get out of it. You need to get ready for Opening Day.
"You need to work through the situations and get ready for the season. You can't just flip the switch and have everything in place."
And sometimes there is a season like 2015, when in Kluber's encore to the AL Cy Young Award-winning season, he went 9-16 with a 3.49 ERA in 32 starts, including 12 in which he failed to pick up a victory despite allowing three or fewer earned runs.
"Last year, he was way better than the won-loss record," Francona said.
And Francona is convinced that this season a repeat of 2014 is much more likely than another '15.
"Sometimes it's human nature if you're warming up and playing catch that you kind of just go through the motions, but he has an intent with every pitch, every throw," Francona said. "And that's the way he makes his living. So it does carry over, and whether it's PFP [pitchers' fielding practice] or whatever he does, he does it the way you're supposed to. Its part of the reason he's so good. He does it to a really extremely high level. You couple his talent with that ability to consistently do things, it does make you pretty special."
Kluber likes to consider himself equal to the rest of Cleveland's rotation.
The Indians and the rest of baseball, however, know he is one of those guys who is more equal than others.
Tracy Ringolsby is a columnist for MLB.com.