Knebel on blown save: 'Let it go'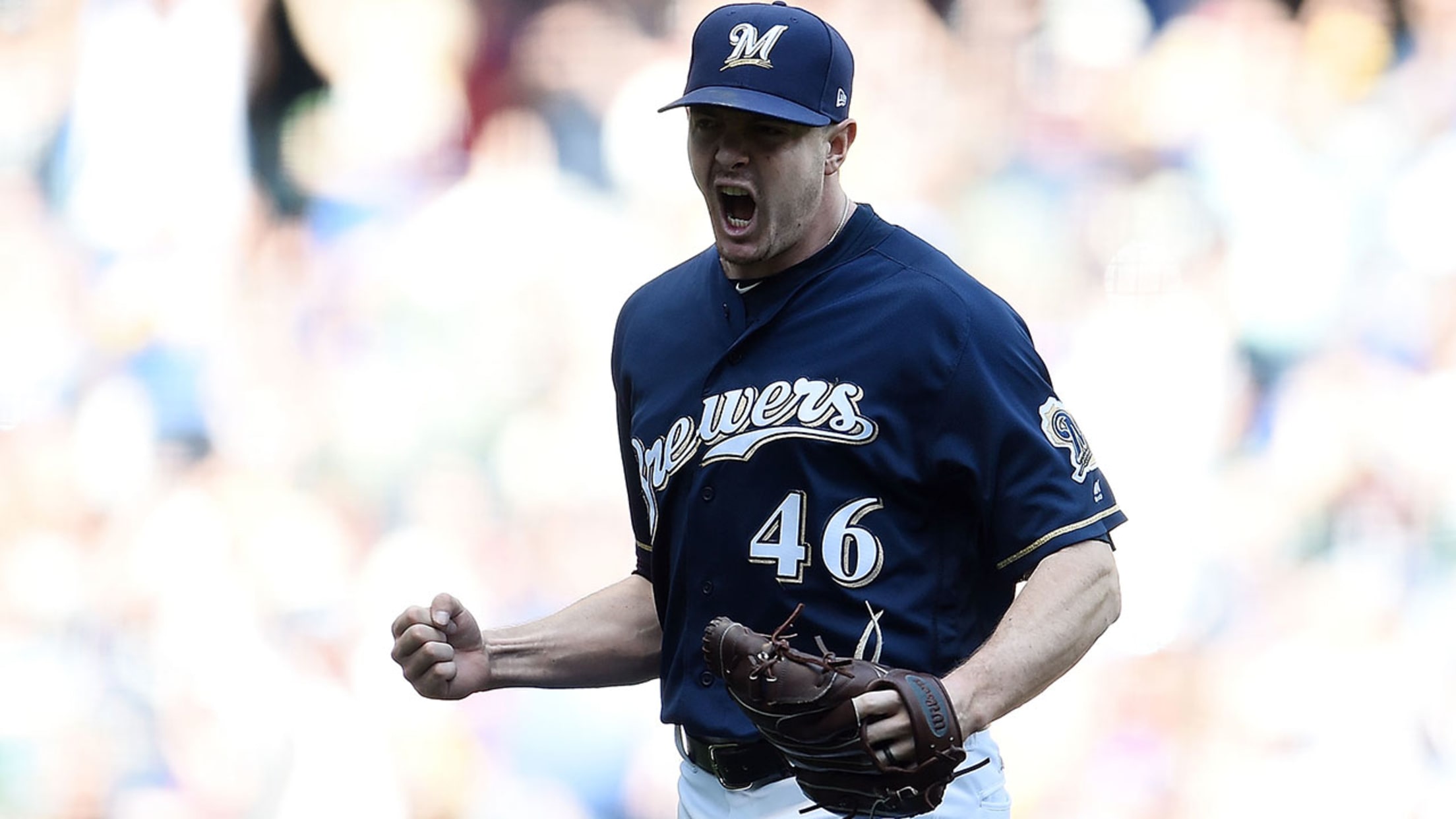 MILWAUKEE -- After blowing a save in his second straight appearance at Miller Park on Friday, Brewers closer Corey Knebel relied on a lesson drilled into him two years ago by Francisco Rodriguez: Let it go."I walk into that shower and that's it," Knebel said. "The shower is clearing everything
MILWAUKEE -- After blowing a save in his second straight appearance at Miller Park on Friday, Brewers closer Corey Knebel relied on a lesson drilled into him two years ago by Francisco Rodriguez: Let it go.
"I walk into that shower and that's it," Knebel said. "The shower is clearing everything away, cleaning up everything that happened today. There's no more use in thinking about it because I can't go back and do anything to change it.
"That's a learned skill. That's something Frankie taught me."
Knebel has had to rely on that lesson the last two times he's taken the mound at Miller Park. On May 26 against the D-backs, he was two strikes away from saving a 2-1 Brewers win when Chris Iannetta hit a tying home run in an eventual 4-2 Brewers loss in 10 innings.
Knebel came back to make a pair of scoreless appearances during the Brewers' series against the Mets at Citi Field, including a save in a 2-1 Brewers win on Thursday, but suffered another letdown in his return home Friday night against the Dodgers. Domingo Santana's seventh-inning home run off Clayton Kershaw and Jimmy Nelson's eight scoreless innings of mound work gave the Brewers a 1-0 lead entering the ninth, when Knebel began the inning with a strikeout of Corey Seager, giving Knebel at least one whiff in all 28 of his appearances this season.
Up next was Yasmani Grandal, who took a borderline 1-1 pitch for a ball on the way to a 3-1 count. Catcher Manny Pina called for Knebel's devastating knuckle curve. Knebel shook off the sign and tried to throw an inside fastball instead.
He missed his spot, and Grandal deposited a tying home run over the right-field wall. The Brewers lost in 12 innings, 2-1, when Cody Bellinger hit another solo homer off Neftali Feliz.
"You always preach that whatever happens you've got to move on quickly," Brewers manager Craig Counsell said. "For that job, probably more than any other job out there, when something happens you've really got to move on to the next really quickly because it's a tightrope, that job. Everything gets a little stickier in that inning, for sure. That's part of it."
After throwing 58 pitches while working three straight days, Knebel was likely off-limits when the Brewers-Dodgers series continued Saturday. But the next time he's rested, he will be the Brewers' closer, Counsell said.
"It could have been a different result if I hit my spot," Knebel said. "But it goes back to the old, 'It's a long season.' There's going to be games like those, and it's about how you come back from them."