Decision on elbow looms for Knebel
Brewers reliever to make call on rehab vs. Tommy John surgery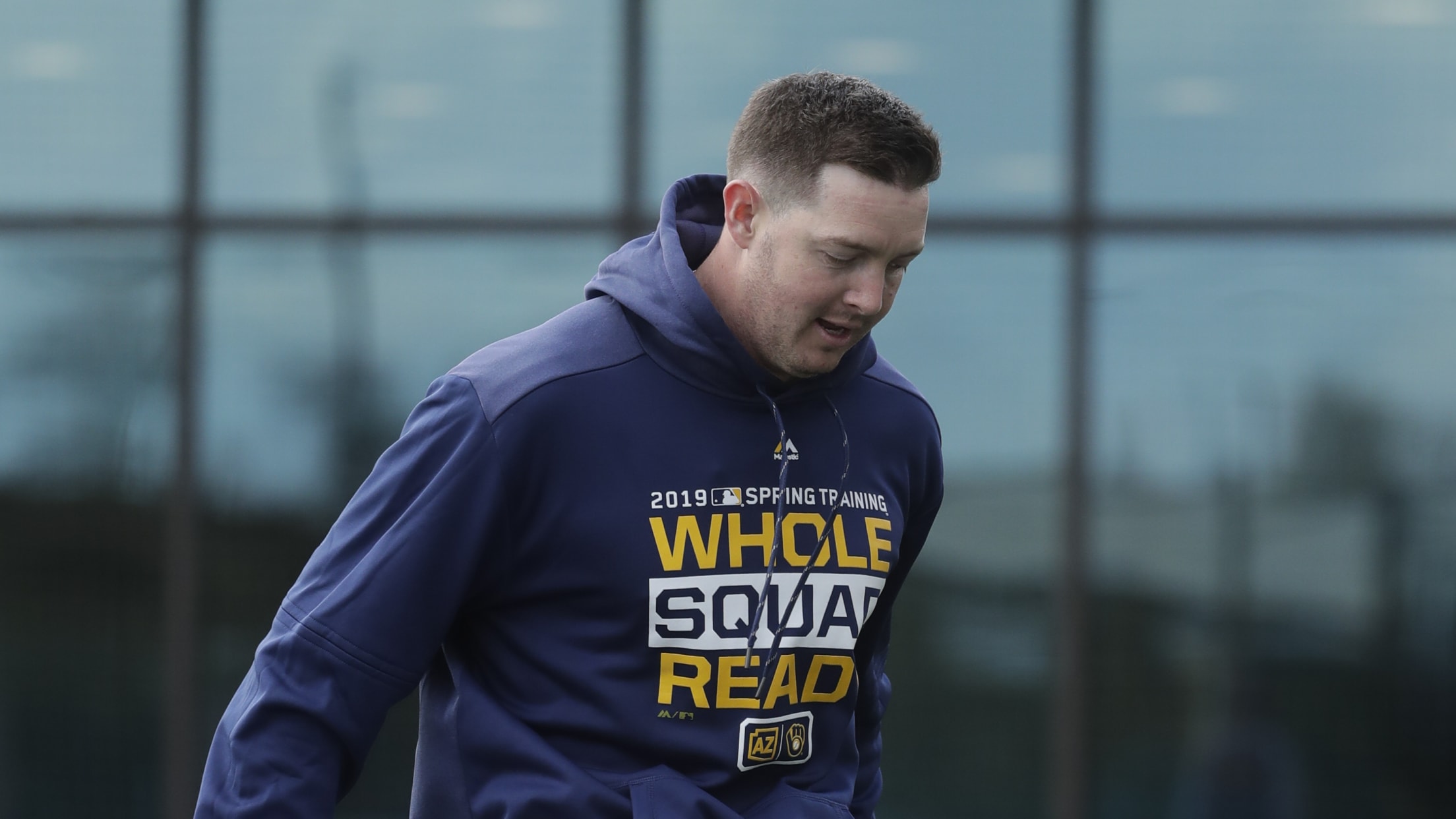 MILWAUKEE -- Friday is decision day for Brewers reliever Corey Knebel, and whether the remedy for his injured right elbow is rehab or Tommy John surgery, he is eager for an outcome. "I'm ready to know what we're going to be doing," said Knebel on Thursday morning, addressing reporters for
MILWAUKEE -- Friday is decision day for Brewers reliever Corey Knebel, and whether the remedy for his injured right elbow is rehab or Tommy John surgery, he is eager for an outcome.
"I'm ready to know what we're going to be doing," said Knebel on Thursday morning, addressing reporters for the first time since he was shut down more than a week ago. "It's the unknown that sucks. But I'm positive whatever happens, I'll be ready to go. That's it. The not knowing is the tough part. Once the decision's made, then it'll be full go with whatever the decision is."
Knebel was to meet later in the day with Dr. William Raasch, the Brewers' head physician, to make a final decision. Over the past week, he has gathered feedback from a number of specialists across the country, including an in-person visit in Los Angeles with Dr. Neal ElAttrache, and consultation with Rangers head physician Dr. Keith Meister, who treated Knebel in 2014 when he originally suffered a partial UCL tear.
In that instance, Knebel recovered without undergoing surgery. He was acquired by the Brewers in the Yovani Gallardo trade that offseason and pitched the past four seasons without elbow pain.
Now he faces another tough call.
"I've got all the cards on the table, and it's just, 'Which one?' It's not really anybody's decision but mine," Knebel said. "But of course I'm going to talk to some of the doctors before I make a decision."
The Brewers were also without reliever Jeremy Jeffress on Opening Day, as Jeffress continues working back from a bout of right arm weakness. He faced hitters on Wednesday, manager Craig Counsell said, and it went well enough that Jeffress is scheduled to pitch in another Minor League game in Phoenix on Saturday.
"Jeremy threw to hitters yesterday, which is a great step for him," Brewers president of baseball operations David Stearns said. "I think he felt really good. He's going to be re-evaluated again by Dr. Raasch [Friday], along with the rest of our group. The next step will be for him to face hitters again this weekend and then we'll go from there. We do have to essentially build Jeremy up as though he's going through Spring Training, so we're multiple weeks away."
But Counsell will have to rely on other bullpen options to begin the season, beyond lefty relief ace Josh Hader.
"Look, we're perfect from a position player standpoint. Really good there," Counsell said. "We've had some injuries in our bullpen, really. They've all been in the same place, so that changes the composition and how we think about our bullpen. And it provides opportunity for guys. We're going to go into it, it's undefined a little bit. As injuries do, they kind of provide room for people to step up, provide opportunity, and make some unknowns. We're going to have to work through that. It likely will change as we go."
Record payroll
The Brewers' Opening Day payroll exceeded $120 million for the first time in franchise history, including salaries for the five pitchers on the injured list, plus past contract buyouts and deferments. The actual figure spent on players will be higher, since it will include callups, midseason additions and other costs associated with navigating a 162-game season.
On top of that, owner Mark Attanasio noted that the Brewers have spent nearly $100 million in recent seasons to renovate the food service operation at Miller Park, to purchase their Class A Advanced Carolina affiliate and to renovate their Spring Training and rehab facility in Phoenix. Next is a new development facility in the Dominican Republic currently under construction.
"David [Stearns] and I talked a little bit about that in the offseason, the cost of it," Attanasio said. "Look, we said it in Spring Training, we're all-in this year. That said, you don't want to be all-in this year and not be able to add players at the All-Star break, not be able to continue to build this team in 2020. So we've managed our budget to that.
"At the same time we're [spending on development and infrastructure], our team comes together. The great news was exceeding everybody's expectations. Our challenge is to say, 'How do we support that?' We managed to do that all at once, and I think there's a huge outpouring of support from the community. We drew upwards of three million fans this year, [have] a record number of sponsors -- 135 sponsors. Continued support from all the partners around the team, who have helped us get here, Sportservice and others. Bob Uecker and I were talking about the old Larry the Cable Guy -- 'Get 'er done.' So we're going to 'get 'er done,' and I think we have."
Last call
• Triple-A San Antonio manager Rick Sweet announced that Adrian Houser would start the Missions' Opening Day game on April 4 at Oklahoma City. This is the Missions' first season as a Brewers affiliate.
• Following a family tradition began by Attanasio's father, Joe, his sons Mike and Dan sang the national anthem before Thursday's season opener at Miller Park. Mark Attanasio hopes someday to pass the franchise down to his sons.
"We talk about that all the time. That's our hope we cherish," he said. "I get superstitious as we all know, so I don't want to have too much forward-looking speech on that. I certainly hope I'm around for a while, but that's what we have planned for."