Cuba and Japan open Pool B in Tokyo
Without big league stars, hosts look to better 2013 third-place finish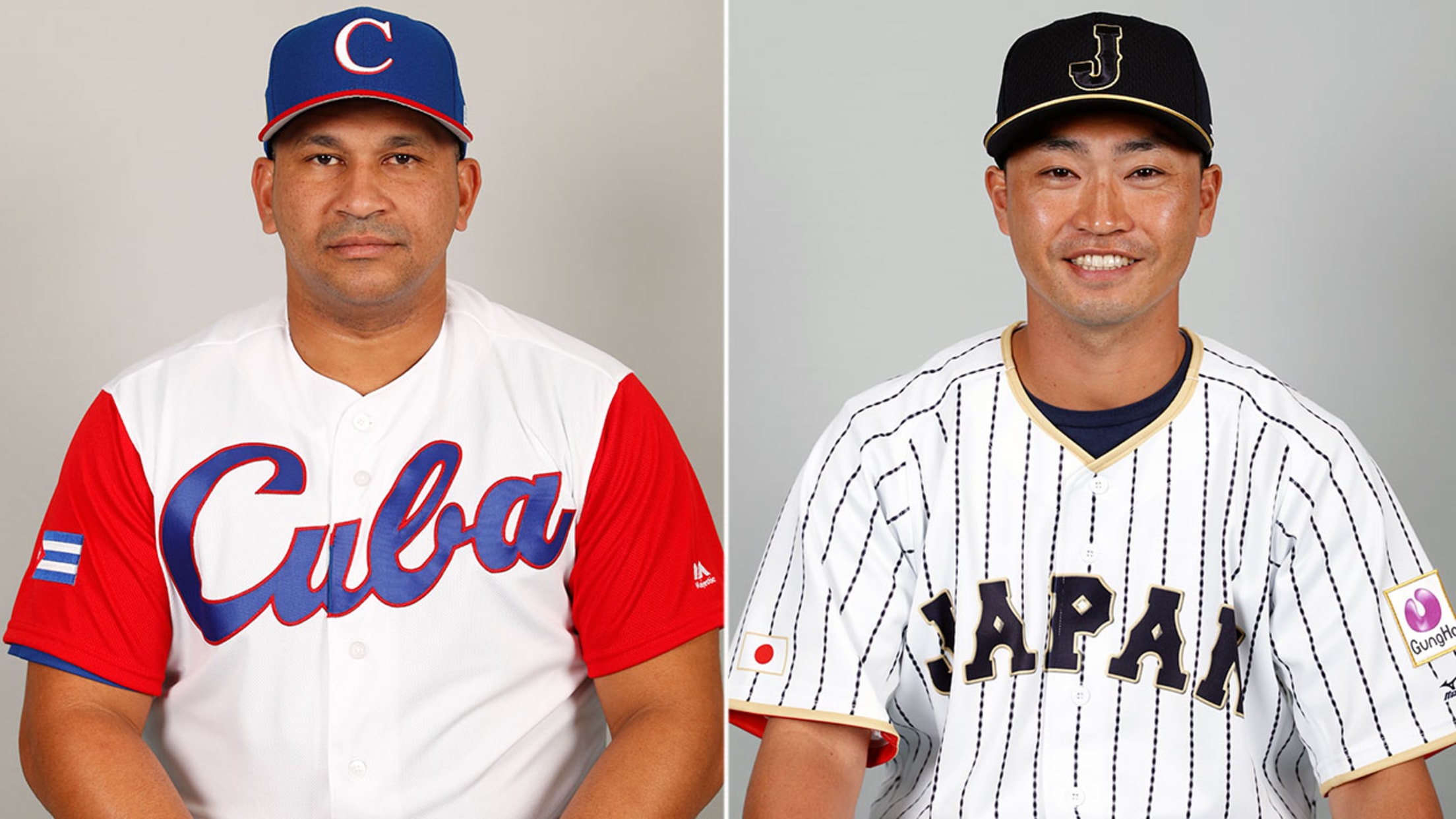 Cuba's Frederich Cepeda, left, is the Classic's all-time home run leader, and Norichika Aoki is Japan's lone MLB player. (Getty)
After months without competitive baseball, and four full years since the Dominican Republic raised the trophy, the fourth installment of the World Baseball Classic is finally here.Fans around the globe will have their eyes turned to the Pacific Rim on Tuesday, when Pool B opens with a heavyweight matchup between
After months without competitive baseball, and four full years since the Dominican Republic raised the trophy, the fourth installment of the World Baseball Classic is finally here.
Fans around the globe will have their eyes turned to the Pacific Rim on Tuesday, when Pool B opens with a heavyweight matchup between Cuba and Japan at the Tokyo Dome at 5 a.m. ET.
The World Baseball Classic runs from Monday through March 22. In the U.S., games will air live exclusively in English on MLB Network and on an authenticated basis via MLBNetwork.com/watch, while ESPN Deportes and WatchESPN will provide the exclusive Spanish-language coverage. MLB.TV Premium subscribers in the U.S. will have access to watch every tournament game live on any of the streaming service's 400-plus supported devices. The tournament will be distributed internationally across all forms of television, internet, mobile and radio in territories excluding the U.S., Puerto Rico and Japan. Get tickets for games at Marlins Park, Tokyo Dome, Gocheok Sky Dome in Seoul, Estadio Charros de Jalisco in Mexico, Petco Park, as well as the Championship Round at Dodger Stadium, while complete coverage -- including schedules, video, stats and gear -- is available at WorldBaseballClassic.com.
:: 2017 World Baseball Classic ::
Japan and Cuba are arguably the two most successful nations on the international baseball stage, historically speaking, and the two countries are plenty familiar on the diamond. They squared off in the first Classic final back in 2006, with Japan triumphing in a 10-6 victory. Japan also bested Cuba twice in the second round of the 2009 Classic, before Cuba finally returned serve with a victory in 2013.
Meanwhile, Cuba enjoyed the upper hand against Japan in Olympic competition, winning six of their seven matchups from 1992-2008 -- including the 1996 gold medal game in Atlanta.
Hosting opening round play for the fourth consecutive time, Japan has a more uncertain outlook in the 2017 WBC than in previous Classics. Former heroes like Yu Darvish, Daisuke Matsuzaka and Ichiro Suzuki are absent from this year's roster, with the Astros' Norichika Aoki Japan's only Major League player. The late removal of Shohei Ohtani, a two-way star who is firmly on the radar of every MLB executive, also diminishes some of Japan's perceived punch. Still, even without a true ace like Ohtani, Team Japan manager Hiroki Kobuko believes his squad has the pitching depth to make another big run.
"We chose 13 pitchers who can pitch more innings and pitch as relievers," Kobuko told the Japanese press in January. "We believe our defense, including pitching, will be our strength."
If Japan remains the Pool B favorite, then consider Cuba a very close second. The Caribbean nation may also be diminished from years past, as several of its former Classic heroes -- including Jose Abreu, Yoenis Cespedes and Yulieski Gurriel -- are now ineligible after defecting to play in the United States. A few talented holdovers remain, however, including the power tandem of Frederich Cepeda (the Classic's all-time leader in home runs, total bases, hits, RBIs and runs) and Alfredo Despaigne. They'll be joined by a couple of talented first-time Classic participants in Victor Mesa Jr. and Cespedes' younger brother, Yoelkis.
"We are going with the same spirit we showed in the Caribbean Series," Despaigne told reporters in February. "The World [Baseball] Classic is a more challenging competition, but nonetheless, the guys have taken on the responsibility to compete as equals, as they did in the Caribbean Games, where we made a good impression on those who know this sport."
Things to know about this game
• Japan has tallied the most total wins in Classic history with 17. Its worst all-time finish in the tournament was a bronze medal in 2013.
• Historically, Japan boasts six of the top seven pitchers (Matsuzaka, Darvish, Kenta Maeda, Masahiro Tanaka, Koji Uehara and Hisashi Iwakuma) on the Classic's all-time strikeouts list. Three of the top-10 home run and RBI hitters in tournament history hail from Cuba (Cepeda, Gurriel and Despaigne).
• Japan has posted an identical 2-1 record in each of the three times it has hosted the opening round (twice in Tokyo, once in Fukuoka), but one of its three losses on Japanese soil came to Cuba, 6-3, in 2013's opening round. Only two starters for Cuba (Cepeda and Despaigne) and three starters (Nobuhiro Matsuda, Sho Nakata and Hayoto Sakomoto) for Japan are back on the nations' 40-man rosters from that 2013 meeting.