Finals week: Wild tests facing NL Central
Cubs close to clinching; Brewers, Cardinals in pursuit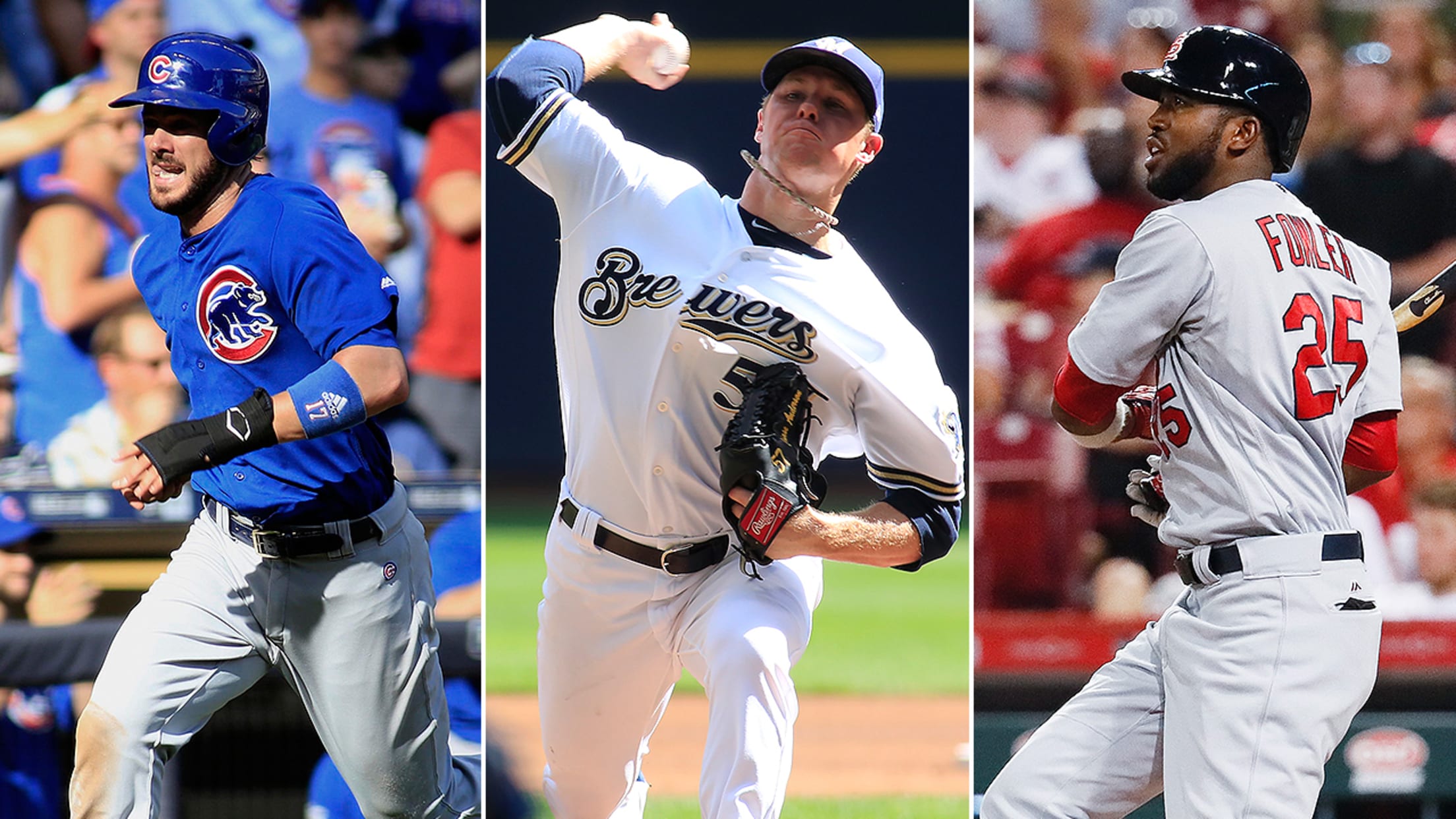 From left: Kris Bryant of the Cubs, Chase Anderson of the Brewers and Dexter Fowler of the Cardinals have their eyes set on the postseason. (AP)
MILWAUKEE -- The Cubs will have champagne on ice this week in St. Louis, ready to celebrate a second straight National League Central title. The Brewers and Cardinals have the NL Wild Card in their sights. And the Reds have a chance to play spoiler along the way.There was still
MILWAUKEE -- The Cubs will have champagne on ice this week in St. Louis, ready to celebrate a second straight National League Central title. The Brewers and Cardinals have the NL Wild Card in their sights. And the Reds have a chance to play spoiler along the way.
There was still much to play for in the Central as the regular season rounded its final Sunday. Amid a Midwest heat wave, baseball fans in Chicago, Milwaukee and St. Louis entered the final week longing for the crisp air of October.
Standings: Divisions | Wild Card
"It's the playoffs already for this team," said the Cubs' Benjamin Zobrist, after his two-run home run helped seal a big series win in Milwaukee. "We're already thinking that way. It's just a matter of wrapping up the division the next few days and then playing well going into the postseason. We're in postseason mode right now, and we intend to continue that for the next month."
The Brewers and Cardinals hope to join the party. Here's a look at where the teams stood entering Monday, and how they finish:
Cubs
87-68, magic number of two to clinch division
Four games at STL, three at home vs. CIN
Brewers
82-74, 5 1/2 games back of CHC, two behind COL for second NL Wild Card
Off Monday, three games at home vs. CIN, three at STL
Cardinals
81-74, six games back of CHC, 2 1/2 behind COL for second NL Wild Card
Four games at home vs. CHC, three at home vs. MIL
"No one expected us to be in this position," said Milwaukee starter Chase Anderson, who is scheduled to start the Friday opener of what could be a huge season-ending series between the Brewers and Cardinals at Busch Stadium. "But we knew in this clubhouse that if we come together as a group, we can be in the thick of things.
"At the end of the season, that's all you can ask for. We're playing meaningful games at the end of September."
For the Cardinals, it's a lot of meaningful games. They have had their finishing homestand against the Cubs and Brewers circled on the calendar for some time.
"I love it," St. Louis manager Mike Matheny said. "I think the schedule makers got it right to let us go head-to-head with them. It's exciting. It's fun."
The Cardinals would be much better positioned entering the final week had they played better against the Cubs. But they've gone 4-11 against their longtime rivals and were swept out of Wrigley Field during a Sept. 15-17 series. The Cardinals were outscored, 16-6, in that series, and they've gone 1-6 against the Cubs in one-run games.
"We've got to find a way to win, and we've got to play them better," said Cardinals infielder Matt Carpenter. "We haven't had enough to beat them to this point."
The Cardinals have a 7-9 record this year against the Brewers, and that includes a 2-5 record at Busch Stadium. If the Rockies continue to falter -- Sunday's win in San Diego came after five losses in their last six games -- that season-ending set in St. Louis could be pivotal.
"To me, we still are in a position where we can take care of ourselves and be in a good spot," Brewers manager Craig Counsell said. "If we win games, we'll be OK.
"We have three home games and then three on the road. I know we are behind, but I feel like if we have a good week of baseball, it is more dependent on us and not completely counting on something else to happen."
Counsell's club begins its week with a day off, followed by three home games against cellar-dwelling Cincinnati. But there is no chance of the Brewers looking past the Reds to their weekend showdown in St. Louis; the Reds outscored the Brewers, 21-8, while sweeping three games at Great American Ball Park earlier this month, a huge blow at the time to Milwaukee's playoff hopes.
Cincinnati now can play the spoiler role again.
"I think you go into it and you want to kind of take some momentum into the offseason and have a good taste in your mouth going into the offseason and getting ready for next year," Reds catcher Tucker Barnhart said. "I don't know if it's about necessarily influencing the playoff race. It's about playing good baseball for us as a team moving into the offseason so we can be ready to go and hopefully start to move in the right direction like the Brewers, Cubs and Cardinals."
Meanwhile, Milwaukee's Anderson waits.
"I want to pitch in St. Louis and have it be a meaningful game and help us get in the Wild Card," he said. "I want to pitch in the postseason, period."
Adam McCalvy has covered the Brewers for MLB.com since 2001. Follow him on Twitter @AdamMcCalvy and like him on Facebook.
Reporters Jenifer Langosch, Carrie Muskat and Mark Sheldon contributed to this story.