Edwards gets lesson in moving past 'blip'
Cubs rookie charged with 5 runs in Saturday's loss to Cards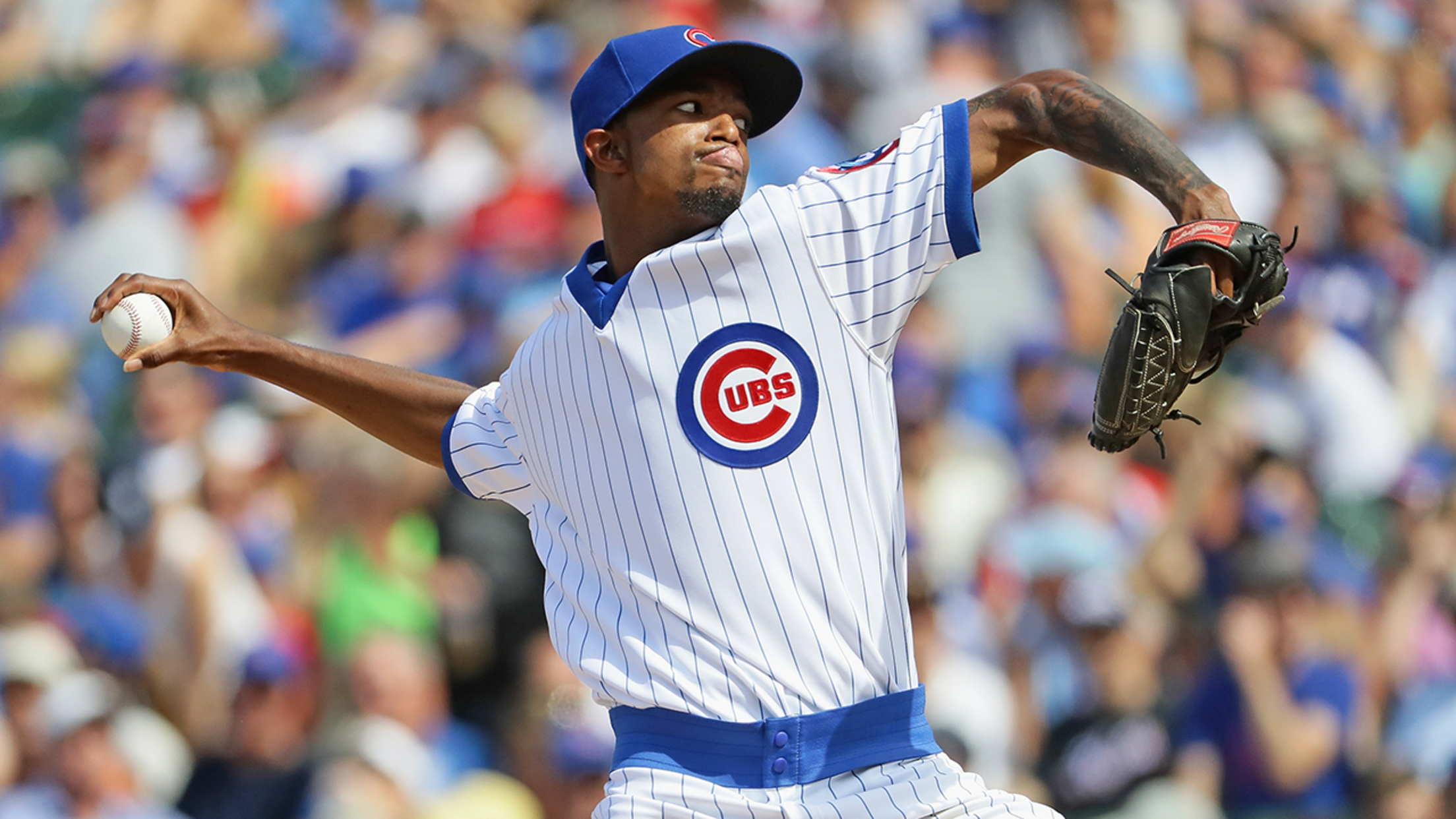 Cubs reliever Carl Edwards Jr. had given up just five runs over 23 2/3 innings before Saturday's rocky outing. (Getty)
CHICAGO -- Héctor Rondón may not have been available to pitch on Saturday, but the Cubs reliever did get an assist, giving rookie Carl Edwards Jr. advice on how to handle tough outings.Rondon, who was available on Sunday against St. Louis, spoke to Edwards after the young right-hander walked four
CHICAGO -- Héctor Rondón may not have been available to pitch on Saturday, but the Cubs reliever did get an assist, giving rookie Carl Edwards Jr. advice on how to handle tough outings.
Rondon, who was available on Sunday against St. Louis, spoke to Edwards after the young right-hander walked four and gave up one hit over two-thirds of an inning in a loss to the Cardinals.
"I told him, 'Hey, it happens to everybody. Don't feel bad. It's in the past,'" Rondon said on Sunday. "We have to have a short memory and come in today like nothing happened. I told him, 'Hey, man, learn from that.'"
Manager Joe Maddon wasn't too concerned about Edwards, who was charged with five runs. The young right-hander had given up five runs over 23 2/3 innings in his career prior to the outing.
"That was nothing -- that's a blip," Maddon said of Saturday's outing. "It has to happen at some point. It's more difficult to plan your day without Rondon and it's much more difficult without [Pedro] Strop."
Rondon has not pitched since Aug. 2 because of tightness in his right tricep, while Strop went on the 15-day disabled list Thursday with a torn meniscus in his left knee. Strop was expected back in four to six weeks.
Maddon said he'll be careful with Rondon.
"You don't want to push him too hard early on," Maddon said. "The guy is so important to us, there's no reason to put the pedal down on him now."
Rondon was ready.
"Yesterday I felt really good, and today I feel like normal," Rondon said.
Worth noting
• Trevor Cahill will make his first start of the season on Tuesday in the first game of a day-night doubleheader against the Brewers. Cahill started three games for the Braves at the beginning of the 2015 season, but has pitched out the bullpen since then. Cahill had been on the disabled list with patellar tendinitis in his right knee since July 9.
Jason Hammel (12-5, 2.90 ERA) will start the night game Tuesday for the Cubs.
Cahill will be the eighth starting pitcher for the Cubs this season.
• Speaking of doubleheaders, Maddon is in favor of making them a regular part of the season schedule as long as they are not day-night twinbills.
"The day-night doubleheader is awful," Maddon said. "I'm not going to lie or try to pander to anybody. It's awful. It's awful to be here all day. I'm always concerned about injury. It's just a bad day, too long.
"If you're going to have a doubleheader, have a real doubleheader -- the next game starts a half hour after the first game," he said. "The players won't mind it nearly as much. I know the economics, the finances, I get all that. If you want to shorten the schedule, create doubleheaders."
He also said teams should be able to add two players on doubleheader days, not just one, which is the current format.
"I think the fans would dig it, too," he said, adding that teams would likely need to charge extra for two games on one day.
• Jason Heyward batted seventh on Sunday for the third time this season. It's not a big deal to Heyward, who was batting .227 this season, and just .194 (7-for-36) in nine August games.
Can his offense improve in the postseason?
"I think I can turn it on tonight," he said. "That's the way I approach every day. I'm working hard to try to get comfortable each night. I can look ahead, can't look back. There have been some good days, there have been some bad days. No matter what happens, if we get a 'W,' that's all right for me."
• The Triple-A Iowa Cubs placed outfielder Albert Almora Jr. and pitcher Brian Matusz on the disabled list. Almora has a sore left thumb after he injured it on a play in the outfield Wednesday. He was batting .309 with 40 RBIs through 71 games with Iowa, and making his Major League debut with the Cubs in June.
Matusz had just returned to Iowa's rotation, and is sidelined with a sore left elbow.