Jimenez's first blast leads top prospects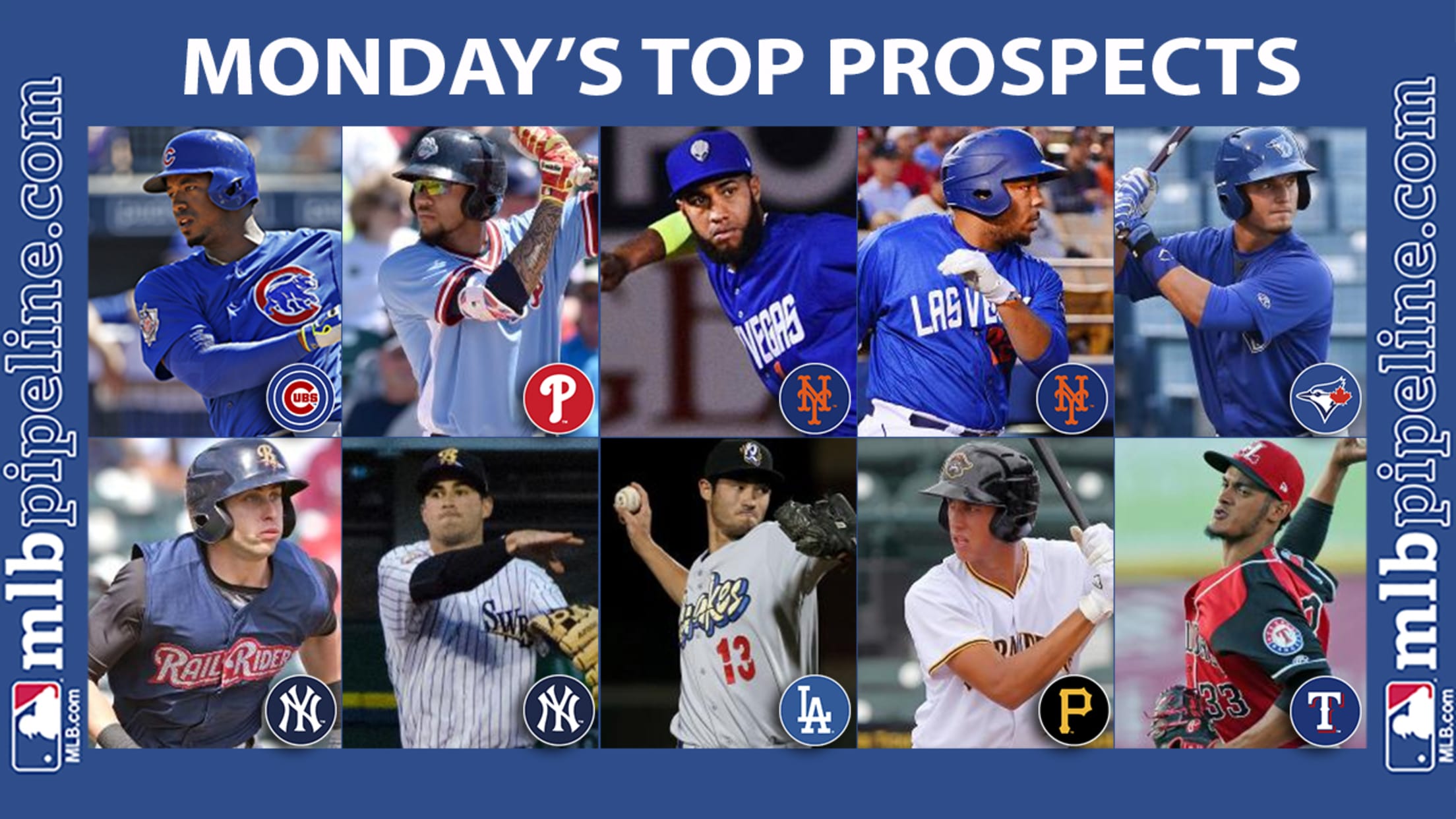 It was only a matter of time until Eloy Jimenez, with his prodigious power and fresh off of a season-opening stint on the disabled list, connected on his first home run.That's what the Cubs' top prospect did on Monday, belting a tape-measure solo shot in the bottom of the seventh
It was only a matter of time until Eloy Jimenez, with his prodigious power and fresh off of a season-opening stint on the disabled list, connected on his first home run.
That's what the Cubs' top prospect did on Monday, belting a tape-measure solo shot in the bottom of the seventh inning that cleared the bleachers in left field at Class A Advanced Myrtle Beach's TicketReturn.com Field.
MILB Video - Title: Jimenez's first homer with Carolina - Url: http://www.milb.com/r/video?content_id=1392161283
Jimenez, ranked 10th on MLB Pipeline's Top 100 Prospects list, had been sidelined since late March with a shoulder injury before returning to action on Sunday ahead of the Pelicans' double-dip against Lynchburg. The 20-year-old outfielder went 2-for-3 with an RBI in the opening game and then played the hero in the nightcap with a walk-off walk in the 12th inning, capping a 1-for-4, three-walk effort.
Jimenez was the only Pelicans hitter to collect two hits on Monday, going 2-for-4, though it wasn't enough to keep Myrtle Beach from falling to Buies Creek, 4-2.
The rest of the best performances from top prospects Monday
• No. 4 overall prospect J.P. Crawford's (Phillies' No. 1) first home run of 2017 accounted for Triple-A Lehigh Valley's lone run in a shutout victory over Rochester. It's been a slow start to the season for the 22-year-old shortstop, as he's hitting just .155 with three extra-base hits and two steals through 33 games.
MILB Video - Title: Crawford's first homer - Url: http://www.milb.com/r/video?content_id=1392370983
• No. 3 overall prospect Amed Rosario and Dominic Smith (No. 55) both homered in Triple-A Las Vegas' win over Iowa. Rosario, the Mets' No. 1 prospect, went 2-for-5 with a three-run homer, his third of the season, while Smith (Mets' No. 2) hit a solo shot, his fifth, before finishing 2-for-4.
• Blue Jays' No. 12 prospect Max Pentecost snapped out of a 1-for-18 funk by going 2-for-4 with a three-run homer in Class A Advanced Dunedin's walk-off win over Charlotte. The 24-year-old is hitting .304/.342/.563 with eight homers through 27 games, in seven of which he's appeared behind the plate.
• In his best start of the season for Class A Advanced Rancho Cucamonga, Dodgers' No. 10 prospect Mitchell White tossed a career-high seven innings with eight strikeouts to lead the Quakes past Visalia, 2-1. The 22-year-old righty gave up one earned run on three hits, but more importantly he did not issue a walk for the first time in eight starts.
• Fernando Tatis Jr. (Padres' No. 6 prospect), Jorge Ona (No. 7) and Hudson Potts (No. 12) combined for nine hits, six runs and five RBIs to pace Class A Fort Wayne in a win over Lansing. Ona (2-for-4) hit his second homer, a two-run shot, en route to three RBIs, while Tatis (3-for-5) scored three runs and tripled out of the leadoff spot. Potts, meanwhile, led the TinCaps' trio with four hits, finishing 4-for-5 with a triple and two RBIs.
• Make that 11 RBIs in two games for Pirates' No. 5 prospect Cole Tucker. The 20-year-old shortstop went 2-for-4 with four RBIs in his first game since going 4-for-6 with a career-high two homers and seven RBIs on Friday. He's hitting .289/.370/.430 for the season, with 41 hits and a Minor League-leading 24 steals in 35 games.
• Rangers' No. 18 prospect Jonathan Hernandez allowed one hit over seven innings in his first scoreless start for Class A Hickory. The 20-year-old righty threw 55 of his 80 pitches for strikes, issuing two walks and striking out six. He's worked seven innings in two of his last three starts, during which he's punched out 20 and allowed just 12 hits in 19 2/3 frames.
• Rockies' No. 15 prospect Colton Welker, 19, had three run-scoring hits including a two-run home run before finishing with a season-high five RBIs in Class A Asheville's 13-2 win over Hagerstown. The 2016 fourth-rounder is having a strong full-season debut in the South Atlantic League, with a .339/.388/.492 slash line, three home runs and 16 RBIs through 31 games.
• Yankees' No. 9 prospect Dustin Fowler and Tyler Wade (No. 11) both put together big games from the top of Triple-A Scranton/Wilkes-Barre's order in a game that saw the RailRiders hit a walk-off grand slam to defeat Pawtucket, 8-4, in 12 innings. Wade (2-for-4) hit his third homer, swiped his 12th bag and scored three runs out of the leadoff spot, while Fowler (4-for-5) recorded his Minor League-leading seventh triple before finishing a home run short of hitting for the cycle. They're hitting .308 and .326 this season.
MILB Video - Title: Watch: Fowler ties game - Url: http://www.milb.com/r/video?content_id=1392490083