Maddon hints at OD starter, addresses team
Cubs manager 'impressed' with attitude in camp; Schwarber works out as catcher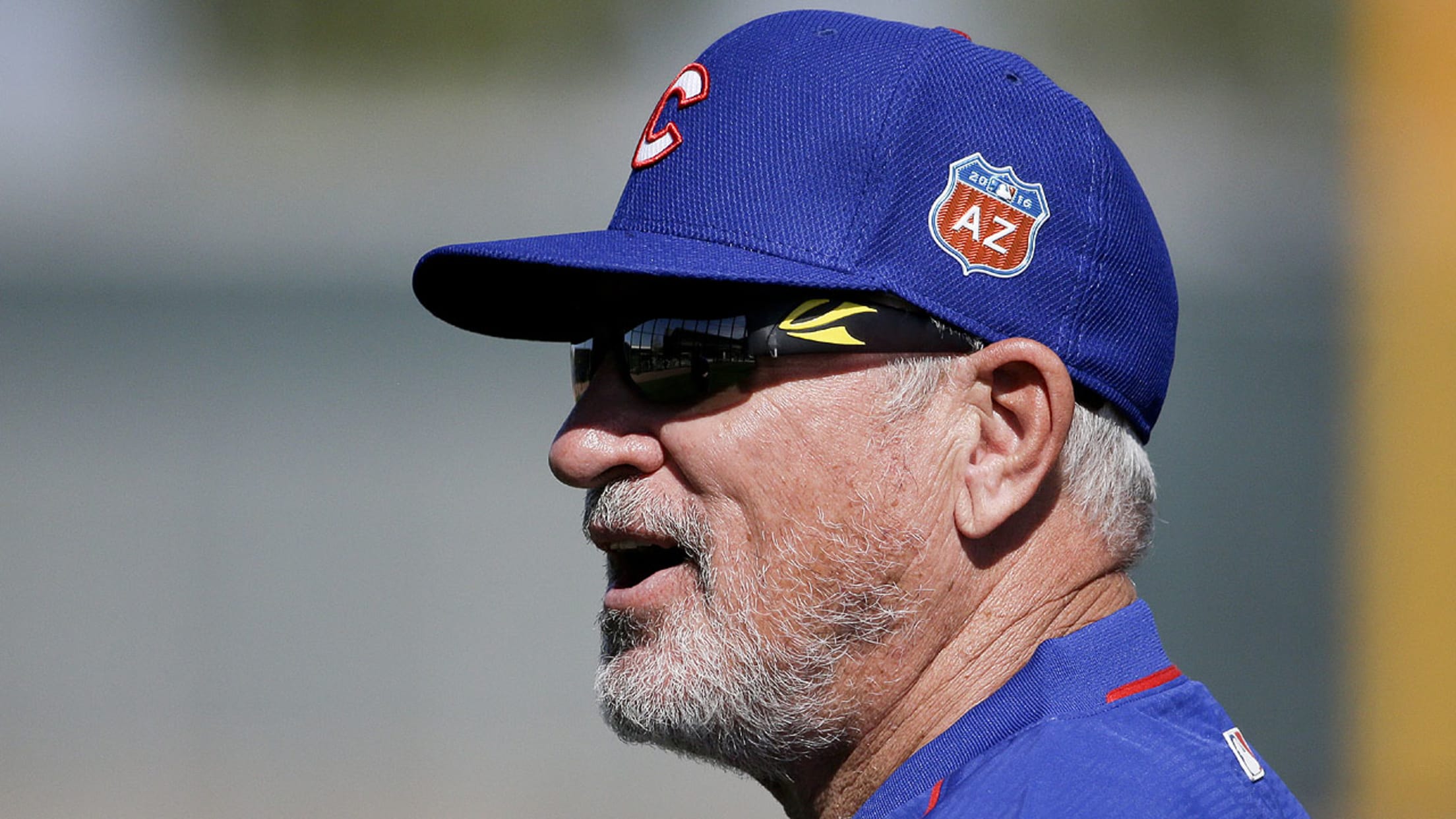 Joe Maddon on who the Cubs' Opening Day starter will be: "Easily, you could draw your own conclusions about it." (AP)
MESA, Ariz. -- Since Jake Arrieta won the National League Cy Young Award, it would seem he would be the Cubs' Opening Day starter. Manager Joe Maddon wasn't ready to say that on Saturday because he wanted to talk to the other starting pitchers."He won the Cy Young last year
MESA, Ariz. -- Since Jake Arrieta won the National League Cy Young Award, it would seem he would be the Cubs' Opening Day starter. Manager Joe Maddon wasn't ready to say that on Saturday because he wanted to talk to the other starting pitchers.
"He won the Cy Young last year -- that's pretty good," Maddon said. "He pitched the Wild Card Game that got us into the eventual moment that we did. I really don't like to say anything until I've actually spoken to the players first about it. Easily, you could draw your own conclusions about it."
• Arrieta accepts Cubs' plan to keep him fresh
Jon Lester was the Cubs' Opening Day starter last season, but Arrieta most likely will get the assignment April 4 in Anaheim.
Maddon meets with players
Maddon delivered his pre-Spring Training address to the Cubs' pitchers and catchers prior to the first workout Saturday. He emphasized his message to "embrace the target" and not take what they did in last year's 97-win season for granted.
"We have not won a World Series in a century, so there's nothing to get complacent or cocky about," Maddon said. "Bring that all on the table, talk about it, say it up front. That's why I believe it's important to embrace the target."
Maddon has been meeting with players one on one and said he likes the attitude in camp.
"Conversationally, what they're talking about, how they're saying it -- I cannot be more impressed," he said of the players. "As a group, we have to have the right kind of conversation, and we started it today."
#Cubs meeting with Maddon pic.twitter.com/mZnLJfo4m6

— Carrie Muskat (@CarrieMuskat) February 20, 2016
Schwarber gets behind the plate
Kyle Schwarber worked out with the catchers Saturday, and Maddon will encourage the young slugger to practice both behind the plate and in the outfield.
"He wants to catch, and I think he can be a very good catcher," Maddon said of the Cubs' 2014 first-round Draft pick. "Our biggest job is to juggle the work between catching and playing the outfield, and hitting, of course, and hitting in a significant part of our lineup."
• Windshield-smasher Schwarber still a catcher
The Cubs are counting on Miguel Montero and David Ross as their catchers, but having Schwarber able to catch as well provides insurance.
• Ross plans to make most of final season
Extra bases
• Trevor Cahill was not in camp Saturday to be with his wife, Jessica, who delivered baby daughter Rylee Madison early Saturday.
• Minor Leaguer Cael Brockmeyer, 24, was added to the catching corps on Saturday. He spent most of the 2015 season at Class A South Bend, where he batted .274, but played at four different levels, filling in when needed.
Spring Training:Tickets | Schedule | Complete info
Quote of the Day
"For me, it's not about [batting practice] and throwing sides. These guys are good baseball players. They're very good. The most important thing is for me to get them to start thinking properly. The other stuff will take care of itself. With good health and with repetition, the guys will play well this year. The only threat to us is us, and how we're thinking. I want to make sure I address that, talk about it, get it out there and make sure the conversation is healthy and good. That, to me, is the critical component in Spring Training. I want us to think well." -- Maddon, on what he looks for in Spring Training