Maddon feeling no pressure in ASG duties
Cubs manager planning to enjoy himself with Midsummer Classic 'purely an exhibition'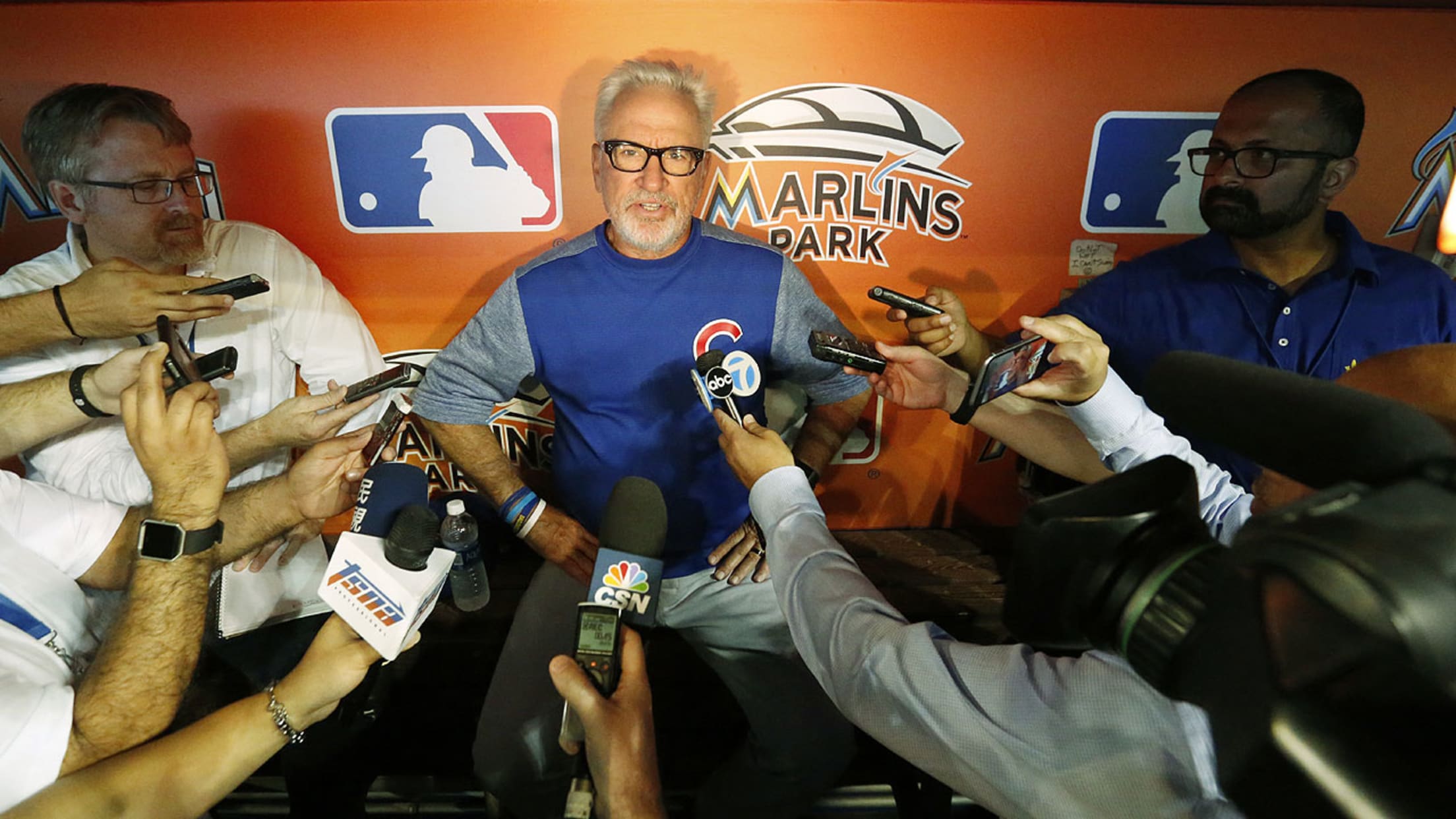 Joe Maddon will manage the National League team at the All-Star Game on July 11. (AP)
WASHINGTON -- The Cubs' Joe Maddon, who will manage the National League team in next month's All-Star Game, isn't looking at stat sheets as he tries to fill out the roster."There's nothing about the game other than to organize it," Maddon said Monday of his duties for the the 2017
WASHINGTON -- The Cubs' Joe Maddon, who will manage the National League team in next month's All-Star Game, isn't looking at stat sheets as he tries to fill out the roster.
"There's nothing about the game other than to organize it," Maddon said Monday of his duties for the the 2017 MLB All-Star Game presented by Mastercard, which will be played July 11 in Miami.
"It's like a Spring Training game, which is good," Maddon said. "If the game mattered, where it was tied into the World Series, I would put a little more mind into it at this point. The fact that it's purely an exhibition game for me, it's just going to be to find out who the names are, divvy up the playing time as well as we can, make sure we keep a pitcher back, so if we go to extra innings we could play to a conclusion, but otherwise, enjoy myself."
• Cast your Esurance All-Star ballot until Thursday at 10:59 p.m. CT
This year, the winner of the All-Star Game will not determine who gets home-field advantage for the World Series.
Maddon is excited about the event.
"I'm looking forward to it," he said.
Last year, the Cubs made history by becoming the second team to have its entire infield start an All-Star Game as Anthony Rizzo, Benjamin Zobrist, Addison Russell and Kristopher Bryant were elected to the NL team. Entering the final week of voting this year, only Bryant has a lead at any position.
• Cubs looking for final All-Star push
Is there a downside to the All-Star Game?
"They want to be there," Maddon said. "They want to be an All-Star, so why would I want to wish against that or work against that in any way?
"Go play, go enjoy yourself. If you've earned the right to be there, go be there. ... It's an honor for them to be there, they want to be there, so let's embrace it and promote them."
Fans may cast votes for starters at MLB.com and all 30 club sites -- on computers, tablets and smartphones -- exclusively online using the 2017 Esurance MLB All-Star Game Ballot until Thursday at 10:59 p.m. CT. On smartphones and tablets, fans can also access the ballot via the MLB.com At Bat and MLB.com Ballpark mobile apps.
The Esurance All-Star Selection Show will take place on Sunday at 6 p.m. CT on ESPN. Following the unveiling of the 2017 All-Star starters, reserves and pitchers, fans should return to MLB.com and cast their 2017 Esurance MLB All-Star Game Final Vote for the final player on each league's All-Star roster. Then on Tuesday, July 11, while watching the 2017 All-Star Game presented by Mastercard live on FOX, fans may visit MLB.com to submit their choices for the Ted Williams Most Valuable Player Award presented by Chevrolet with the 2017 MLB All-Star Game MVP Vote.
The 88th Midsummer Classic, at Marlins Park in Miami, will be televised nationally by FOX Sports; in Canada by Rogers Sportsnet and RDS; and worldwide by partners in more than 160 countries. ESPN Radio and ESPN Radio Deportes will provide exclusive national radio coverage, while MLB Network, MLB.com and SiriusXM will have comprehensive All-Star Week coverage. For more information about MLB All-Star Week and to purchase tickets, please visit AllStarGame.com and follow @AllStarGame on social media.