Vine Line: Friendly fire
Cubs pitcher John Lackey is one of the fiercest competitors in MLB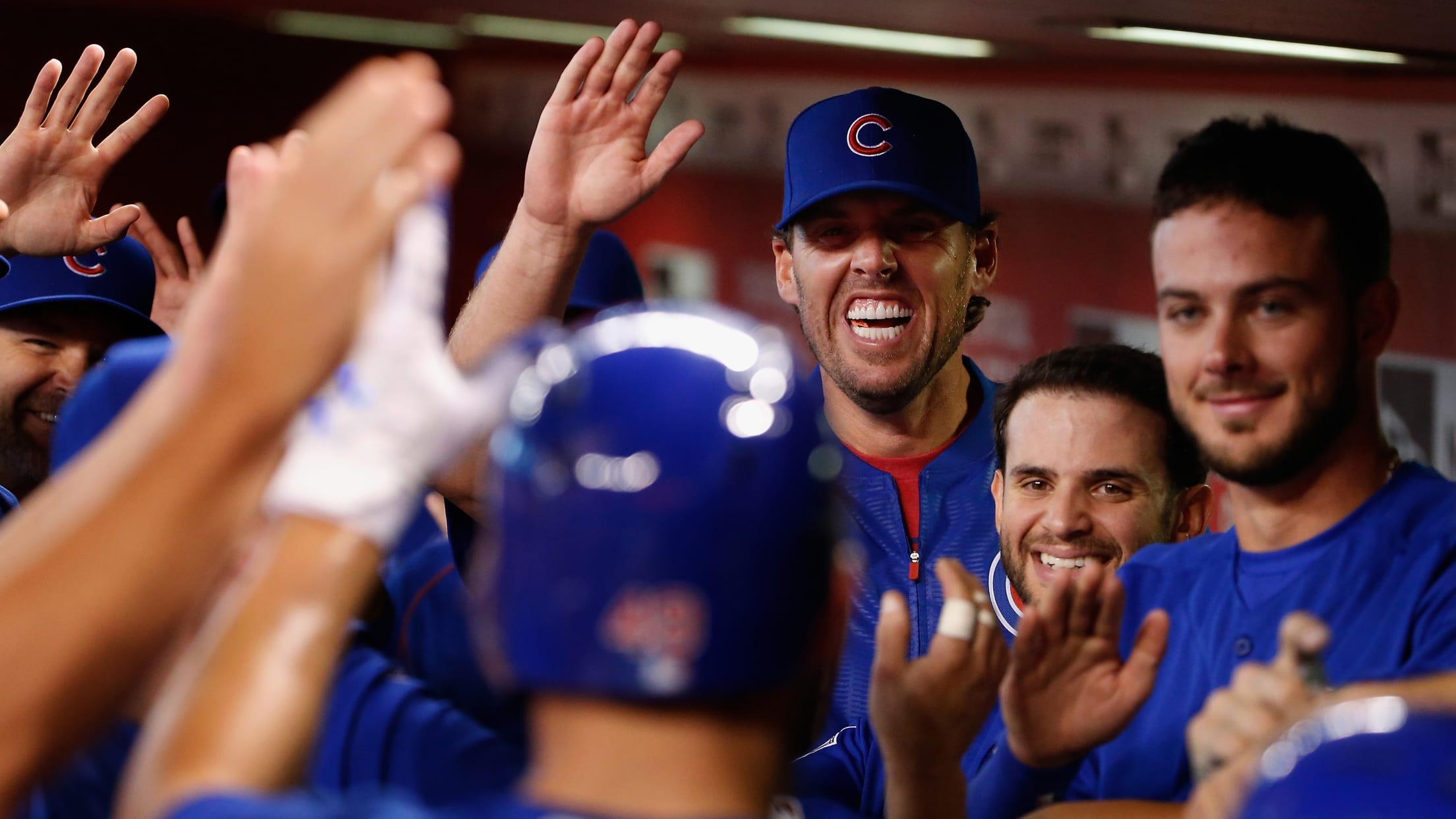 On days that he pitches, John Lackey is a force to be reckoned with. But among his teammates, he's as jovial as can be. (Getty Images) (Christian Petersen/Getty Images)
From 2008-09, veteran pitcher John Lackey faced off against Jon Lester three times in close American League Division Series matchups between the Angels and Red Sox. Lester took two out of those three contests.When you pit two intense, highly competitive pitchers against each other in the pressure-filled cauldron that is
From 2008-09, veteran pitcher John Lackey faced off against Jon Lester three times in close American League Division Series matchups between the Angels and Red Sox. Lester took two out of those three contests.
When you pit two intense, highly competitive pitchers against each other in the pressure-filled cauldron that is postseason baseball, it's safe to say emotions can run high. To put it mildly, there was no love lost between the two hurlers.
"I'll be the first one to tell you nobody in that dugout liked him," Lester said of Lackey. "Just because of how competitive he is and all the emotions he has on the field."


In 2010, Lackey and Lester suddenly found themselves together in the Red Sox rotation. Would the two bitter rivals be able to put that animosity behind them and function effectively as teammates?
"Easy," Lackey said. "Once you get on the same team wearing the same colors, it's time to go to work together."
That's certainly good news for Cubs fans, as Lackey spent last season with the division rival Cardinals before signing a two-year contract with the Cubs in December. As it turns out, Lackey and Lester did much more than tolerate each other in Boston; the two avowed country boys became close friends and are now nearly inseparable, on and off the baseball field. When Lackey found out he'd be facing Lester again in the National League Division Series last October, the two pitchers shrugged off any special meaning to the game. Their friendship meant more to them.
"When I was in Boston, we faced Lackey almost every year in the playoffs, and he was always an incredible competitor," Cubs General Manager Jed Hoyer said. "We always admired him from afar. He's one of those guys who takes the ball, and he wants to control that day when he pitches. That's something that happens less and less in our game. That day for him is his. He brought that kind of fire to the field all the time."
Mound Menace
This season, Cubs fans have been able to see for themselves just how competitive Lackey truly is. Jason Heyward, who played with the pitcher last year in St. Louis, is extremely happy to have Lackey as a teammate again, especially because it means he doesn't have to face him from the batter's box.
"When he's on the mound, he's a bully," Heyward said. "He wants you to swing the bat. It's 'You're going to get a hit or I'm going to get you out, but let's make this happen quickly.' His stuff is just heavy.
"He's a bulldog. He competes like no other when he's on the mound. It's fun to watch. He likes to work quick. Playing behind him, that helps you out. You appreciate what he does when he goes to the mound."
Cubs players no doubt appreciate the simple fact that when Lackey goes to the mound, he now does it in Cubbie blue instead of Cardinal red. In three starts (21.2 innings) against the North Siders last season, he went 2-0 with a 1.25 ERA and 19 strikeouts versus only five walks. Rookie of the Year Kris Bryant logged two hits and five strikeouts in nine at-bats against Lackey in 2015. One of the first things Bryant told the right-hander was that he was glad he didn't have to face him anymore.
"He's a really good guy to have on your team," Bryant said. "He doesn't care what you think between the lines."
One thing that's surprised Bryant is how different Lackey is as a teammate versus the way he's generally perceived from the opposing dugout. He may be fierce on the mound, but that doesn't carry over into the clubhouse -- at least not on non-pitching days.
"From the moment I met him, I was like, 'This guy is awesome,'" Bryant said. "Obviously, you have opinions of players, and you hate facing certain guys. He was one of those guys for me. I haven't had many at-bats against him, but I struggled."
As far as Lackey is concerned, he's just fine with most Big Leaguers thinking he's difficult. No pitcher wants to be a hitter's favorite opponent.
"I don't want a hitter to want to face me," Lackey said. "Obviously, I compete on the field and I get after it, and I know how that can be perceived sometimes. I think people find out I'm a lot different than [they think] I am, which is fine. In between the lines, I don't care what the other team thinks about me. I'm there to win."
The Cubs' young hitters can learn a thing or two from the pitcher who schooled them last season; don't think they won't ask him how he got them out.
"I told him that he dominated me," Cubs first baseman Anthony Rizzo said. "I'm happy to play behind him, pick his brain, [find out] why he got me out so much."
Team First
Although Lackey spends most of his time on the mound scowling, he actually smiled and laughed his way through much of his first spring camp with the Cubs. Anyone looking for him could usually find him with Lester. The pair regularly challenged each other at wind sprints, talked over strategy or simply drove around in Lester's camouflage-colored buggy.
"It's Siamese almost," said catcher David Ross of the pair. "They're attached at the hip. It's a good thing. They both are similar in how they go about their business. Jon is so serious, and you'll see the same thing with Lackey. He wants to win."
Lester laughed when told that Ross said the two pitchers were as close as conjoined twins. "That's how we were over [in Boston]," Lester said. "We did everything. It makes you accountable because you have somebody going, 'C'mon, let's go do this.'
"The biggest thing is accountability. You're sitting here thinking, 'I don't want to do my running,' but you've got somebody going, 'C'mon let's go.' That's the way we've always been. I think it makes each other better. Those days -- we all have them -- when you don't feel like doing anything. Now you have somebody who will push you."
Ryan Dempster had a little fun at Lackey and Lester's expense during his talk show at the Cubs Convention in January. When the two friends were on stage together being interviewed, Dempster brought out some Popeye's chicken, saying he likes to make Red Sox pitchers feel at home. When Lackey and Lester were in Boston, they created a media firestorm by reportedly drinking beer and eating chicken in the Fenway Park clubhouse during a few games.
Lackey didn't know what Dempster was up to, but he did laugh at the joke -- and eat the chicken.
Cubs hitters are certainly happy to call Lackey a teammate, but his arrival in Chicago may benefit Lester more than anyone. Several members of the coaching staff have already told Lackey what a good influence he's been on the veteran lefty.
"He's my boy," Lackey said of Lester. "Our wives are good friends. Our kids are friends. We've been hanging out, having cookouts and that kind of stuff. It's been a lot of fun."
There's also a burgeoning Texas connection on the staff. Jake Arrieta will soon be Lackey's neighbor in Austin. The Arrietas are planning to build a new home there, just down the street from the Lackeys'. The former division foes even played golf together a few times this offseason.
"Everything you hear about the guy is just positive, especially from guys who have played with him," Arrieta said. "Conversations with him are natural. He's a funny guy, always upbeat, joking around. He's a personality you want to surround yourself with. I was fortunate to get to know him this offseason and start that transition for spring and throughout the season. I know he has a real close relationship to Lester and Ryan Dempster. It just shows you what kind of guy he is."
Playoff Payoff
Despite a deep postseason run for the Cubs in 2015, the team still lacked some depth in the rotation. Not only does Lackey create an imposing front three with Arrieta and Lester, he is also one of the more playoff-tested pitchers of his generation. Between stints with the Angels, Red Sox and Cardinals, Lackey has played in eight different postseasons (15 series), pitched in 23 playoff games (20 starts) and gone 8-5 with a 3.11 ERA in 127.1 October innings.
Lackey was the pitcher the Angels and Red Sox wanted on the mound when it mattered most, and he delivered in those pressure-packed situations. He is the first starting pitcher in Major League history to win World Series-clinching games with two different teams, doing so as a rookie with the Angels in 2002 and again with the Red Sox in 2013.
The Cubs hope whatever it is that drives Lackey rubs off on the rest of the team. Manager Joe Maddon has known the pitcher since those early days with the Angels and said Lackey has mellowed a bit -- on certain days, at least.
"Four out of five days, I'm pretty laid back and having a good time," Lackey said. "When you only get 30-some times to help your team, I take it pretty dang serious."
So does he need that edge to stay among the game's elite arms at 37 years old?
"I think it's helped, for sure," Lackey said. "It's not going anywhere."
Ultimately, Lackey's image is immaterial, so long as he takes care of business when he's on the mound. And, to a man, the Cubs pitchers all agree he's been a perfect addition to the staff.
"We all want to do our job," Lester said. "We all have different ways of going about things. Jake is kind of the stoic one and doesn't show emotion and stands up there and chucks the ball. I get a little more emotional, and so does Lack. With Kyle [Hendricks], I don't think I've ever seen Kyle do anything except keep his mouth shut and go pitch.
"Everybody harnesses their deal their own way. [Lackey] is a little more vocal and outgoing with his emotions on the mound. The other four days, he's a big ol' teddy bear and cares about his teammates and wants his teammates to do well."
Winning Edge
When told people were surprised to see him smiling so much with the Cubs, Lackey, as if on cue, smiled.
"When I'm competing, I'm there to win," he said. "On the other days, I'll be cool and hang out. I love having fun as much as anybody. When it's my day, it's time to work."
"He's a terrific guy," Hoyer said of Lackey. "He's a leader. All the players love him, and he takes his day seriously. When he's on the mound, he's incredibly intense, incredibly focused. We feel the edge he brings is great for our team. People will be on alert the day he pitches because he takes it so seriously. There's no question the day he pitches, the team comes to play. They know how seriously he takes it."
Ross, who caught Lackey when the two were together with the Red Sox, has seen that game face up close.
"John is an emotional player, and he goes out there and really feels strongly like, 'Today's my day for the boys. I don't get to help out the other days. This is my day, and I try to compete and help the guys win,'" Ross said. "He takes that very seriously. I appreciate that."
Ultimately, all Lackey wants to do is win, and that's exactly the kind of player the Cubs were looking to add to their rotation this offseason.
"He's the nicest guy ever," Ross said, "but on the day he pitches, he's pretty locked in. He's no-nonsense."
Of course, Lackey also likes to have a good time, and Maddon has seen that side of him too. "Johnny is straight up and straightforward," Maddon said. "He likes to giggle and have fun, but when it comes down to his craft, he gets very serious."
While it might be hard to imagine the 6-foot-6, 230-pound pitcher giggling, all you have to do is mention his new daughter, Kenzi, who was born in December, or play a round of golf with him to hear his easy laugh and see his softer side.
"He's polar opposite [on the golf course]," Arrieta said. "He hasn't been playing that long. He's out there having a good time and doesn't care how he scores. It's a nice change-up from the mindset we're in at the field."
So before Lackey's starts, put on your cowboy hat, play some country music and add a little swagger to your step. This good old boy is going to bring everything he has to the mound every fifth day.
"When we signed Lackey in the offseason," Maddon said, "I thought he was one of the top free-agent signs of the winter -- specifically for us and what we're doing."
Carrie Muskat has covered the Cubs since 1987, and for MLB.com since 2001. She writes a blog, Muskat Ramblings. You can follow her on Twitter @CarrieMuskat and listen to her podcast. This article appears in Vine Line magazine. Follow Vine Line @cubsvineline, and get this article and more delivered to your doorstep by purchasing a subscription at cubs.com/vineline.