Cubs, Epstein expect active Winter Meetings
Chicago looking to keep pace as NL Central rivals heat up Hot Stove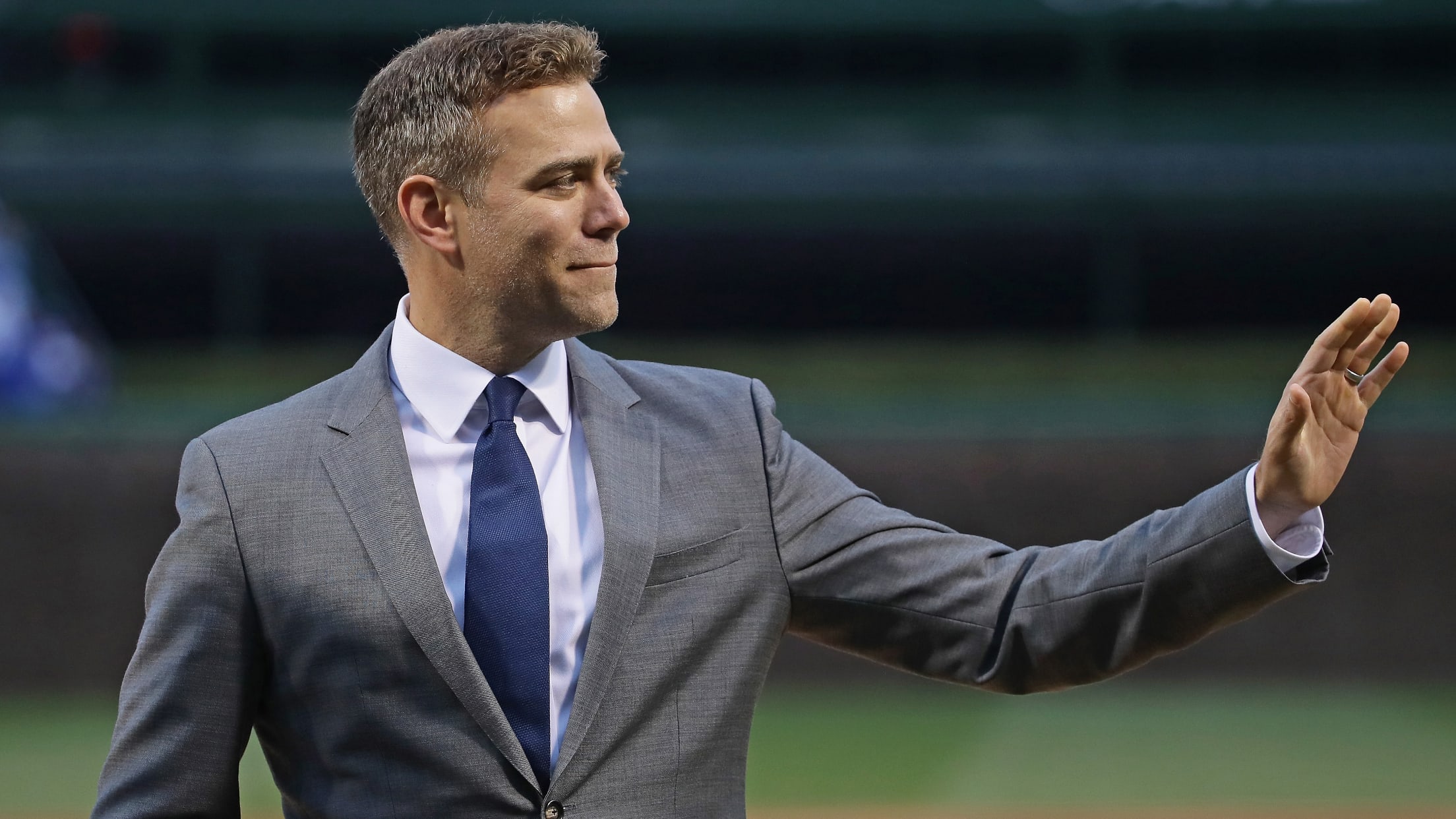 CHICAGO, IL - APRIL 12: President Theo Epstein of the Chicago Cubs waves to the crowd during a World Series Championship ring ceremony before a game against the Los Angeles Dodgers at Wrigley Field on April 12, 2017 in Chicago, Illinois. (Photo by Jonathan Daniel/Getty Images) (Jonathan Daniel/Getty Images)
CHICAGO -- There is a growing sense that baseball's offseason is about to gather a head of steam. Cubs president of baseball operations Theo Epstein reinforced that feeling when asked this week if he felt the upcoming Winter Meetings would be active."Really active," Epstein said. "It seems like there's plenty
CHICAGO -- There is a growing sense that baseball's offseason is about to gather a head of steam. Cubs president of baseball operations Theo Epstein reinforced that feeling when asked this week if he felt the upcoming Winter Meetings would be active.
"Really active," Epstein said. "It seems like there's plenty of trade talk and still a lot of good free agents out there, and a couple of moves that have already occurred. That's only going to set the stage for increased activity in the next week or so. You guys will be busy."
Epstein and the Cubs' brass will head to Las Vegas' Mandalay Bay Resort & Casino for MLB's annual gathering, which runs Monday-Thursday. Chicago has been lingering on the fringe of the rumors swirling around superstar free-agent Bryce Harper -- friends with Cubs slugger Kristopher Bryant -- but will likely be more active on the trade front to address its offseason goals.
The Cubs' main priority is to find a way to learn from the abrupt ending to last season's 95-win campaign, which concluded with a loss to the Brewers in a division-clinching tiebreaker and then a defeat to the Rockies in the National League Wild Card Game. Milwaukee heads to Vegas as the reigning NL Central champions and the Cubs' rival, St. Louis, just reeled in Paul Goldschmidt via trade.
"It just reinforces that the NL Central has to be earned," Epstein said. "We have our work cut out for us, and that's how it should be."
Club needs
The Cubs feel that their rotation -- featuring Jonathan Lester, Cole Hamels, Kyle Hendricks, Yu Darvish and Jose Quintana -- can be the backbone of their team. The needs are sprinkled throughout the rest of the roster. Chicago could use help in the bullpen, especially depth for the later innings. A backup catcher and utility infielder are on the to-do list. Perhaps a complementary outfielder will be on the menu. One priority is also to add some veteran leadership to the clubhouse.
Whom might they trade?
Epstein has emphasized that creativity will be needed if the Cubs want to add "dollars of real significance" to the fold this offseason. That means freeing up payroll via trade, if possible. The most obvious candidates would be right fielder Jason Heyward ($106 million remaining through 2023) or right-hander Tyler Chatwood ($25.5 million through '20). Moving those contracts may prove unrealistic, so the Cubs' front office will need to be open-minded to multiple scenarios.
"We're certainly open and active in trade talks with a lot of deals that usually don't come to fruition," Epstein said. "So, we may make some trades. We could make big ones that transform the roster. We may make smaller complementary ones. But there's certain things we'd like to accomplish."
Prospects to know
Pitcher Adbert Alzolay (No. 2 on the Cubs' Top 30 list, per MLB Pipeline) should be poised for a normal Spring Training after a right lat strain ended his season with Triple-A Iowa in late May. That injury cost Alzolay a chance to contend for a spot in Chicago when health woes hit the MLB staff. Lefty Justin Steele (No. 8) was added to the 40-man roster last month, taking him off the board for Rule 5 Draft eligibility. Top 30 prospects Trevor Clifton (No. 17), Jhonny Pereda (No. 20) and Erling Moreno (No. 26) will be eligible. Chicago's No. 1 prospect is catcher Miguel Amaya.
Rule 5 Draft
The Cubs currently have four vacancies on their 40-man roster, but that does not mean the team will be active in the Rule 5 Draft. In fact, Chicago has only made one Rule 5 pick in the past five years and none in each of the last three. The Cubs' most successful Rule 5 Draft pick in the past decade was righty Hector Rondon in 2012.
Payroll summary
The preemptive move of trading lefty Drew Smyly (owed $7 million in '19) before picking up Hamels' $20 million team option was an early sign that moving money is likely a requirement for taking more on right now. Between guaranteed contracts, arbitration projections, pre-arb deals and other financial estimates, Chicago looks to be north of the first tier ($206 million) of the luxury-tax threshold.
"We're extraordinarily lucky to have the financial support that we do from ownership," Epstein said. "We've won more games than any other club the last four years. That proves that it's more than enough to win. We'll have probably a higher payroll this coming year than we've had at any point in the past. We have to do an outstanding job with what we have and what we have is a lot."