D-backs seek to copy past fruitful GM Meetings
Groundwork for Goldshmidt, Greinke trades laid in 2018 incarnation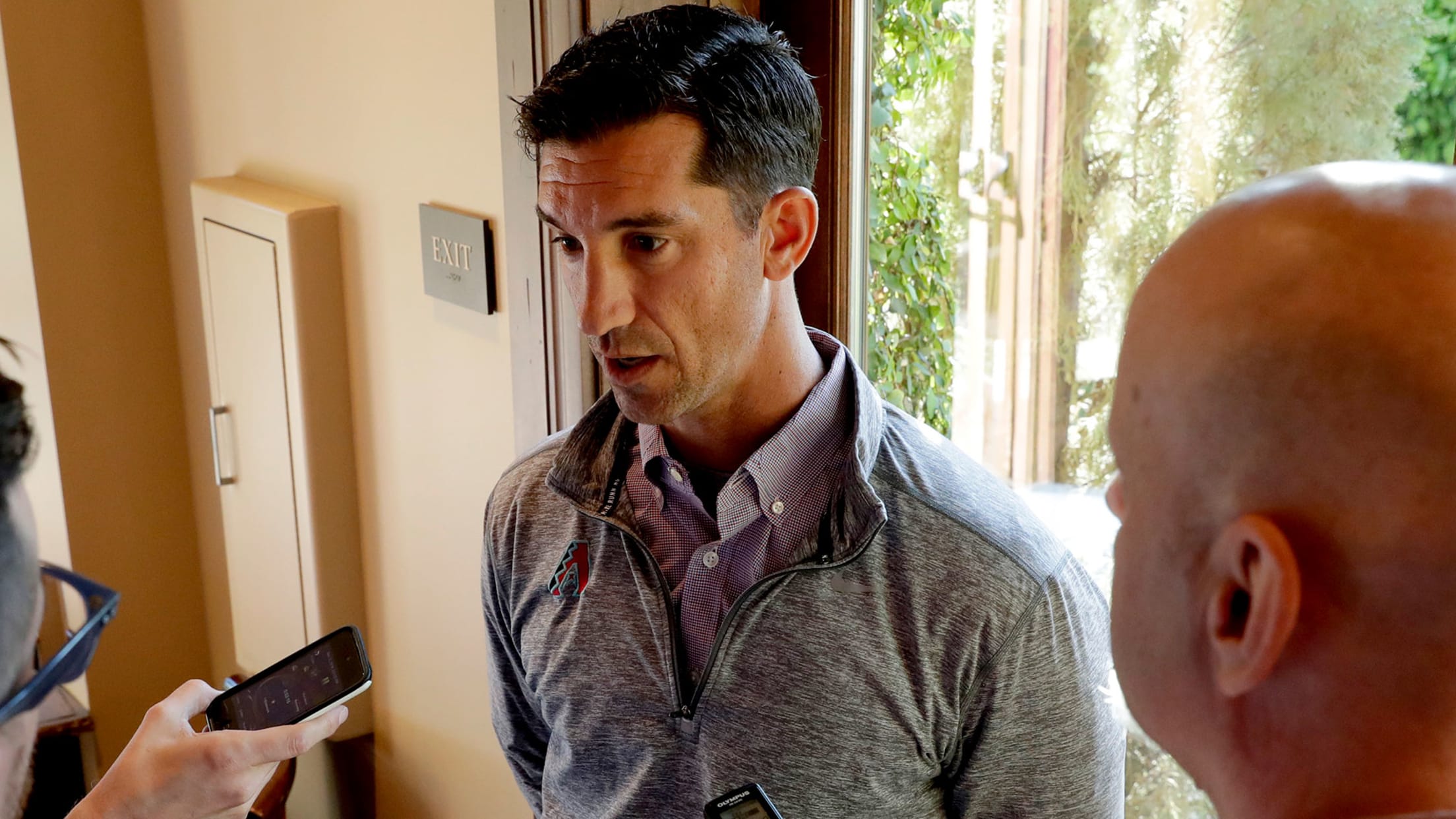 SCOTTSDALE, Ariz. -- Don't expect the D-backs to make any moves during this week's General Managers Meetings, which run through Thursday morning, but that doesn't mean they won't be productive. It was at last year's GM Meetings where the D-backs and Cardinals began to solidify the trade that sent Paul
SCOTTSDALE, Ariz. -- Don't expect the D-backs to make any moves during this week's General Managers Meetings, which run through Thursday morning, but that doesn't mean they won't be productive.
It was at last year's GM Meetings where the D-backs and Cardinals began to solidify the trade that sent Paul Goldschmidt to St. Louis for catcher Carson Kelly, right-hander Luke Weaver, Minor Leaguer Andy Young and a Draft pick.
During those same meetings, the D-backs also were engaged with the Astros about Goldschmidt and it was their talks about Houston prospects at that point that would later pay dividends when the two sides were able to pull off the Zack Greinke trade just before the Trade Deadline.
The 2016 trade that netted the D-backs Taijuan Walker and Ketel Marte? It also saw its beginnings at that year's GM Meetings.
"I think you get a pretty good understanding of where you might lock in trade-wise over the next month or so," D-backs GM Mike Hazen said. "And then you're gathering information, obviously you're meeting with agents and talking about free agency, too. We're doing all of that now."
The D-backs are in the market for outfield help. They would like to possibly add a corner outfielder, depending on whether they non-tender right fielder Steven Souza Jr..
They are looking for either a center fielder or a second baseman, which would allow them to play Marte more at just center or second rather than switching back and forth as much as he did in 2019.
Marte will still likely see time at both depending on matchups, but a little more stability would probably benefit him.
The middle infield is more of his natural position, so the D-backs would ideally like to find a center fielder. Much like last offseason when they looked to fill A.J. Pollock's spot, center is a thin position on both the trade and free-agent market.
One possibility could be Japanese center fielder Shogo Akiyama, a 31-year-old left-handed hitter.
"We think he's a good player," Hazen said. "We've scouted the [Nippon Professional Baseball Organization] heavily, as we have every year. We've had some success relationship-wise and having a good environment, the transition coming across from a different league, we've spent a lot of time on that, ensuring that transition is successful. We're in the outfield market, the center-field market, specifically. We're in the entire market."
Varsho injured
Catcher Daulton Varsho, the No. 5 prospect in the D-backs organization per MLB Pipeline, injured his ankle while playing in the Super Round at the World Baseball Softball Confederation Premier12 tournament.
"He has a moderate ankle sprain," Hazen said. "The X-rays were negative, but we'll get more testing because I think anytime we're dealing with foot,ankle, hand [or] finger, there's usually some things you see on the X-ray, but sometimes not always."
Hazen said Varsho is on his way back from Japan and will be examined by team doctors. After that they will determine if they need to have him undergo an MRI.