D-backs bring MLB experience to youth game
Ray, Hazelbaker among those to attend Inter-Tribal Tournament finale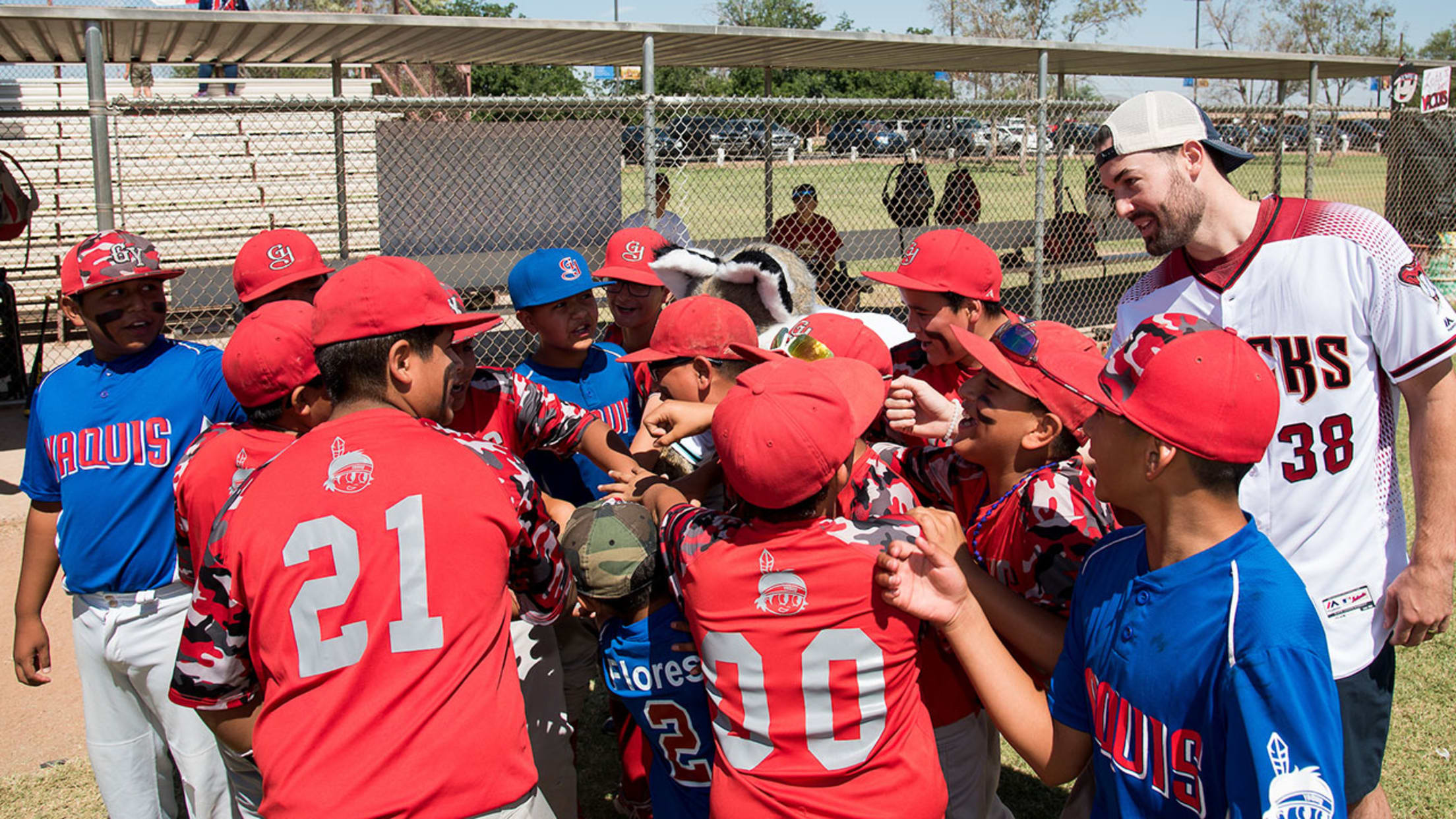 Robbie Ray: "Just to be able to come out and support them like they support us, it's cool to show them we care." (Sarah Sachs/D-backs)
SCOTTSDALE -- Arizona Diamondbacks left-hander Robbie Ray remembers when catching a foul ball at a Triple-A Nashville Sounds game would make his day as a kid. But on Saturday morning, he gave Little Leaguers an experience he never had. Ray was part of a D-backs takeover for the championship game of
SCOTTSDALE -- Arizona Diamondbacks left-hander Robbie Ray remembers when catching a foul ball at a Triple-A Nashville Sounds game would make his day as a kid. But on Saturday morning, he gave Little Leaguers an experience he never had.
Ray was part of a D-backs takeover for the championship game of the Native American Inter-Tribal Youth Baseball & Softball Tournament at Salt River Recreation Center. Along with Ray and outfielder Jeremy Hazelbaker, the D-backs' D. Baxter the Bobcat, organist Bobby Freeman, public address announcer Chuck Drago and the Rally-backs helped kids feel like they were playing at Chase Field.
"Just to be able to come out and support them like they support us, it's cool to show them we care," said Ray, who is of Native American descent.
Upon arriving, Baxter ran around the ballpark high-fiving fans before throwing pop flies and rolling grounders to players from each team. Moments later, Drago read the starting lineups and Freeman played his own rendition of the Star-Spangled Banner.
Ray and Hazelbaker sat in each dugout and interacted with players and parents during the game. They conversed and posed for pictures, and Ray even went a step further, as he had a personal handshake with a player.
The Guadalupe Yaquis defeated the Gila Bend Bears, 5-4, in the championship game of the 9-12 age group, but it was a day both teams will never forget.
"It's just great that they came out, even though they have a game today," said 12-year-old Xavier Bueno of the Yaquis. "It's just amazing how they still came to support us."
The 19th annual Inter-Tribal Tournament featured 76 teams from five states, all with players of Native American descent. It aims to expose the Native American communities to baseball and allow them to play on the best fields against stiff competition.
D-backs vice president of cooperate and community impact Debbie Castaldo said the tournament is the "best-kept secret in baseball." But through promotional efforts, college scouts now attend some of the high-school-division games.
"Our dream is to someday have one of the kiddos who played in this tournament go on and play in the big leagues," Castaldo said.
The takeover also featured some of the same in-game aspects as D-backs games, including a kiss cam and a T-shirt toss.
"The big leagues don't happen unless you have the Little Leagues," said Drago, who spent the first part of his birthday at the takeover. "These kids deserve to be treated like big leaguers, if not for just one day."
Hazelbaker said he remembers big leaguers coming to his games as a kid. Any time he got to sit next to one or talk to one, it was a huge deal.
He hopes he had that same impact on Saturday.
"It's an amazing feeling," Hazelbaker said. "It's something you can't really put into words."
The only thing missing from the big league experience was Chase Field's retractable roof.
Justin Toscano is a contributor to MLB.com.