D-backs help unveil school's new workroom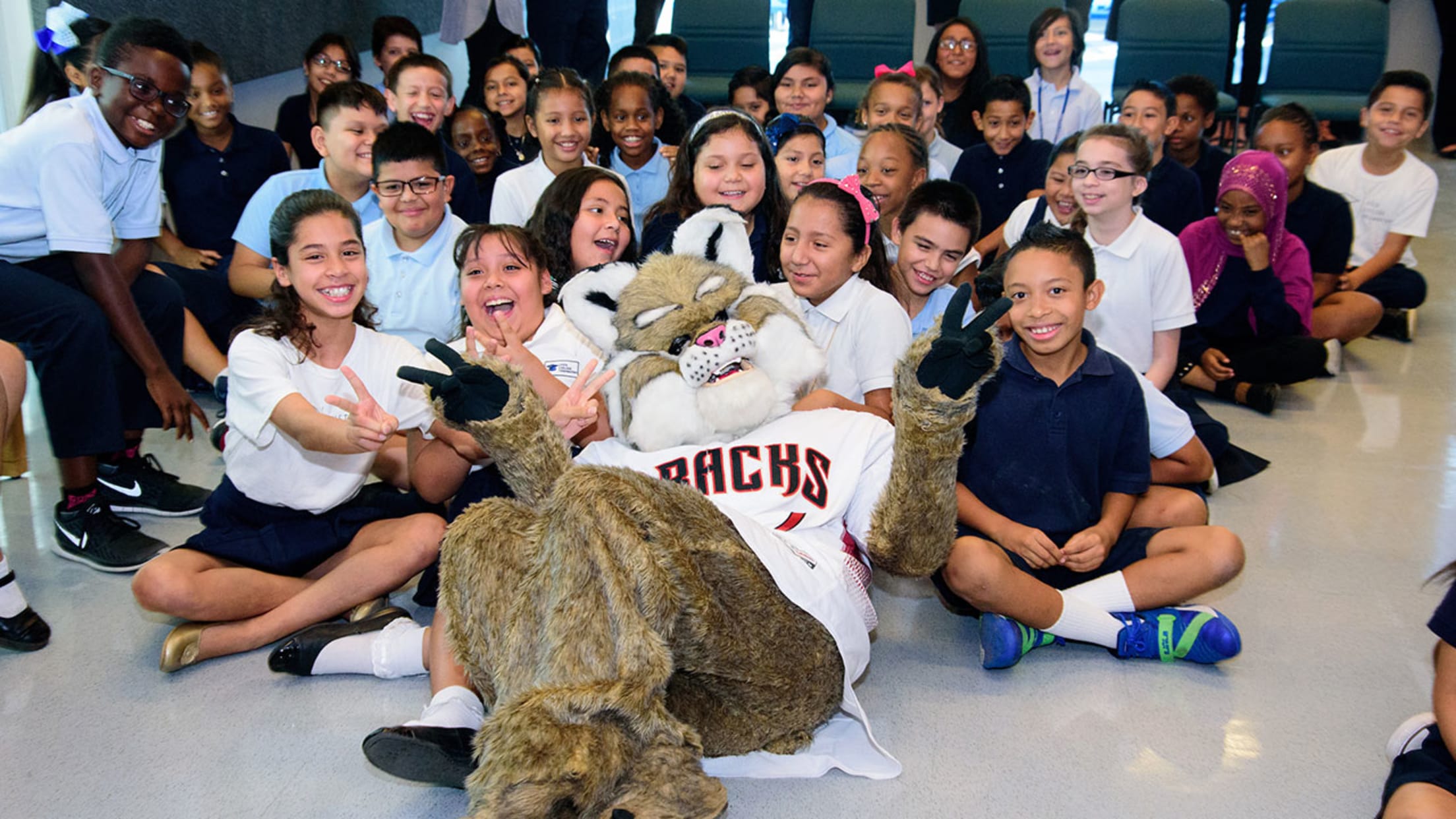 Baxter, the D-backs' mascot, with the children of Vista College Preparatory. (Sarah Sachs)
As the Arizona Diamondbacks and the Arizona Diamondbacks Foundation close in on a milestone $50 million in donations back to the Arizona community, one recent grant recipient was able to turn its donation into a reinvestment in its own cornerstone of success -- its teachers.On Thursday morning, $100,000 Ken Kendrick
As the Arizona Diamondbacks and the Arizona Diamondbacks Foundation close in on a milestone $50 million in donations back to the Arizona community, one recent grant recipient was able to turn its donation into a reinvestment in its own cornerstone of success -- its teachers.
On Thursday morning, $100,000 Ken Kendrick Grand Slam Award winner Vista College Preparatory unveiled its new D-backs-funded teacher development workroom -- a space designed for educator collaboration and learning -- which doubles down on the Phoenix-based K-4 institution's belief that teacher quality is a major factor in student achievement. With a 21-to-1 student-to-teacher ratio, Vista College Prep will use the new room as a meeting place for its staff's professional development sessions, monthly curriculum assessments and weekly student motivational rallies.
"We believe that in order to be a good teacher, you don't need a ton of teaching experience," Vista College Preparatory Principal Julia Alperin said. "You need the grit and passion to be aligned with our mission to help our scholars -- regardless of area code -- get to college through a high-quality education at this level.
"Since we started in 2013, we've had a huge support system with the D-backs. In addition to them giving us tickets to their games, we get their support here with our school in the form of the donation of this teacher workroom. The relationship has really been phenomenal."
Much like that bond with the D-backs, Vista College Prep credits a collaborative learning atmosphere and a committed focus on professional development as being critical to its overall success and subsequent growth every year since its inception three years ago. Next year, the school and its 14 teachers and near 250 students will expand to K-5.
Thursday's unveil event of the D-backs-branded teacher workroom also included appearances from team mascot D. Baxter, Vista College Prep's D-backs Most Valuable Teacher Award recipient Angela Coleman and D-backs Vice President of Corporate & Community Impact Debbie Castaldo, who talked about the school's vested interest in success as well as that of its student body overall.
"We're really proud of these students," Castaldo said. "I remember my very first trip to Vista College Prep. What I saw that day… the focus, the attention, the respect and the acts of kindness... Those guys are going to be awesome. They are scholars now, and the D-backs are so proud of them. We're their neighbors and their friends, but the main thing is that we are their fans. As much as they are fans of the D-backs, we are fans of theirs.
"The other thing I remember from that first visit was the love, passion and commitment of their teachers. They choose to be here because of the students, whom they want to see succeed and have a better opportunity at a great education and a fantastic life. How cool is that? The D-backs are proud to be involved with this school."
For more information, visit dbacks.com/giveback.
Josh Greene is the D-backs' director of publications.