Joining O's, Straily encounters familiar faces
Right-hander beginning in bullpen, expected to build up to starting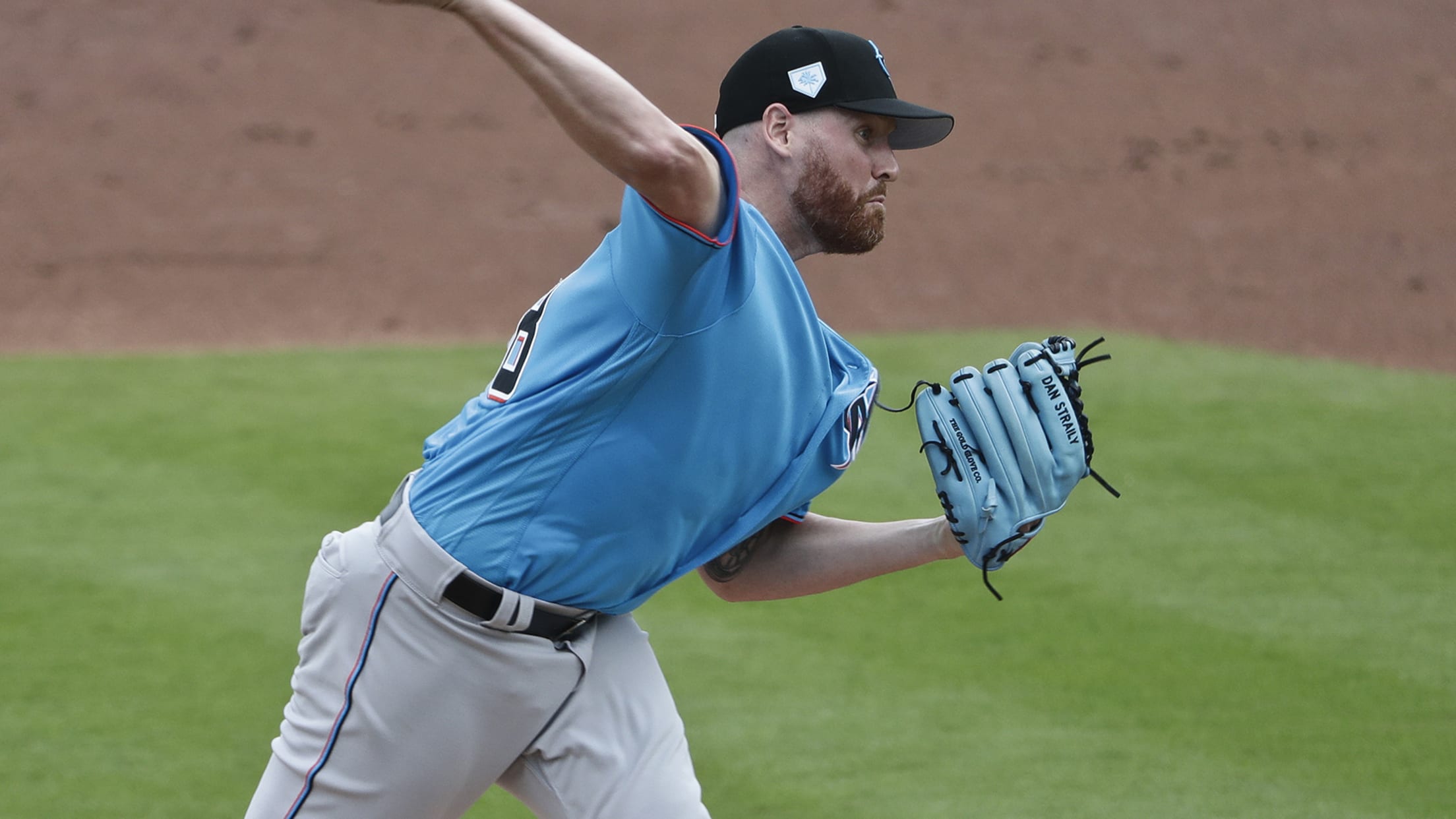 BALTIMORE -- Rare is the player who changes teams and leagues, then finds himself in an environment both alien and familiar. But that was the dual reality Saturday for Dan Straily, who walked through the doors of the Orioles' clubhouse into an odd dynamic. Inked to a one-year deal Friday
BALTIMORE -- Rare is the player who changes teams and leagues, then finds himself in an environment both alien and familiar. But that was the dual reality Saturday for Dan Straily, who walked through the doors of the Orioles' clubhouse into an odd dynamic.
Inked to a one-year deal Friday to fill the hole in the back of Baltimore's rotation, the Orioles mark Straily's seventh organization in eight Major League seasons. While he can only call one Orioles player a former teammate -- second baseman Jonathan Villar lined up behind Straily in 2015 in Houston -- Straily knows almost the entire staff, having crossed paths with a whopping eight Orioles coaches and executives during his well-traveled career.
"I'm trying to get settled in," Straily said. "It helps the transition a lot better, from my end of things."
In the small, always-turning-over world of Major League Baseball, connections are common. What's weird is how so many of Straily's have coalesced now with the Orioles, who targeted his veteran right arm immediately after Straily was released last month by the Marlins. In Straily, they saw a veteran solution to their rotation uncertainty, and a potential panacea for their heavily-worked bullpen, which has been forced to cover a higher percentage of its team's innings than any other unit in baseball.
Orioles manager Brandon Hyde said Straily will initially join those relief corps with an eye toward "ramping him up to join the rotation at some point." The Orioles don't need a fifth starter until Wednesday against Oakland.
"We just needed an extra arm. … He's a guy that eats innings, has a really good slider, knows how to pitch and is a competitior," Hyde said. "I have a relationship and some history with him."
He's far from alone in this regard. The 30-year-old Straily, who has been traded four times in his career, played under Hyde in Chicago in 2014. He played beside catching and infield instructors Tim Cossins and Jose Flores in the Cubs' system that year as well.
Straily brushed shoulders with general manager Mike Elias and pitching coach Doug Brocail during a brief tenure in Houston in 2015. He knows hitting coach Don Long from Cincinnati, bullpen coach John Wasdin from his days as an A's prospect and outfield/first-base coach Arnie Beyeler from the Marlins organization, where Straily thought he'd be spending 2019.
"I thought I was being called in to be told what game I was starting to begin the season," Straily says now, adding he was "100 percent" surprised when Miami waived him March 25 in what many speculated was a cost-cutting move.
The Orioles pursued him immediately, Straily eventually choosing Baltimore over several potential suitors because its offer included the opportunity to start games. Straily hasn't pitched competitively since Spring Training, but said he threw 50- and 100-pitch sessions in controlled settings on his own over the last calendar week to stay fresh.
On his two-year tenure in Miami, where Straily went 15-15 with a 4.20 ERA over 56 starts, Straily said: "I'm just glad that chapter is over."
Enter the new one, though Straily knows he may be on the move again sooner or later. Built into his one-year contract is a $250,000 incentive that triggers if he is traded; its presence is neither formality nor coincidence. The rebuilding Orioles are expected to shop many of their valuable assets later this summer, in hopes of cementing the types of prospect-laden deals Straily has often been a part of.
"My job is to pitch," Straily said. "My agent and the front office are working together, but while I'm here, I'm 100 percent committed to here. I've been a lot of different places in my career. But each place I've been, I've been 100 percent committed to that specific spot while I was there. "