Straily to open 2nd half as Marlins set rotation
Lopez, Richards, Urena, Chen round out starting staff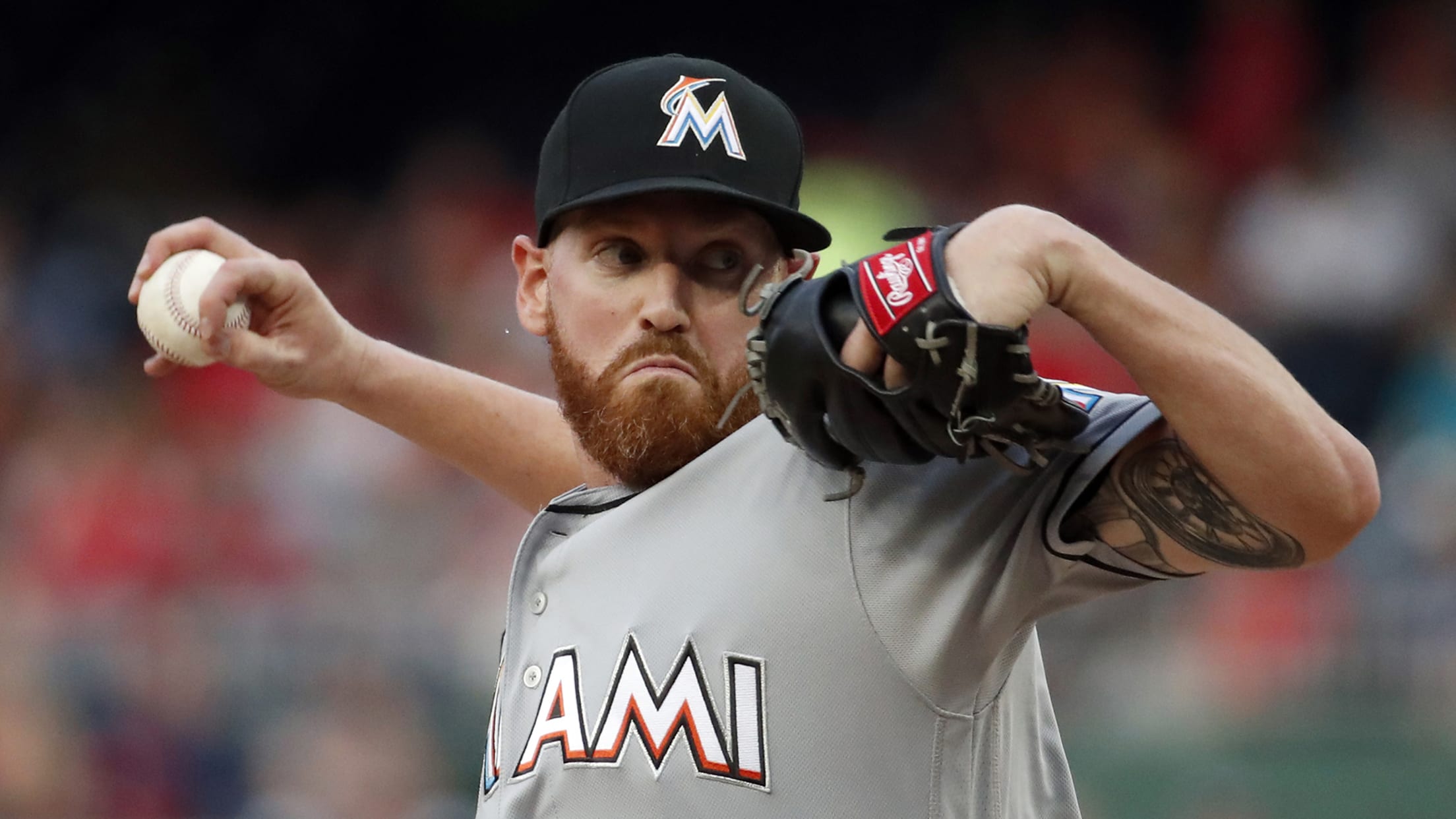 Miami Marlins starting pitcher Dan Straily throws during the second inning of a baseball game against the Miami Marlins at Nationals Park, Friday, July 6, 2018, in Washington. (AP Photo/Alex Brandon) (Alex Brandon/AP)
MIAMI -- Before getting hurt late in Spring Training, Dan Straily was lined up to be the Marlins' No. 2 starter. Coming out of the All-Star break on Friday in St. Petersburg, the 29-year-old right-hander will make the first start of the second half for Miami.Manager Don Mattingly on Sunday
MIAMI -- Before getting hurt late in Spring Training, Dan Straily was lined up to be the Marlins' No. 2 starter. Coming out of the All-Star break on Friday in St. Petersburg, the 29-year-old right-hander will make the first start of the second half for Miami.
Manager Don Mattingly on Sunday set the post-break rotation, with Straily going on Friday, Pablo Lopez on Saturday and Trevor Richards in the series finale against the Rays in the Citrus Series.
When the Marlins return home to face the Braves on July 23-24, Jose Urena will get the opener of the two-game set, with Wei-Yin Chen closing it out.
Urena, Miami's Opening Day starter, pitched Sunday's series finale against the Phillies. The Marlins wanted to give him some extra rest before he starts his second half after the right-hander recently returned from a right shoulder impingement.
"We really wanted Jose to have two starts before the All-Star break, and he ended up having three," Mattingly said. "So we wanted to push him back and give him a little time afterwards. We've been trying to keep his pitch count somewhat down."
Chen is the lone lefty in the rotation, and the reason to go with him in the fifth game back was simple: He has a 1.83 ERA at Marlins Park, compared to a 10.47 ERA on the road.
"Chen, obviously, we wanted him to pitch at home," Mattingly said.
Lopez and Richards are the two rookies in the rotation.
Recently called up from Triple-A New Orleans, the 22-year-old Lopez is 1-1 with a 6.35 ERA in three starts, striking out 14 in 17 innings.
Richards has a 3-5 record and a 4.74 ERA in 13 starts. The 25-year-old right-hander threw six innings in Saturday's 2-0 win over the Phillies.
"Trevor in his own right has been OK, he's holding his own," Mattingly said. "He's finding his way. I think with Trevor, it's about understanding who he is."
Another rookie, Sandy Alcantara, is on the disabled list with a right axillary infection. He is scheduled to throw a bullpen on Tuesday at the Roger Dean Chevrolet Stadium complex in Jupiter, Fla.
Before returning to the rotation, Alcantara is expected to make at least one rehab assignment.
"For the young guys, they need to figure things out and know who they are," Mattingly said. "They have a tendency to all of a sudden try to do something different because they're in the big leagues and they want to make changes."
Overall, the Marlins' first half has shown progress, but the club still is well under .500.
"Our effort has been great," Mattingly said. "Our guys have fought. We're a team that's gaining an approach, as a team, as far as the way that we hit. A lot of good things, but I still think you expect to win. There's a lot of games we could have won in the first half that could have changed the narrative even more than it already is. We could have won a lot more games. You can't be satisfied just with good stories and a few guys getting better. We've got to get better."