Why to expect more from Murphy in 2020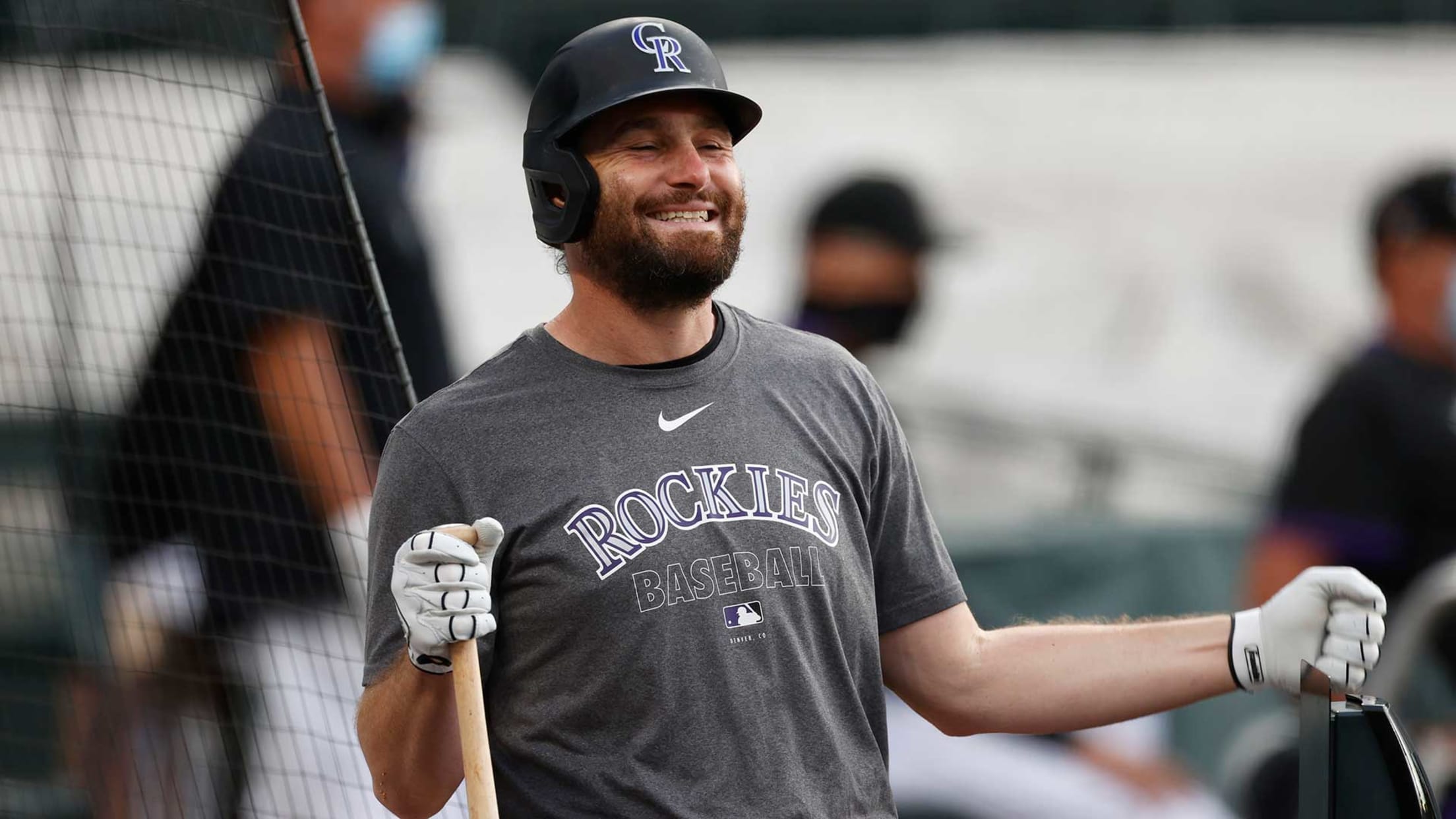 DENVER -- Rockies Summer Camp is quiet, save for the cracks and pops of baseball and the Coors Field music system. But every now and then, the ambiance is infiltrated by a cross between a yelp and a scream. It's scary if you don't anticipate it, funny if you expect
DENVER -- Rockies Summer Camp is quiet, save for the cracks and pops of baseball and the Coors Field music system. But every now and then, the ambiance is infiltrated by a cross between a yelp and a scream. It's scary if you don't anticipate it, funny if you expect it.
This is Daniel Murphy's call, usually when he's gasping for an extra base after lacing a line drive.
The crowd noise of pre-2020 baseball makes it hard to know if Murphy's joyful noise accompanied his hits during his previous 11 seasons, several of which saw him challenge for National League batting titles. But if Murphy delivers hits worth hootin' and hollerin' about -- as his Summer Camp has suggested he might -- Rockies fans just may drown him out from in front of their own home screens.
Last season, the first of a two-year, $24 million contract, Murphy was slowed by an early-season finger injury, his movement showed the lingering effects of a 2017 knee surgery, and he never found his true swing. He finished with a respectable .279 average, but that was his lowest since he hit .266 with the Mets in '09, his first full season. After the Rockies' 71-91 finish, Murphy's offensive season and his less-than-stellar defense at first base were not looked upon kindly.
But under the new calendar year, Murphy has been different. Workouts show the gap power that should lead to him hitting doubles at a higher rate than last year (35 in 132 games). Last year, it took until July 13 for Murphy to hit his first home run at Coors Field, which was a bitter development considering that lifting balls to the pull side has been his forte.
Can Murphy go from the less-than-threatening presence he was last season to indispensable -- at first base or as designated hitter -- during a 60-game schedule?
"I'm not sure what our best lineup will be," Rockies manager Bud Black said. "But Daniel Murphy if is swinging the bat well, he'll be in there."
Black said often during and after last season that Murphy's pride would push him back to his old production -- .347 with the Nationals in 2016, .322 in '17, after some solid years with the Mets.
First, a look at what went wrong last season.
Beyond the occasional goofy stuff, Murphy is a general in the launch-angle revolution. He can talk degrees the ball comes off the bat with any teammate who will listen, and guide teammates whose eyes glaze over when things get too technical.
But last year, Murphy's inability to lift the inside pitch made him a launch-angle minister who couldn't practice what he preached.
This first Statcast graphic shows the left-handed-hitting Murphy's launch-angle performance, especially on inside pitches, from 2016-17, his most productive seasons with the Nats: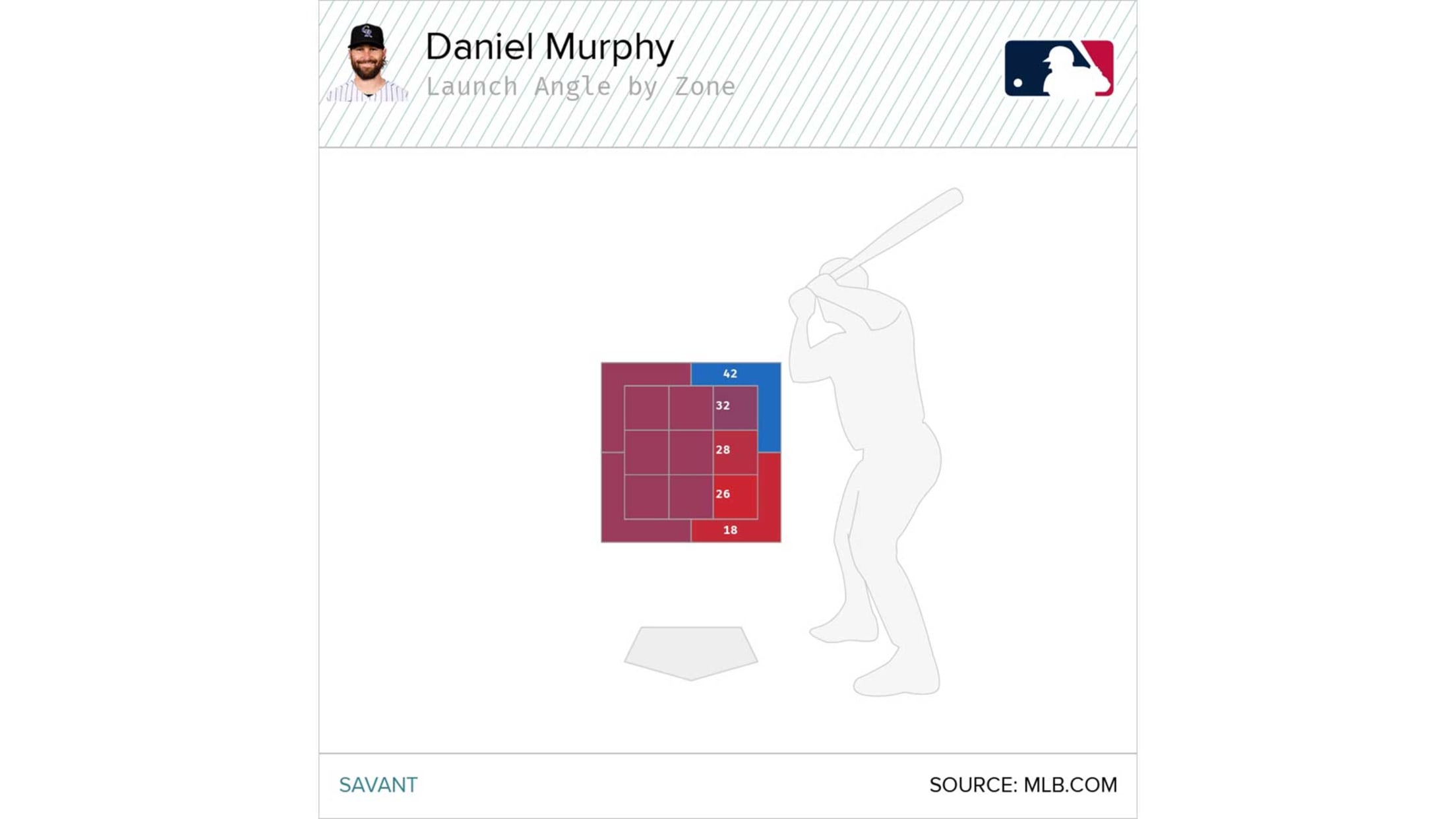 And last season, note the lower angles on the same pitches: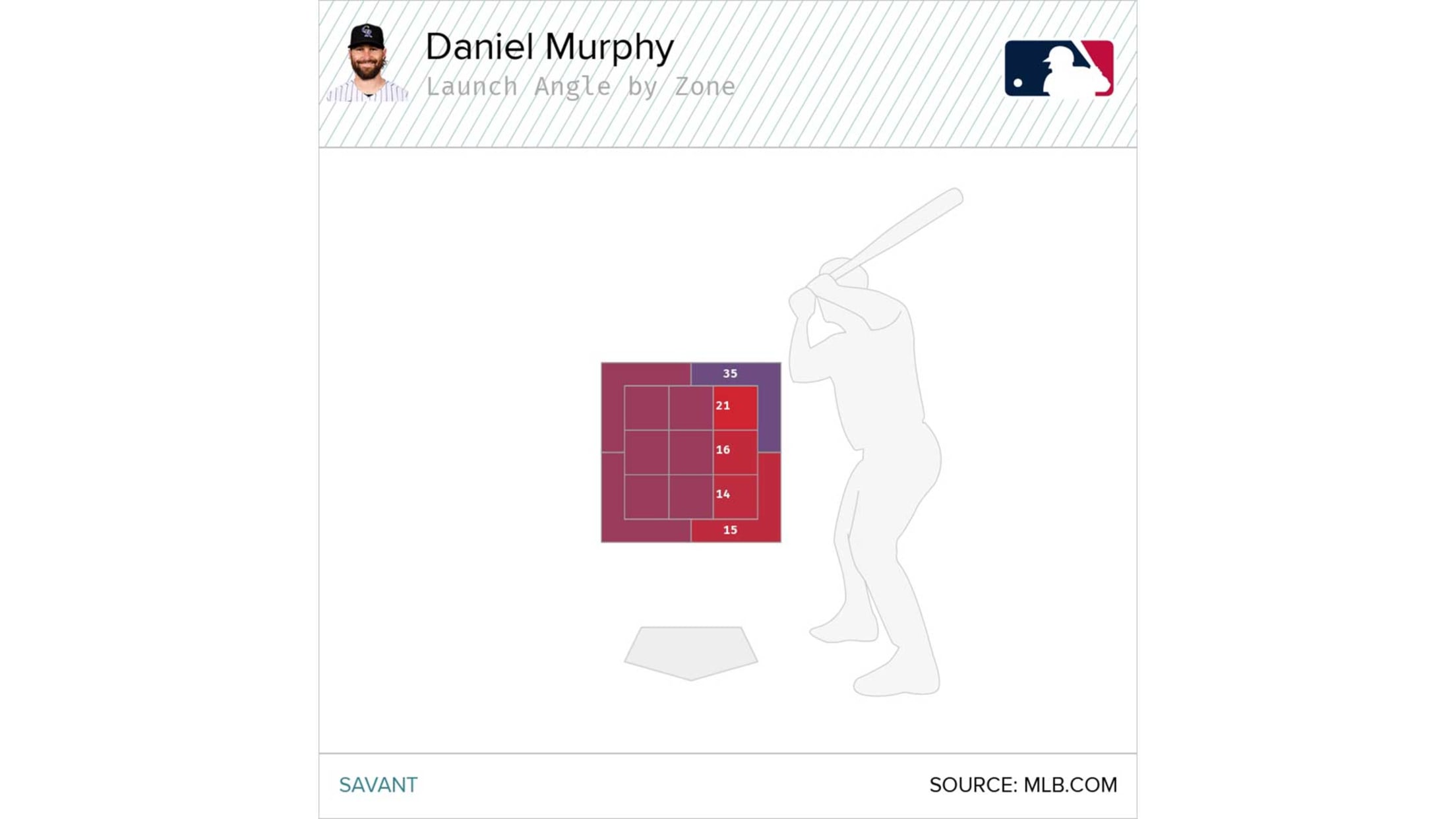 Now, look to the right side of his 2016-17 spray chart, and how frequently the ball went into the gaps or even over the wall: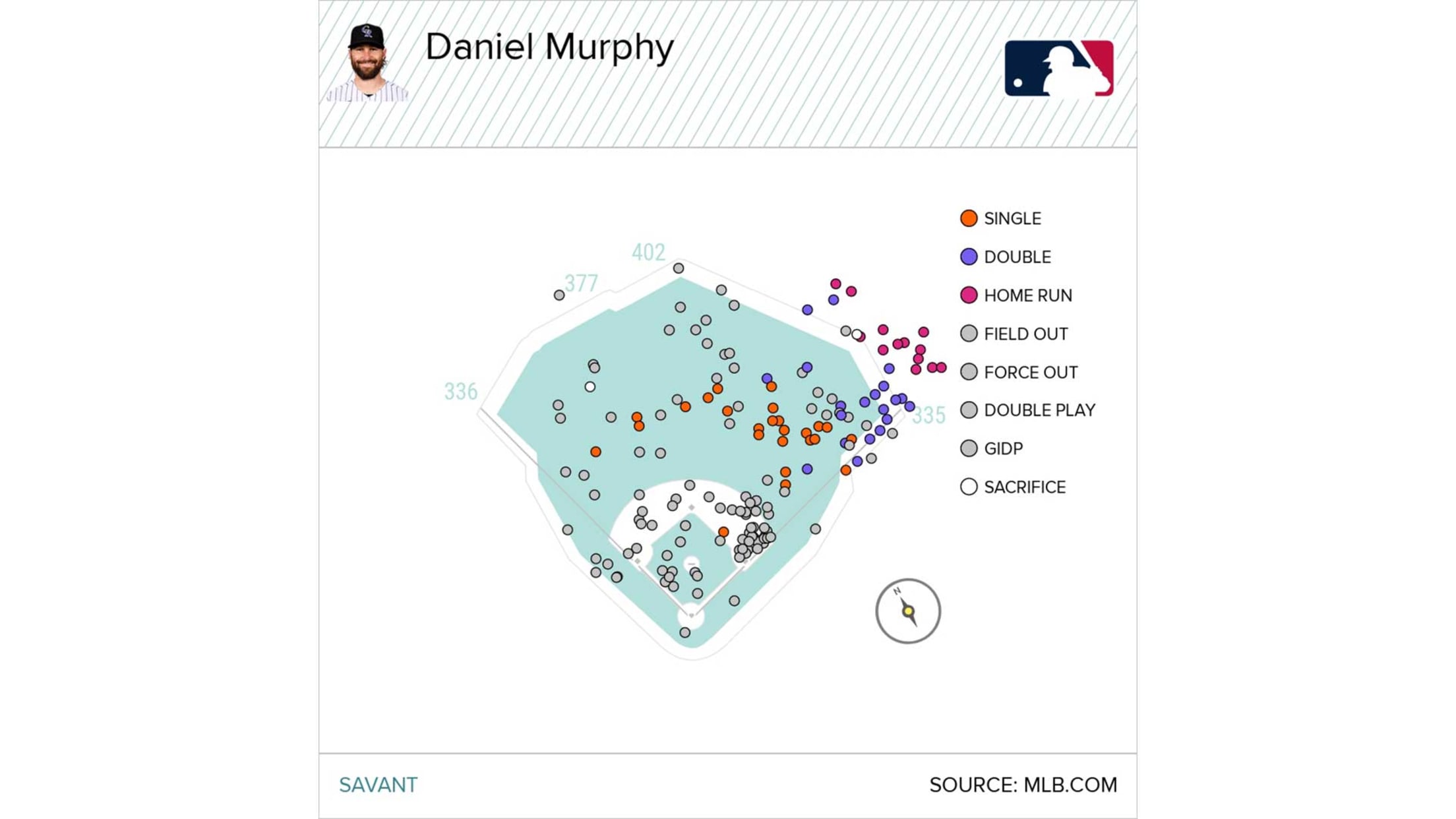 But last season, a lot of those rolled to the first baseman or second baseman: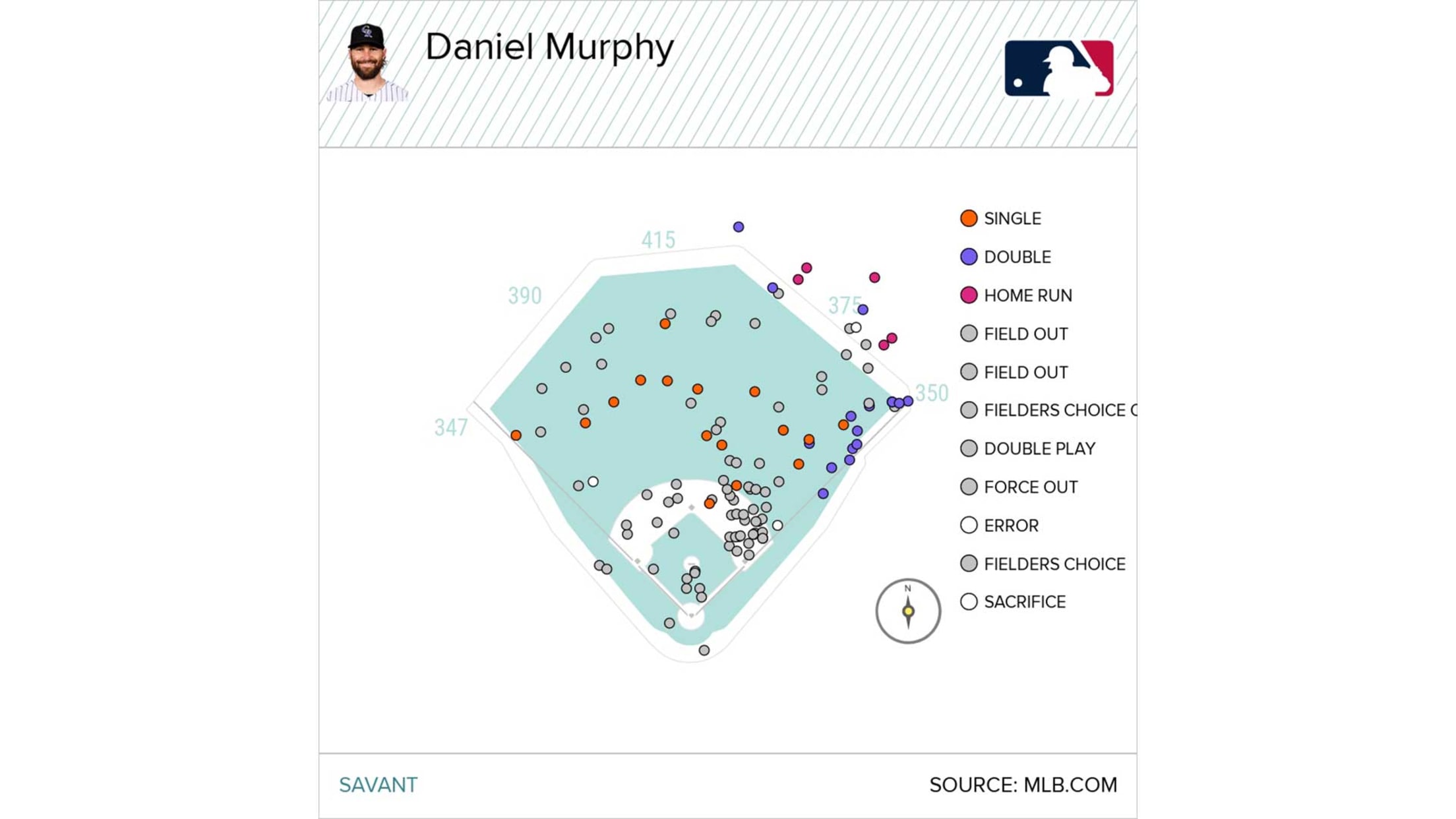 If you like words and numbers:
Murphy's line drive/fly ball rate vs. inside pitches
2016-17: 53.9 percent
2019: 46.3 percent
Murphy's pulled LD/FB rate vs. inside pitches
2016-17: 36.5 percent
2019: 25.6 percent
Murphy's ground ball rate vs. inside pitches
2016-17: 22.8 percent
2019: 41.3 percent
Murphy's avg. launch angle vs. inside pitches
2016-17: 30.0 degrees
2019: 17.7 degrees
Murphy's slugging percentage vs. inside pitches
2016-17: .520
2019: .493
Now, hitting coach Dave Magadan believes Murphy is ready to make the charts and numbers look much prettier. The fix sure sounds simple, but it was a winter's worth of trial and error.
"It was more entry of the swing and bat path," Magadan said. "He worked on it all offseason off the tee. He looked much better in Spring Training, and has continued to look better in Spring Training 2.0."
It sounds good now. If Murphy pierces the crowdless season with the thunder of his bat and the ecstasy of his celebratory squeals, it'll give the Rockies reason to shout.