Inbox: Vogelbach's hot bat makes 1B hot topic
Mariners beat reporter Greg Johns responds to questions from fans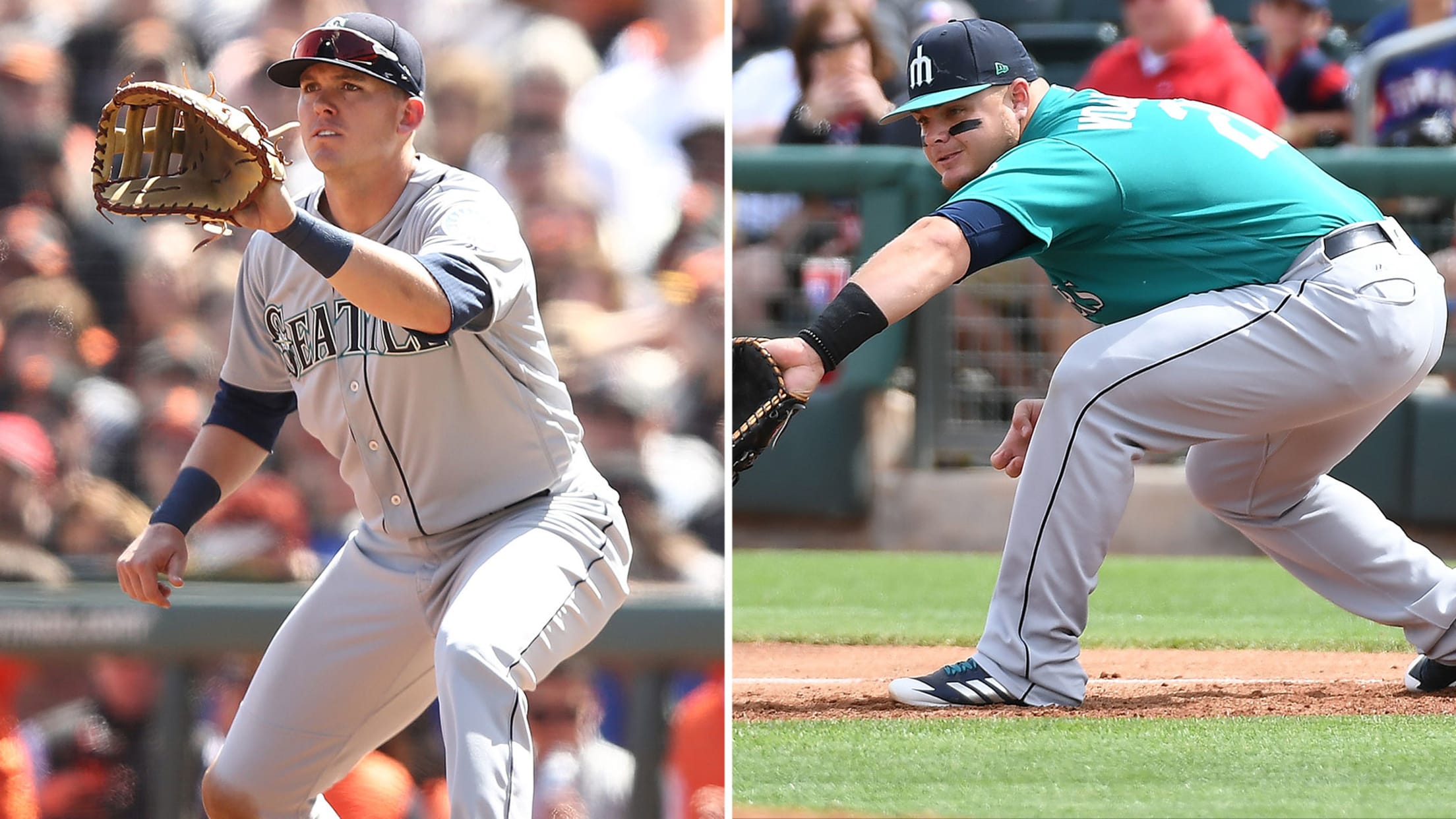 Is manager Scott Servais still planning to use Ryon Healy as the Mariners' primary first baseman, with Daniel Vogelbach as occasional backup? Though it's a small sample, it seems that it would be better to go with the hot bat a bit more often. -- Wes O., Bellevue, Wash.Six games
Is manager Scott Servais still planning to use Ryon Healy as the Mariners' primary first baseman, with Daniel Vogelbach as occasional backup? Though it's a small sample, it seems that it would be better to go with the hot bat a bit more often.
-- Wes O., Bellevue, Wash.
Six games into the season, Healy remains the primary first-base option despite his slow start at the plate. He's played well defensively, and no team changes its playing-time decisions based on one week of at-bats. That said, Vogelbach clearly is making a case for increased opportunities if he keeps hitting as he's done since the start of spring, and his production is being noted.
The one upside of Nelson Cruz's ankle sprain is it's allowing Vogelbach a chance to show if he can rake in regular-season games as well as he fills in at designated hitter. So far, he's taken advantage.
What is the likelihood that Felix Hernandez has a renaissance like Justin Verlander had last year?
-- Chris O., Nooksack, Wash.
That's the $1 million -- or $27 million -- question, it seems. We've seen the good Felix and bad Felix in his two outings so far. The Mariners would surely settle for a Felix somewhere in the middle. If he can be a solid starter all season -- something like the guy who put up a 3.82 ERA in 25 starts in 2016 -- their rotation looks a lot better. If he stays healthy and pitches smart, using his offspeed weapons like he did in the opener, I certainly think that's possible.
Is there a reason we are now seeing Juan Nicasio in the eighth instead of Nick Vincent? They're both right-handers, so I don't see it as a matchup situation.
-- Rick A., Puyallup, Wash.
General manager Jerry Dipoto signed Nicasio because he was one of the most effective setup men in the Majors last year, and the plan all along was to use him, Vincent and David Phelps in a rotating fashion as the late-inning bridge to closer Edwin Diaz. Phelps' injury changed that, and Nicasio hasn't looked sharp yet, but they'd like him to be the eighth-inning guy when possible and take some of the burden off Vincent, who has been outstanding the last two years when he hasn't been overworked.
Why is there an off-day in the middle of these early-season series?
-- Ian O., Bozeman, Mont.
The new Collective Bargaining Agreement added three or four off-days to each team's schedule, which meant starting the season earlier than ever before. At the same time, MLB decided it wanted to have every team to open on the same day, Thursday, March 29.
Teams with a three-game Opening Series were then given an off-day Friday as a built-in weather day, in case the opener needed to be rescheduled. That didn't make a lot of sense in Seattle's case, given Safeco Field has a roof, but it wouldn't have made sense to skip a Saturday or Sunday home game either.
Same thing happened this week in Minnesota, where the Twins had their home opener Thursday and the "potential makeup" day on Friday. There have been many weather-related cancellations around MLB the first week, so that cushion day was needed. But it did make for an odd start for Seattle, with three off-days in the first nine days of the schedule.
How is Erasmo Ramirez doing, and what will the Mariners do with their rotation next week when the schedule really picks up?
-- Cory S., Spokane, Wash.
Ramirez threw 30 pitches in a simulated game on Tuesday with Triple-A Tacoma as he returns from a strained right lat muscle, and he could make a short appearance in a Minor League game this weekend. But he'll need a couple of outings to build up to where he can start for the Mariners, so Ariel Miranda is on track to be promoted when a fifth starter is needed for the first time on Wednesday in Kansas City.
I suspect Miranda will be given at least two starts in the rotation before Ramirez is ready and, at that point, they'll see who is healthy and how well everyone is throwing before making any decisions.
Do you think as an organization, the Mariners have made up their minds to move Robinson Cano, Cruz and Hernandez if they are out of contention by mid-summer?
-- Lonnie G., Olympia, Wash.
Everyone seems to love pondering this question, but the reality is Cano will be 36 and have five years and $120 million remaining on his deal after this year, and Hernandez has another year at $27 million, so those contracts are virtually impossible to trade for any kind of worthwhile return. It's not about the players, but the contracts, which is why teams are increasingly reluctant to dish out long-term deals to free agents in their 30s.
Cruz is a different story since he'll be a free agent after this season, but the Mariners would have to be well out of contention to move him, and that's certainly not in their plans at the moment.
Can James Paxton speak to eagles?
-- Jenson, Napoleon, Ohio
The Big Maple clearly has the right temperament to deal with eagles, Orioles and Blue Jays, not to mention Tigers, Rays, Diamondbacks or any other kinds of wildlife. That truly was the most amazing pregame moment I've seen.
Is there any further word on the timeline for Mike Zunino's return?
-- Steven, Kalamazoo, Mich.
Some initial thought that their catcher could be back with the team by this weekend in Minnesota has been curtailed, in large part by the reality that pushing a strained oblique muscle too soon in 30-degree weather wouldn't be wise.
Barring any setbacks, Zunino might be able to rejoin the club to start the next homestand on April 13, though that still would be a pretty quick return after just 2 1/2 weeks. Much will depend on how he feels once he gets cleared for rehab games.