Swanson, Newcomb among top prospect performers Monday
Braves' No. 1 prospect knocks in four runs, No. 2 hurls six scoreless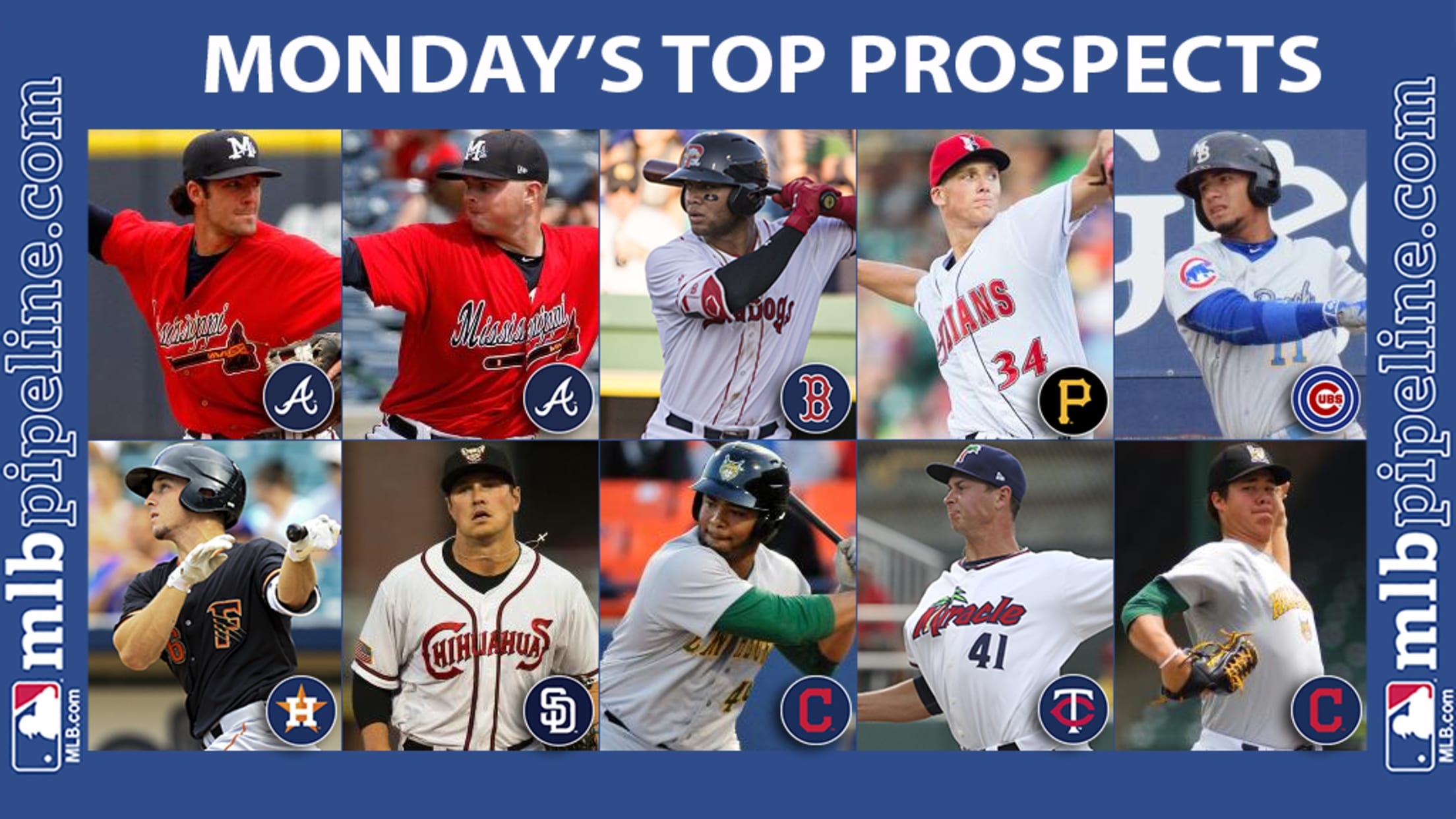 (Paul Sancya/AP)
The future of the Atlanta Braves was on full display on Monday as Dansby Swanson tallied a career-best four RBIs and Sean Newcomb fired six scoreless frames to lead Double-A Mississippi in a 5-0 shutout over Jackson.After hitting his second inside-the-park home run of the season on Friday, Swanson, the
The future of the Atlanta Braves was on full display on Monday as Dansby Swanson tallied a career-best four RBIs and Sean Newcomb fired six scoreless frames to lead Double-A Mississippi in a 5-0 shutout over Jackson.
After hitting his second inside-the-park home run of the season on Friday, Swanson, the Braves' top-ranked prospect, cranked a two-run shot over the left field wall on Monday, giving him two home runs in his last three games for the M-Braves. The No. 6 overall prospect added a two-run single to finish 2-for-4 with four RBIs.
Swanson now has gone deep seven times in 63 games since being promoted from Class A Advanced Carolina, where he tallied one home run in 21 games. The 22-year-old shortstop lifted his Double-A average to .272 with his pair of hits.
MILB Video - Title: Swanson hits a two-run homer - Url: http://www.milb.com/r/video?content_id=942992383
Newcomb rebounded from three shaky starts in a big way as he recorded his first scoreless outing of 2016. The No. 17 overall prospect and Braves' No. 2 yielded three hits, two walks and struck out six, throwing 60 of his 95 pitches for strikes. Though he's largely struggled with his control and command, evidenced by his 4.48 ERA and 52 walks over 94 1/3 innings (19 starts), the 23-year-old southpaw has continued to miss bats. With his six strikeouts on Monday, Newcomb leads the Southern League with 98 strikeouts.
The rest of the best performances from top prospects Monday
• After beginning the night 0-for-3, No. 5 overall prospect Yoan Moncada (Red Sox's No. 1) homered in his final two at-bats to help power Double-A Portland past Trenton, 11-4. It was Moncada's first multi-homer performance, and he's gone deep seven times in 21 games since being promoted to Double-A.
MILB Video - Title: Moncada smashes second homer - Url: http://www.milb.com/r/video?content_id=942518083
• No. 8 overall prospectTyler Glasnow (Pirates' No. 1) was a tough-luck loser in his first start since being optioned to Triple-A Indianapolis by the Pirates. The 22-year-old right-hander allowed three earned runs on two hits and three walks over six innings, striking out nine, though the Indians were shut out by Lehigh Valley, 4-0. The outing raised Glasnow's Minor League ERA to 1.94 and he's leading all Minor League hurlers with 122 strikeouts.
• Another day, another multi-hit game for Alex Bregman. After pounding out three more hits for Triple-A Fresno in an 8-1 win against Round Rock, the No. 18 overall prospect (Astros' No. 1) owns a .362 average with 21 hits -- including six homers and five doubles -- through his first 13 games for the Grizzlies. He also picked up his first two Triple-A stolen bases in the contest.
MILB Video - Title: Bregman's first Triple-A steal - Url: http://www.milb.com/r/video?content_id=942937783
• No. 24 overall prospect Gleyber Torres fell a home run short of hitting for the cycle but reached base five times in Class A Advanced Myrtle Beach's rout of Winston-Salem. The Cubs' No. 1 prospect hit a pair of doubles and a triple, finishing 4-for-5, and he also scored three runs scored and knocked in three runs.
"I can say for the last two or three weeks, he's been playing with a lot of intensity," Pelicans hitting coach Mariano Duncan told MiLB.com. "He's starting to show to everybody that that's one of the reasons he's the No. 1 prospect in the organization.
"Hitting-wise, he's started feeling that he's a better hitter than what he showed at the beginning of the season, and now I think is the time that he's starting to put everything together. For 19 years old, he's very mature for his age. I really love what I see in that kid right now. To me, I think that he's just ready to go to another level."
MILB Video - Title: Torres collects his fourth hit - Url: http://www.milb.com/r/video?content_id=942772483
• After connecting on his career-best 22nd homer on Sunday night, No. 80 overall prospect Hunter Renfroe (Padres' No. 4) added to that total with a two-run shot in the eighth inning of Triple-A El Paso's win over Memphis. The 24-year-old slugger has hit safely in 15 straight games to raise his season average from .315 to .338.
MILB Video - Title: Watch: Renfroe goes yard - Url: http://www.milb.com/r/video?content_id=944517883
• No. 81 overall prospect Bobby Bradley (Indians No. 3 prospect) stayed hot as he went 4-for-5 with three RBIs in Class A Advanced Lynchburg's shutout of Wilmington. One of those hits was his 17th home run, which moved him into a first-place tie with Aderlin Rodriguez atop the Carolina League.
• In his third straight quality start for Double-A Chattanooga, No. 96 overall prospect Stephen Gonsalves (Twins' No. 6) allowed one earned run on two hits over seven innings. The 22-year-old southpaw issued a pair of walks and struck out nine. He's fanned 39 hitters over 27 2/3 innings (five starts) in the Southern League.
• In the same game that Bobby Bradley went 4-for-5 with a homer, Indians No. 26 prospect Luis Lugo matched two career-highs as he struck out 10 hitters over seven scoreless for Class A Advanced Lynchburg in a win over Wilmington. Though he hasn't missed as many bats in his second tour of the Carolina League, Lugo, a 6-foot-5 left-hander, has exhibited improved strike-throwing ability this season by reducing his walks-per-nine rate.
• Josh Naylor and Isael Soto, the Marlins' Nos. 2 and 8 prospects, combined for eight of Class A Greensboro's 15 hits in a win against Kannapolis. Naylor collected a career-best five hits, going 5-for-5 with a pair of doubles and an RBI, while Soto tagged his seventh home run in a 3-for-4 performance.
• Making his third start for Class A Fort Wayne since coming over from the Marlins in the Fernando Rodney trade, Padres No. 11 prospectChris Paddack struck out eight over five dominant innings in what was his sixth scoreless performance in nine starts this season. The 20-year-old right-hander has been brilliant in his first full season, posting a 0.85 ERA, a 0.59 WHIP and a 71-5 strikeout-to-walk ratio in 42 1/3 innings between the Marlins' and Padres' Class A affiliates.
• Phillies No. 22 prospect Dylan Cozens' mighty bat proved to be the difference in Double-A Reading's 9-5 win over New Hampshire. The 22-year-old went 2-for-5 with five RBIs. He gave the Fightin Phils an early lead with a three-run homer in the first inning before driving in two key insurance runs with a double in the sixth. The home run was Cozens' 25th of the season and helped him to reclaim a share of the Minor League lead from Reading teammate Rhys Hoskins. Overall, Cozens, 22, is pacing all Eastern League hitters in OPS (.953), doubles (29), runs scored (79) and total bases (205).
MILB Video - Title: Watch: Cozens goes yard - Url: http://www.milb.com/r/video?content_id=943896283
• After making headlines with his 105 mph fastball in his previous start for Class A Advanced Salem, Red Sox No. 4 prospect Michael Kopech continued to impress as he set a career high with nine strikeouts and fired five innings in a loss against Potomac. The 20-year-old righty allowed two runs (one earned), marking the first time he's been scored on in 18 1/3 innings (four starts) this season. During that stretch, Kopech piled up 27 strikeouts, while yielding just 12 hits (zero home runs).