Celebration of Life held for David Montgomery
Former Phillies president remembered as great friend
PHILADELPHIA -- Rob Manfred has spent the past four weeks trying to read every word that has been written about David Montgomery. So as the Commissioner prepared to speak at Thursday's Celebration of Life service at Citizens Bank Park, he found it difficult to come up with something that hadn't
PHILADELPHIA -- Rob Manfred has spent the past four weeks trying to read every word that has been written about David Montgomery. So as the Commissioner prepared to speak at Thursday's Celebration of Life service at Citizens Bank Park, he found it difficult to come up with something that hadn't been said before.
"There was so much good about David Montgomery, it's simply impossible to capture it all today," Manfred said. "I'm going to focus on four words: adviser, citizen, competitor and friend."
Manfred was one of four individuals to speak at the service, which was emceed by Phillies broadcaster Tom McCarthy. Former Pennsylvania Governor Ed Rendell, longtime Phillies shortstop Jimmy Rollins and Larry Bowa -- who has held virtually every kind of job within the organization -- also spoke about the beloved Philadelphia executive.
Manfred also lauded Montgomery as a great citizen not only of Philadelphia, but of the baseball community at large, but it was his words describing Montgomery as a friend that really hit home.
"David Montgomery is the best friend I have ever known; I don't mean my best friend, but rather that David Montgomery was good, really effective, at being a friend," Manfred said. "Not only to me, but to an amazing number of people. David always had time for his friends. He was always genuinely interested in them, their lives and their families. He was great about staying in touch. In fact, I've never heard anyone utter the words, 'I've lost touch with David Montgomery.'"
Montgomery, who died on May 8 following a five-year battle with cancer, seemed to make an impact on everyone he met. His concern for others far outweighed his concern for himself, Rendell said, even as the disease began to take its toll on his body.
"In 2014, he contracted cancer of the jaw; it ravaged him over the next five years," the former governor said. "He couldn't eat solid food, he slurred his words so much that it was difficult to even understand what he was saying -- a source of real frustration. He never complained, he never said 'Why me?' He always wanted to know how you were doing than to talk about his own problems."
Rollins, who played 15 seasons with the Phillies and starred on the club's 2008 World Series championship team, talked about being "a little jealous" early in his career when he saw the types of relationships they had with the team's president/CEO.
"David talks to everyone, he knows your name, has a smile on his face and he's always polite," Rollins said. "But I wanted to get to know David a little bit deeper, not just a 'hi' and a quick baseball conversation, but to feel like I made an impact so he knew that I was his friend just as much as the other person was his friend."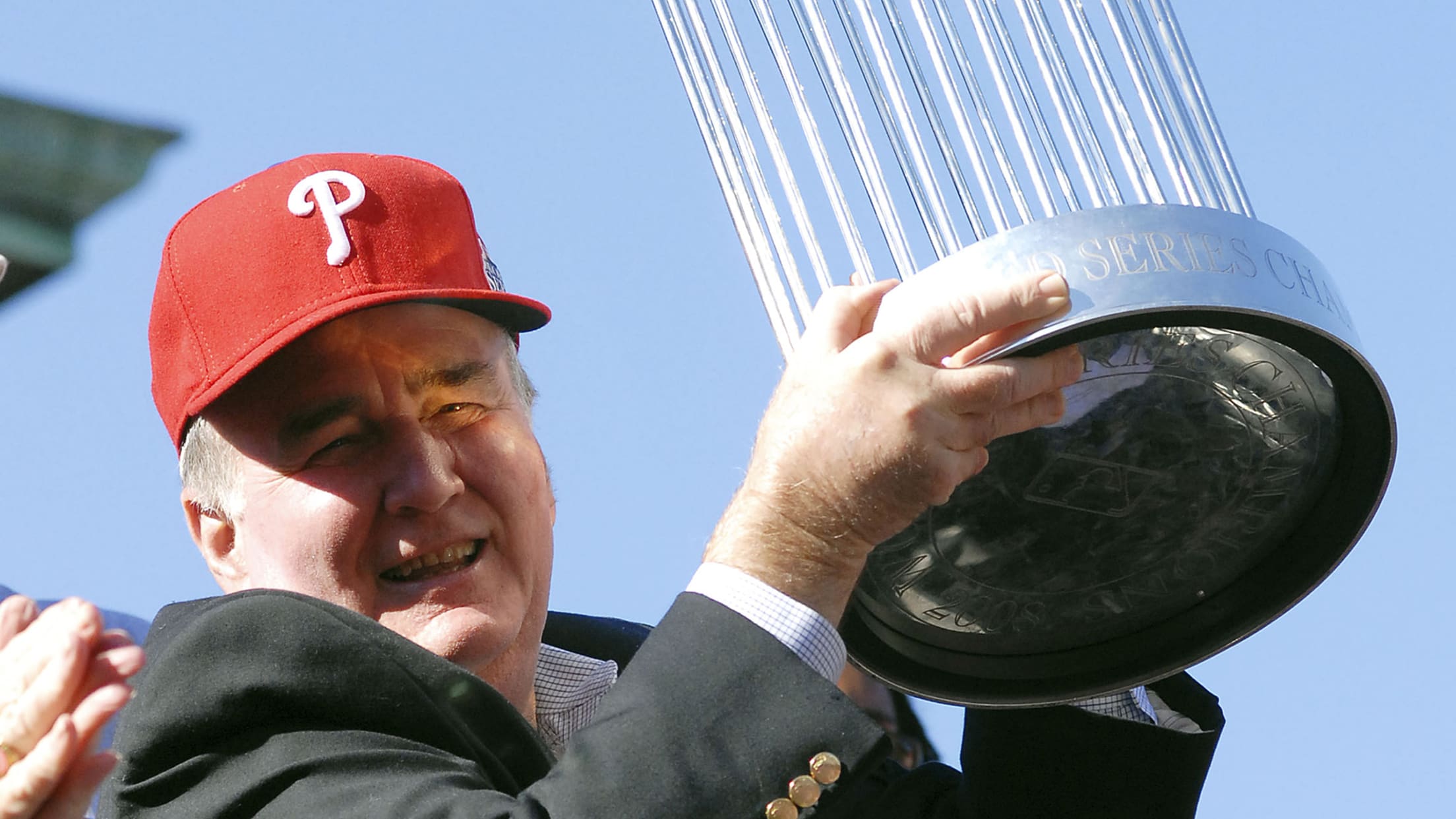 Rollins decided to give Montgomery a hard time one day, pointing out the polo shirt and khaki pants the executive was wearing at the ballpark. He said he assumed Montgomery had been golfing instead of working, which Montgomery repeatedly insisted had not been the case.
"You knew saying something like that would get to him," Rollins said. "I knew that he knew that I knew he worked hard and that I was messing with him, being a little prick, I guess, getting under his skin. That's what I do."
Rollins also spoke of the bond between Montgomery and his parents, James Sr. and Gigi. Following the Phillies' 2008 World Series victory, Montgomery and Gigi shared a dance, hoping to make it something of a tradition.
"They made each other a promise that the next year in 2009, when we won the World Series again, that they would pick up where they left off," Rollins said. "Unfortunately, we never got that opportunity. When I heard about David's passing, I wrote on Instagram that David still owes Gigi one more dance. When you see her again David, you owe her a dance."
Between each speaker, the large video board above left field played tributes to Montgomery, including a moving clip featuring numerous Phillies employees sharing some words about their friend, who also happened to be their boss.
Bowa was the last of the four speakers, paying tribute to a man he had worked for as a player, coach, manager, front office executive and, as it turns out, a season-ticket salesman. Bowa spoke of first meeting Montgomery in 1971, when he took an offseason job in the ticket sales office. Working alongside Montgomery, Bowa quickly realized that he didn't have the same way with people that Montgomery did.
Montgomery's love for the organization and all of the people in it was a consistent topic, one Bowa hit upon several times.
"David cared about everybody," Bowa said. "He cared about the front office, he cared about the players, coaches, but most of all, he cared about the fans and the game of baseball.
"He was sick this last Spring Training, and every time I'd go up to him, I'd say, 'Dave, how you feeling?' He'd say, 'Bow, I'm good. Why don't you tell me about this shortstop that played in the Gulf Coast League last summer.' Dave Montgomery cared about the entire system."
Several players and members of the coaching staff were on hand for the service, as were former players, including Rollins, Ryan Howard and Jim Thome.
Thome, who played for the Phillies from 2003-05 and again for part of his final season in 2012, felt the need to attend the service for the impact Montgomery made on him during his stops in Philadelphia.
"I didn't play here 20 years, but getting the opportunity to meet him and the whole family, you're very grateful and honored that he went out and brought me to this wonderful place," Thome said. "He made you feel very welcome and he made you feel very special every day. He was also a great competitor; he had a vision of bringing guys in who could help this organization win. I felt that vision, felt that passion, from him and everyone else. It's something I'll never forget."
Howard spent his entire 13-year career with the Phillies, winning the 2005 National League Rookie of the Year Award and the 2006 NL MVP, anchoring the lineup that won it all in 2008 and captured a second straight NL pennant in 2009.
"David played an integral part in everything that we did here in the organization, the success that we had, more so in the aspect of the support off the field," Howard said. "Any time any of us -- myself, Jimmy, Chase [Utley], Shane [Victorino], Cole [Hamels] -- had an event, David and [his wife] Lyn were there. They were one of the first people there and the last to leave. He was fully engaged with everything you did. He genuinely wanted to know how you were doing, how your family was doing. He was one of those guys who was very engaging and genuine, which is hard to find."
Rollins said he was "overwhelmed" when he was asked to speak at the service.
"Everybody has a story about David," Rollins said. "To share my little inside story about David, what he meant to me, my mom and my dad, that's what I wanted people to remember. All the baseball stuff, they can read about that -- and I'm sure they have. It's those stories, the stories Bow shared ... it was just an honor to be able to speak, to be requested by Lyn. Everybody knows how important David was and what a great man he was."
The event was tabbed as a "Celebration of Life" -- although Montgomery was no longer with them, his friends honored him with their words reveling in the positive impact he made on so many people.
"When I started preparing for today, I was thinking that today was going to be a sad day," Manfred said. "As I thought about David and what I wanted to say about him, I began to realize that we should actually be celebrating. We should be celebrating Dave, his memory and a life that was well lived. We should be celebrating because so many of us had the opportunity to have Dave as our friend for so many years."
"I have spent my entire adult life in this industry; 54 years," said Bowa, who began to break down. "I have never met a person with more compassion than David Montgomery. Rest in peace, my friend. We love you."
Mark Feinsand, an executive reporter, originally joined MLB.com as a reporter in 2001.