Larger than life: Peralta grateful for opportunity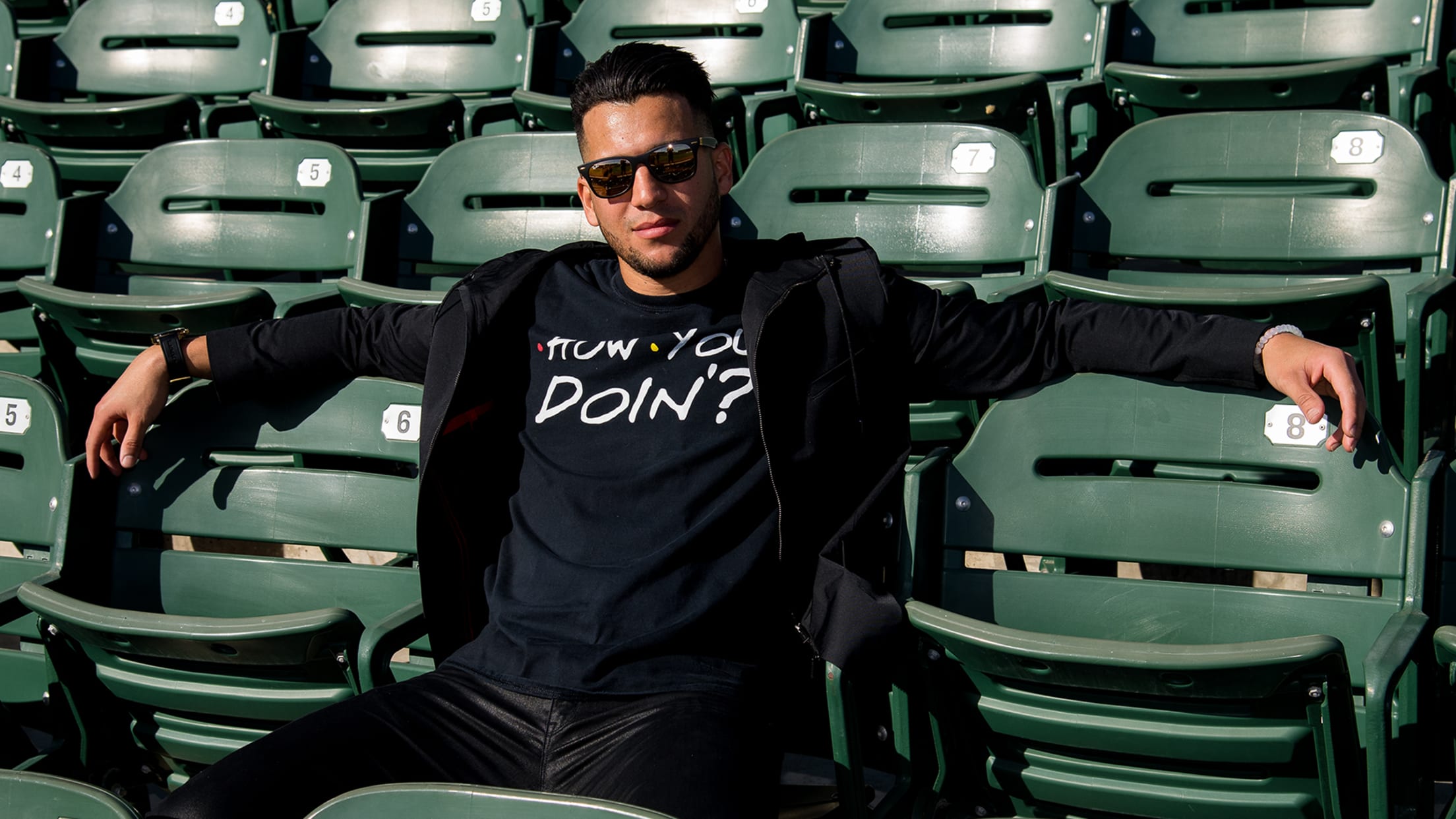 SCOTTSDALE, AZ - JANUARY 18: David Peralta lifestyle shoot. (Photo by Sarah Sachs/Arizona Diamondbacks) (Sarah Sachs)
The swagger, at least temporarily, was gone.These days, it is next to impossible to find D-backs outfielder David Peralta without his infectious smile, an energy level dialed into overdrive and a larger-than-life personality that could make an extrovert blush. But during a stretch playing independent ball in Texas after his
The swagger, at least temporarily, was gone.
These days, it is next to impossible to find D-backs outfielder David Peralta without his infectious smile, an energy level dialed into overdrive and a larger-than-life personality that could make an extrovert blush. But during a stretch playing independent ball in Texas after his conversion from pitcher to position player seven years ago, an extended hitting slump sucked all of the fun out of the youngster's game.
Peralta stresses that at no time did quitting ever cross his mind, but with his confidence shaken and doubt creeping into his psyche, he made a call to his wife, Jordan, for some much-needed words of encouragement.
"She told me, 'You have to be kidding me. Get it together,'" Peralta remembered. "It was the verbal smack in the face I needed."
And the last.
Since those days on the independent circuit, the left-handed-hitting Venezuelan has worked his way into the role of invaluable contributor for the D-backs. In his fifth season with the ballclub, the 31-year-old has posted new career highs in homers, RBIs and slugging percentage, as well as set a new pair of MLB single-game marks thanks to his late-game and extra-inning heroics on Aug. 6. In addition to walking off the D-backs with a game-winning homer for the first time in his big league career, he became the first player in the modern era with four-plus hits and two home runs in a game -- all coming after the eighth inning. The outfielder also became the first player in the modern era to collect 11 total bases in the ninth inning or later.
That particular night was a bit of a role reversal for "The Freight Train." Usually the one to lead the march toward home plate to celebrate a teammate's walk-off hit, initiate a surprise postgame interview Gatorade bath or sometimes both, Peralta was instead the one being greeted by the likes of Paul Goldschmidt, Archie Bradley and the rest of the squad.
"Everybody's different," Peralta said about his teammates' individual personalities. "Everybody loves the game, and they share their emotions differently. Goldy's the perfect example. It's hard to make him laugh or smile during the game, and that's the way he is. He's really serious.
"For me, I like to just show that I'm happy and smile. But that doesn't change the fact that everyone who plays baseball professionally loves this game, regardless of how they express it."
Added Bradley: "As players, and David especially, we all know this is a job and how we make a living, but it's a game and you need to appreciate the ride. That's the thing people lose sight of the most and what I try and remember the most. It's a kid's game."
The Valencia-born Peralta certainly isn't the first or last ballplayer to show his emotions or enjoy himself in the company of his teammates. He reminds teammate Alex Avila of another Venezuelan star he played alongside for years with the Tigers.
"Miguel Cabrera was like a little kid," the D-backs' catcher said. "He was constantly talking trash but in a way that endeared him to teammates. You'd see the fun he was having around the game and wonder if he was paying attention to it all, but the thing was he was one of the smartest ballplayers I knew. And David is getting there. His life experience is an incredible story. He's learned a lot in a short period of time, and he's put in the time to be a better all-around player. All the credit goes to him and all the work that has gone into making himself successful."
Growing up on the other side of Lago de Valencia, fellow Venezuelan Eduardo Escobar feels it's not necessarily he and Peralta's native country alone that breeds a unique devotion to baseball. It's a sentiment shared by most Latino ballplayers, especially factoring in certain guys' backgrounds in the towns, communities and cities where they were raised, as well as the game being a means to supporting a family.
"All ballplayers from Latin countries play hard all the time," the D-backs' third baseman said. "It's about heart. It's about your team and bringing the energy. Guys like Peralta and Ketel Marte lived that, coming from that area. It helps playing in that environment because it helps the transition to playing in the Majors. Play hard, and you'll be OK."
Playing hard is one thing, but so is looking good doing it. For as careful attention as Peralta pays to his seemingly never-ending array of salsa, meringue, country and hip-hop music selections as unofficial clubhouse DJ, as well as his attention to his fashion sense on and off the field, the outfielder has no aversion to getting his uniform dirty between the white lines. A fan of wearing black when he's not in Sedona Red on gamedays, his propensity for dark clothes has carried over to his bat color.
"I like dark barrels, because I can see where I hit the balls," Peralta said. "The handle doesn't matter as much because I use the lizard skin tape on mine, but you have to have a little flair with it. That's why mine is neon green. I've got my 'Freight Train' logo on the knob, too. I've got to rock it.
"Still, I'm a neutral-color guy, but dark colors are my thing. I usually don't want to do too much. It's what we call 'flow.' I like a little flow. I like nice, but not N-I-C-E."

Crediting his parents for instilling discipline and motivation while growing up in the third-largest city in Venezuela, they were also the ones who introduced the outfielder to the game at the age of 3 and persuaded him to try hitting again after a pair of shoulder injuries curtailed any future on the mound while in the Cardinals' system. Peralta also credits spinning what easily could have been a career-ending situation into an opportunity to "be a better person and ultimately a better player."
"Even though pitching wasn't meant to be, I love the game and baseball is my life," the doting father and husband said. "It's motivation to take care of my family. I love my life, and that's why I show up to the field every day -- especially with the great guys we have here. Our clubhouse is really like a family room. There are good vibes in there, and you feel it when you walk through the door.
"Baseball's a game, and games are supposed to be fun. Fans come here to have fun and see people play good baseball. We are having fun, and the fans want to be a part of that."