Peterson debuts with Cyclones
Mets 2017 first-rounder set Oregon's single-game strikeout record of 20 his junior season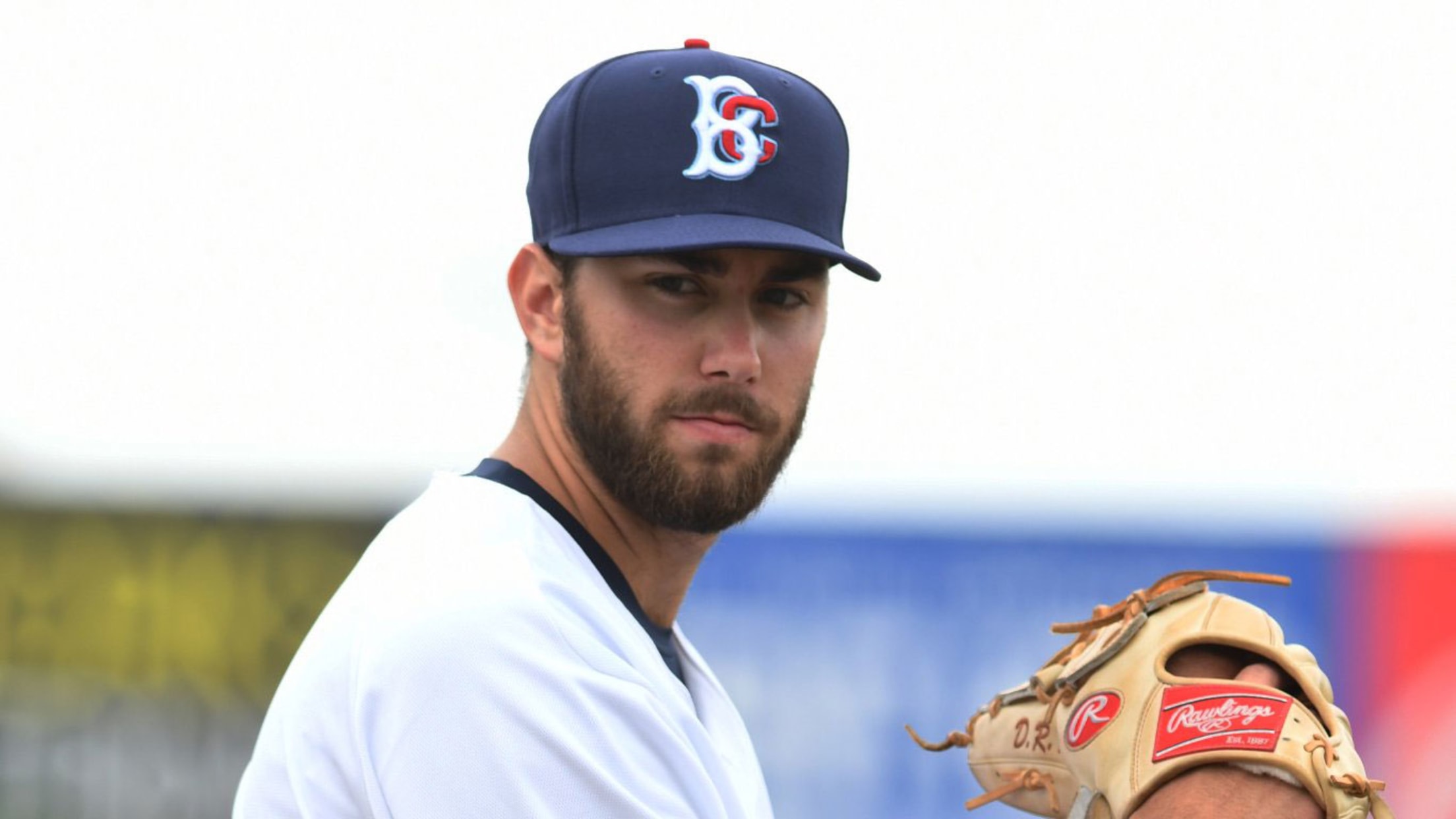 BROOKLYN, N.Y. -- The water works couldn't be stopped on June 12 at the Oregon Athletic Center in Eugene, Ore. David Peterson ran to his mother's side after he heard his name called by the Mets with the 20th overall pick of the 2017 Draft. Shannon Peterson's eyes filled with
BROOKLYN, N.Y. -- The water works couldn't be stopped on June 12 at the Oregon Athletic Center in Eugene, Ore. David Peterson ran to his mother's side after he heard his name called by the Mets with the 20th overall pick of the 2017 Draft. Shannon Peterson's eyes filled with tears.
"The first thing I did was give my mom a huge hug and she had tears running down her face," said Peterson, a left-hander out of the University of Oregon. "Having everyone around closest to me -- my family and everyone like that -- I gave them a hug, and all my teammates were jumping around and videotaping the thing."
Mets fans eager to see what their latest prospect can do had to wait a few weeks to see Peterson in action. He didn't officially ink a deal until July 7th, and then he was put on a throwing program by the club while he attended to a family matter. It wasn't until this past Saturday that Peterson made his pro debut, and the southpaw, who is ranked as the Mets' No. 3 prospect by MLB Pipeline, was eased into action, allowing one run on two hits in one inning of work for the Brooklyn Cyclones of the Class A Short-Season New York-Penn League.
Peterson pitched 100 1/3 innings for Oregon this year, most of it against tough Pac-12 competition, and the club is not eager to push him beyond his limits. As of now, the plan is for him to max out with two-inning stints for Brooklyn.
"We've taken our time with him," said Cyclones pitching coach Royce Ring. "The kid is a first-rounder, he has a lot of expectations. He has all of the intangibles to move through the system, it's just a matter of him developing the game plans and the baseball IQ as he goes up through the different levels. If he can acclimate himself and figure out a way to get through those things, then he will move [through the system]."
The Denver native's route to the Draft has been filled with obstacles. He was originally drafted out of high school in the 28th round by the Red Sox in 2014, but that was a big dropoff from where he was projected to go, somewhere in the top three rounds, a year earlier. Entering his senior year at Regis Jesuit High School, the former standout basketball star broke his fibula, and that proved to be a red flag in the eyes of scouts, causing his stock to tumble.
"At the end of the day, the offer the Red Sox gave to me in my head wasn't enough to pass up the opportunity to go to Oregon and to get a head start on my degree," said Peterson, who reportedly received a signing bonus from the Mets of $2,994,500. "I'm happy with the way it worked out."
Peterson steadily improved with the Ducks, posting a 3.63 ERA as a sophomore after putting up a 4.39 mark as a freshman, but he still had holes in his scouting report. Standing 6-foot-6, 240 pounds, the imposing lefty often struggled to find his release point, and command issues ensued. With the help of pitching coach Jason Dietrich, who was hired prior to his junior year, Peterson found a new level.
"The great thing about David is he had the open mind to hear some of my thoughts," said Dietrich. "I think anyone can go to a program and think they have all the answers, but to me, it's not about that. To me, it's about getting to know him and getting to know the other pitchers. We'd watch some film and we'd talk about some stuff. We'd keep working at it."
Peterson's prospect status took off as a junior, as he went 11-4 with a 2.41 ERA, 140 strikeouts and just 15 walks, with the highlight being a 20-strikeout game against Arizona State, a school record.
"Dave wasn't about striking guys out. He'll admit to that. He just learned that," said Dietrich. "I'm proud of him because of all the work he put in. The sacrifices he made and the way he bought in. He left a good legacy for guys to follow and take that baton to the next level."
DeArbea Walker is a reporter for MLB.com.