Holy Holland! Pitcher brings fun to White Sox clubhouse
Newly signed starter wears Batman suit at camp Wednesday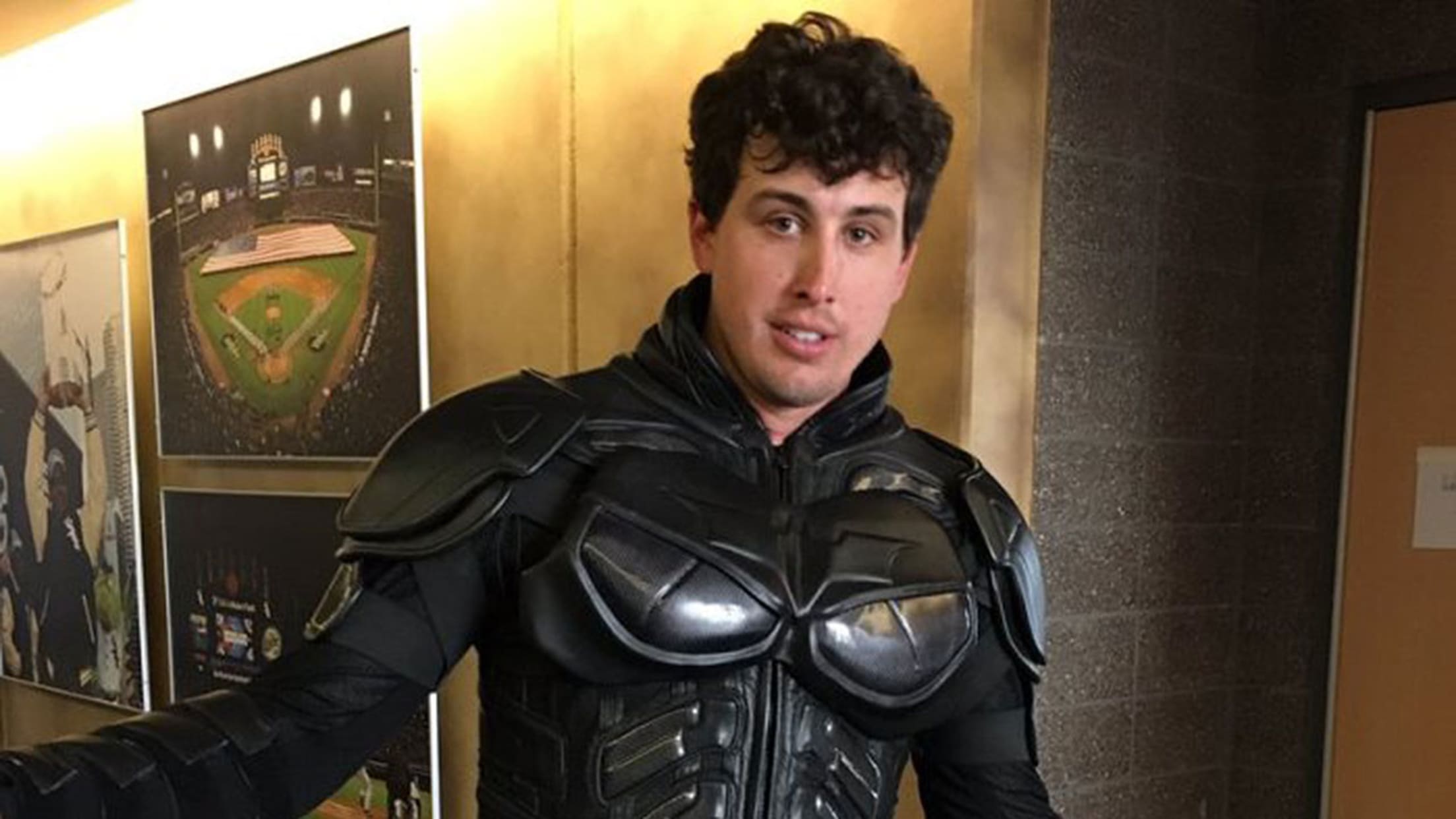 Derek Holland is keeping it loose at White Sox camp, even wearing a Batman suit on Wednesday. (Chris Gabel/MLB.com)
GLENDALE, Ariz. -- Long after the White Sox completed their morning workout on Wednesday, pitcher Derek Holland made his way around the team's training complex in a Batman suit."I have two," he told second baseman Brett Lawrie in the hallway outside the clubhouse.Holland worked out in the weight room in
GLENDALE, Ariz. -- Long after the White Sox completed their morning workout on Wednesday, pitcher Derek Holland made his way around the team's training complex in a Batman suit.
"I have two," he told second baseman Brett Lawrie in the hallway outside the clubhouse.
Holland worked out in the weight room in the suit, which enveloped his entire upper body, threw a gray T-shirt on top to look "ripped" and paid a visit to manager Rick Renteria's office toting a White Sox-themed, WWE-style championship belt.
"You want to keep it loose," said Holland, who signed as a free agent in mid-December. "When you play the game loose and you have fun, you're going to be pretty successful."
Renteria has mentioned he likes Holland's ability to lighten the mood in the clubhouse.
"I have experience. I've been to the World Series [with the Rangers in 2010 and '11], so I think that's one thing they wanted here," Holland said. "Two, I do have the personality. They wanted somebody who's going to bring character to the clubhouse."
Holland's outgoing personality has quickly ingratiated him to his new teammates -- he's also gone out of his way to watch bullpen sessions of Jose Quintana, Carlos Rodon and Miguel Gonzalez. And after spending his entire career in the Rangers organization, including the past eight in the Majors, anything to make the transition smoother helps.
So, why not be Batman?
"That's my superhero right there," Holland said.
Who's the best Batman?
"Christian Bale stole it for me," Holland said. "I think he's the best Batman so far."
Of course, the left-hander also is expected to fill a big role in the White Sox rotation. He put together three seasons of double-digit wins from 2011-13, but is coming off injury-filled seasons the past three years.
Holland tore cartilage in his left knee in 2014, strained a muscle in his left shoulder in 2015 and endured left shoulder inflammation in 2016, which limited him to 20 starts last year. He's pitched just 203 innings combined the past three seasons.
But Holland said he feels "tremendous" early in camp, and has the goal of exceeding 200 innings in 2017.
"You can't control what's happened," Holland said. "Those are things that happened in the past. You have to worry about what's in the present.
"I've felt really good each year coming into Spring Training. It's just a process. You can't get too hyped up about how good you feel or how bad you feel."
Chris Gabel is a contributor to MLB.com.