Friday's best: Verdugo stays hot, extends streak for OKC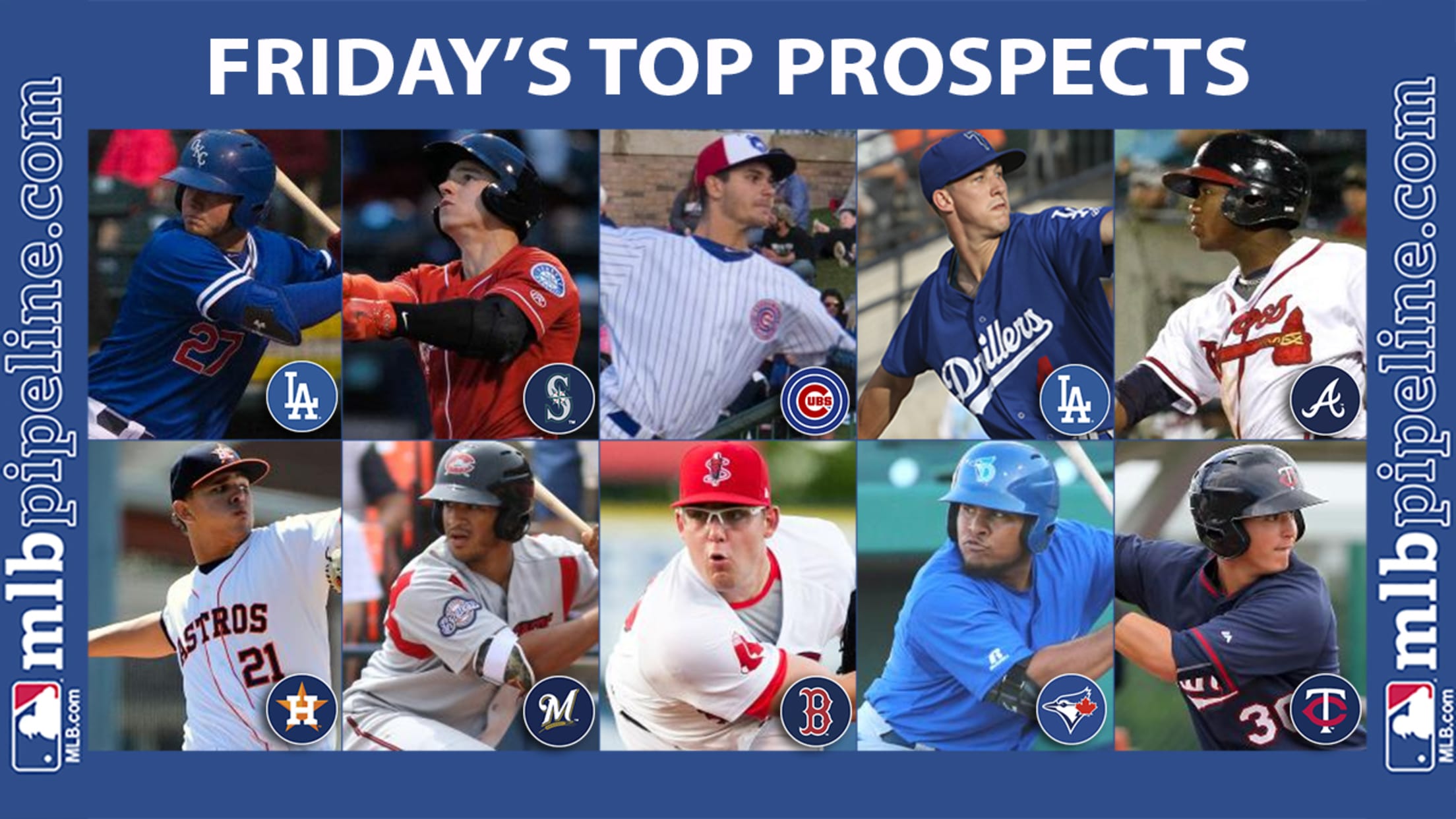 Cody Bellinger and Alex Verdugo both began the season with Triple-A Oklahoma City in the Pacific Coast League. While the 21-year-old Bellinger has since taken the baseball universe by storm with his tremendous power display, Verdugo, who turned 21 in May, may not be far away from joining his former
Cody Bellinger and Alex Verdugo both began the season with Triple-A Oklahoma City in the Pacific Coast League. While the 21-year-old Bellinger has since taken the baseball universe by storm with his tremendous power display, Verdugo, who turned 21 in May, may not be far away from joining his former teammate in the big leagues.
The Dodgers' No. 2 prospect (No. 50 overall) extended his hitting streak to 20 games on Friday night as he collected hits in his first three-at bats before finishing 3-for-5 with three runs scored out of the leadoff spot for Oklahoma City.
"Today was the first time any of my teammtes had said anything about the streak," Verdugo told MiLB.com. "After I scored, my teammates started talking to me about it, saying, '20!' and stuff like that. They know all about it and they're rooting for me."
It was the 11th three-hit game and 28th multi-hit effort of the season for Verdugo, who's batting .352/.420/.467 through 72 games.
Verdugo is raking at a .476 clip during his hitting streak, which he began on June 8. The left-handed hitting outfielder has collected 39 hits including 10 extra-base hits in that span, with more walks (six) than strikeouts (four).
"Everybody wants to do the best they can and even when things are going well, they still look to improve their game, and that's the same with me," Verdugo said. "Whether it's offensively, defensively or on the bases, I just want to get better every day."
He'll suit up for the World Team in the SiriusXM All-Stars Futures Game in Miami on July 9.
The rest of the best performances from top prospects Friday
• No. 29 overall prospect Tyler O'Neill (Mariners' No. 2) stayed hot for Triple-A Tacoma as he tallied multiple hits, including a home run, for a second straight game. The 22-year-old outfielder has gone deep five times in his last eight games, giving him 11 homers in 76 games on the season.
MILB Video - Title: Watch: O'Neill rips 11th homer - Url: http://www.milb.com/r/video?content_id=1559834283
• No. 63 overall prospect Dylan Cease (Cubs' No. 3) tallied six strikeouts over five innings in his second straight scoreless start for Class A South Bend. Firing 46 of his 68 pitches for strikes, the hard-throwing 21-year-old allowed three hits while walking one batter and hitting another with a pitch. He's impressed thus far in his first full season, posting a 2.47 ERA with 71 strikeouts in 47 1/3 innings (13.5 K/9).
MILB Video - Title: Cease records sixth strikeout - Url: http://www.milb.com/r/video?content_id=1558298983
• No. 79 overall prospect Walker Buehler (Dodgers' No. 4) scattered two hits, walked one and struck out seven over 5 1/3 scoreless innings to record his first win in over a month for Double-A Tulsa. Promoted from the California League on May 10, Buehler has posted a 2.85 ERA with 51 strikeouts in 41 innings across nine starts with the Drillers, each of which has featured the 22-year-old righty permitting two or fewer earned runs.
MILB Video - Title: Buehler seventh strikeout - Url: http://www.milb.com/r/video?content_id=1559120183
• No. 87 overall prospect Ronald Acuna (Braves' No. 7) hit a tape-measure home run to left field in his first at-bat before finishing 2-for-3 in his third multi-hit effort in five games for Double-A Mississippi. The 19-year-old outfielder has hit six homers in 47 games since joining the M-Braves, while his .315/.370/.418 batting line in that span highlights that he's been anything but overmatched in the Southern League.
MILB Video - Title: Acuna puts M-Braves on the board - Url: http://www.milb.com/r/video?content_id=1558397383
• After struggling in his last start, No. 93 overall prospect Franklin Perez (Astros' No. 6) bounced back to fire five scoreless innings in Class A Advanced Buies Creek's win against Potomac. The 19-year-old righty threw 44 of his 63 pitches for strikes as he allowed two hits while walking one and fanning three. He's pitched to a 2.54 ERA with a 0.76 WHIP in 46 innings, all while posting a 44-to-12 strikeout-to-walk ratio and holding batters to a .143 average.
• Brewers No. 6 prospect Trent Clark went 2-for-2 with a solo homer, his seventh of the season, and two walks in a perfect night at the plate for Class A Advanced Carolina. Lucas Erceg (No. 7) also connected on his seventh home run of the season before finishing 2-for-4 with three RBIs.
• In his best start since being promoted to the Carolina League, Red Sox No. 12 prospect Mike Shawaryn tossed six scoreless innings, scattering three hits while walking one and striking out six in a strong performance for Class A Advanced Salem. The 22-year-old righty has piled up 100 strikeouts in 76 1/3 innings (11.8 K/9) this season between two levels.
• Blue Jays No. 23 prospect Juan Kelly powered Class A Advanced Dunedin to a victory with a 3-for-3, four-RBI effort that included his second home run in as many days. The switch-hitter is batting .248/.326/.407 on the season with six home runs and 21 doubles in 72 games.
• Twins No. 24 prospect Jose Miranda filled out the stat sheet by going 5-for-7 with a home run, two doubles and four RBIs to lead Rookie-level Elizabethton past Kingsport, 12-10, in 12 innings. The home run was the first of the season for the 19-year-old shortstop, who established career highs in both hits and RBIs while also scoring three runs out of the leadoff spot.