Kershaw talks healthy lifestyle at PLAY event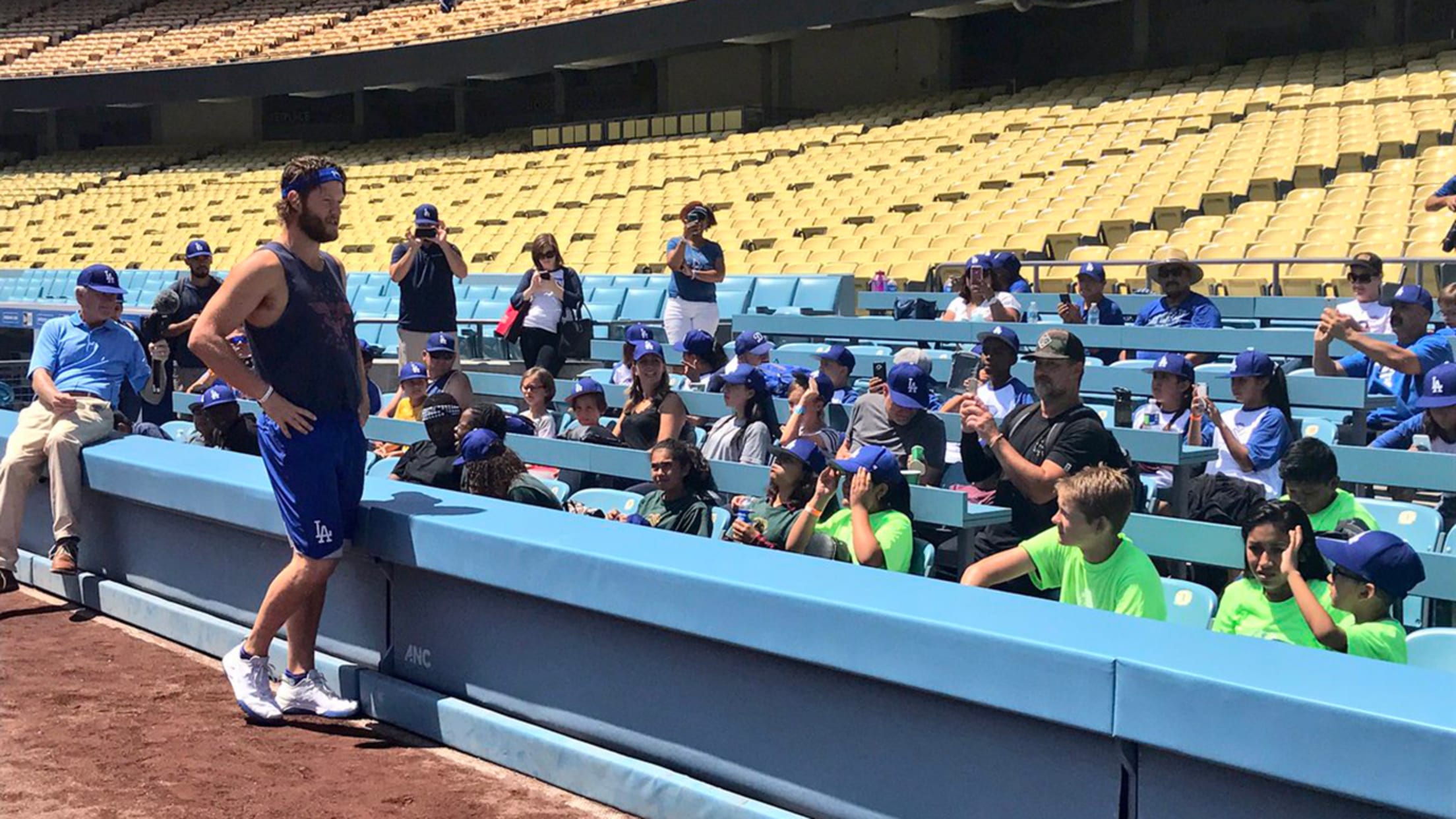 Clayton Kershaw surprised a group of children at the PLAY event Saturday. (Ryan Posner)
LOS ANGELES -- When delivering tips to a group of children about how to conduct a healthy lifestyle, who better than Dodgers ace Clayton Kershaw to help the message sink in?On Saturday morning at Dodger Stadium, Kershaw surprised a group of nearly 70 kids who were participating in the latest
LOS ANGELES -- When delivering tips to a group of children about how to conduct a healthy lifestyle, who better than Dodgers ace Clayton Kershaw to help the message sink in?
On Saturday morning at Dodger Stadium, Kershaw surprised a group of nearly 70 kids who were participating in the latest stop on the National PLAY (Promoting a Lifestyle of Activity for Youth) Campaign.
"It's important that you're able to implement these tips for a healthy lifestyle at a young age so you have them at your disposal for the rest of your life," Kershaw said while addressing the group before diving into a question-and-answer session. "There are a lot of harmful substances out there, and it's crucial to be able to distance yourself from that stuff."
Kershaw's presence brought ear-to-ear smiles to kids after they had already been taken through a circuit that included agility drills on the field and batting practice in the Dodgers' underground cages.
.@ClaytonKersh22 and Dodger athletic trainers hosted kids from @NDSS, @bgclaharbor and @GRYD_Foundation at this year's PLAY Campaign event! pic.twitter.com/OKWNhF42fH

— Los Angeles Dodgers (@Dodgers) August 12, 2017
Dodgers head athletic trainer Neil Rampe also led a discussion promoting an active lifestyle in the team's bullpen in left field.
"It's important to get in good habits," Rampe said. "We want the kids to have a say in how they live a healthy lifestyle, whether that's helping their parents out at the grocery store or just making more time for physical activities."
Several of the PLAY campaign's partners, including the Taylor Hooton Foundation and the Henry Schein Cares Foundation, were also present to help run circuits.
The PLAY campaign became the first professional sports program to include children with disabilities in 2014, and a group of children represented by the National Down Syndrome Society were in attendance Saturday.
"It makes me feel really excited when you get to see these kids interact with their favorite players and get to come onto the field," said Ruben Nieto, whose 12-year-old son, Adam, was one of the children who attended with the NDSS.
Adam and a few other kids had the chance to take a picture with Kershaw before he departed. The three-time National League Cy Young Award winner then wrapped Adam in a hug, leading the lifelong Dodgers fan to break out into celebration.
"I've learned so much from [my son]," Nieto said. "He's changed my life forever. It's amazing to be able to see how he views the world through his eyes."
The PLAY campaign was created in 2004 by the Professional Baseball Athletic Trainers Society. It has hosted over 300 events, spanning all 30 Major League ballparks.
Dodgers assistant athletic trainers Nate Lucero and Thomas Albert and strength and conditioning coach Brandon McDaniel helped lead agility drills and throw batting practice. Justin Matlage, representing the Henry Schein Cares Foundation, led a discussion in the Dodgers' dugout on a daily guide to living healthy.
The day began with a message on the dangers of performance-enhancing drugs from Taylor Hooton Foundation president Donald Hooton Jr.
"It's important for them to hear our message because anyone can be tempted to use these drugs," Hooton Jr. said. "To be able to combine that message with coming out here and being on the field, it's perfect."
Ryan Posner is a contributor to MLB.com based in Los Angeles.