Dodgers' Cash reaching families through baseball
Pitching prospect's foundation provides presents for children who have lost parents to cancer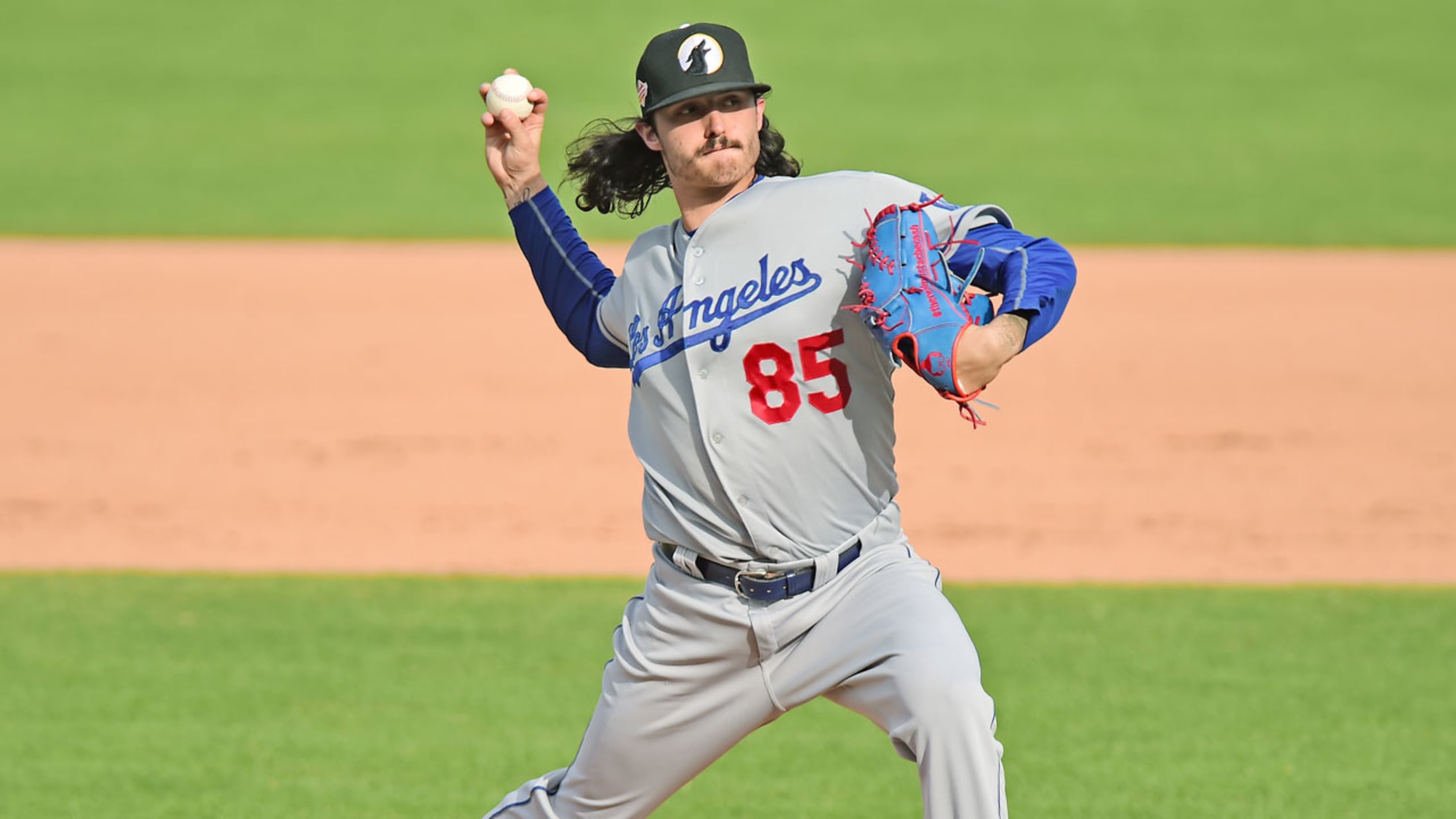 GLENDALE, Ariz. -- It hardly seemed to matter that Lisa Riley and Ralston Cash had never met as they shared an emotional, tearful embrace outside ONEOK Field, the home of the Dodgers' Double-A affiliate, in Tulsa, Okla. All that mattered was the connection they shared -- cancer. Riley as someone
GLENDALE, Ariz. -- It hardly seemed to matter that Lisa Riley and Ralston Cash had never met as they shared an emotional, tearful embrace outside ONEOK Field, the home of the Dodgers' Double-A affiliate, in Tulsa, Okla. All that mattered was the connection they shared -- cancer. Riley as someone battling the disease, Cash, doing his best to ease the process for families.
"We were like kindred spirits," Riley said. "He saw me and we made eye contact. There were tons of people around, waiting for his autograph and I just wanted to talk to him … we just started talking and we hit it off."
The 25-year-old Dodgers' farmhand has experienced significant loss and devastation throughout his life. Because of those experiences, he started the Ralston Cash Foundation, a non-profit organization that buys Christmas presents for children who have lost a parent to cancer.

Riley, who is now cancer-free, had breast cancer at the time and was particularly moved by Cash's mission as she saw the impact her cancer had on her family and then 4-year-old son.
"People don't think about the kids that it affects," Riley said. "Thank God I'm cancer-free and I'm healthy and younger and survived the storm, but at the same time, there's so many kids that lose their parents. I know how much it affected my kid, and I'm OK."
The two became so close that Cash lived with the Rileys from April to July, until he got called up to Triple-A Oklahoma. Riley's son even calls the pitcher his big brother.
When Cash was 3 years old, his mother passed away in a car wreck. He was then raised by his grandparents, Ralph and Sue Cash, but Ralph lost his battle with bladder cancer on Jan. 18, 2012. Cash's nephew was born 10 months later, only to pass away two weeks later. The next year, Cash learned his best friend had been diagnosed with leukemia.
The constant devastation weighed on Cash. However, after dwelling on it, Cash had enough.
"Life is 90 percent how you react to the 10 percent that happens, and I decided that I wanted to stop sulking," Cash said. "I wanted to do something about it. I got tired of going through so much and not putting something back into the world after so much was taken out."
So he decided to give back.

The right-hander started small. Remembering how tough the holidays were without his loved ones, Cash looked to lend assistance during the 2014 holiday season.
"I made the decision that I was going to find a family that had lost a parent to cancer and I was going to pay for their holiday gifts if they couldn't afford them," Cash said. "I wanted to find that family that didn't have anything, that wasn't expecting anything, that truly was going to be surprised."
Cash ultimately found a family in a neighboring town. It took some prodding because the man, filled with pride, didn't want any help. After seeing how happy his two sons were when Cash provided the family with some lights and a Christmas tree, the man understood the impact Cash could have and provided the pitcher with his kids' Christmas list.
Cash, along with his best friend, who is now cancer-free, went shopping for presents.
"We did that (in 2014) and then in 2015, it just kept eating at me," Cash said. "It was like I really want to start this charity, I want to help people, and that's when the Ralston Cash Foundation was started. It was just kind of on a blink -- just like that -- and then the next thing you know, we have a design and a shirt."
Wanting fun, comfortable clothes, Cash had T-shirts made that featured a silhouette of his face -- including his long hair, glasses and unique, curly mustache.
Once Cash donned the shirts, people started asking about them and he decided to sell them, raising money for the charity he wanted to start.
Lisa Yarnell, who had worked with non-profits in the past, was following Cash on Instagram, and upon reaching out to get a shirt, learned of Cash's story.
"I asked him how I could get a shirt and next thing you know, we meet and just in talking I could tell he had a future with this non-profit," Yarnell said. "That's when I came in to help him and we got this thing off the ground."
The Ralston Cash Foundation was officially launched in July 2015.

"We were swarmed with requests and people who knew families, I couldn't even count the numer of emails that came through," said Yarnell, who is now vice president of the charity. "We were able to help local families here and in Georgia, just from word of mouth."
With the holidays approaching and awareness of the charity continuing to grow, there has been an uptick in activity.
The foundation is coming out with a new shirt design and has seen requests continue to grow.
"Once people get word of it, especially with him travelling, he's an interesting person just by sight," Yarnell said. "Then they see his shirt and they want to know about it. Anyone who gets around him and gets to hear his story, they want to be a part of it. Of course, everyone knows someone who has been affected by cancer. So it's easy, with him being in the public eye, to have a huge following with people who know people we can help."
The charity helps Cash put everything in perspective. After a tough day on the mound, Cash only has to turn on his phone to be reminded of what's truly important.
"It helps you to be in the moment and love what you have," Cash said. "From a bad game to a break up, no matter what happens, it's always distracted by the charity and I love that."