A-Gon, Ethier building up in pregame work
Sluggers out with back injuries; Gonzalez's return expected in August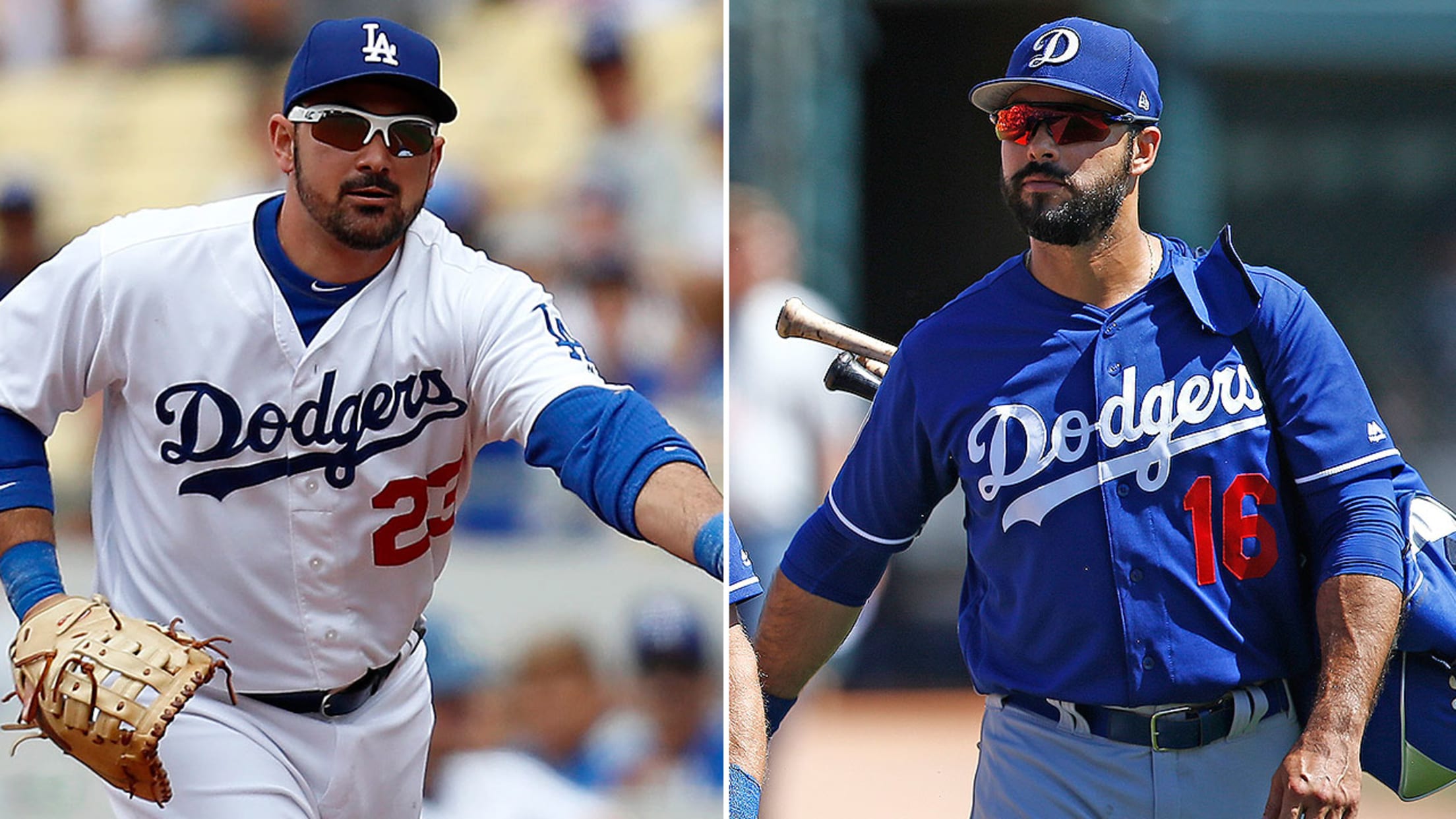 Adrian Gonzalez has been on the DL since June 12, and Andre Ethier has been sidelined since Spring Training. (AP)
LOS ANGELES -- Dodgers sluggers Adrian Gonzalez and Andre Ethier, sidelined by herniated disks in their backs, inched closer on Friday to returning to game action.Gonzalez, on the disabled list since June 12, resumed taking ground balls. Manager Dave Roberts reiterated that he expects Gonzalez back sometime in August, but
LOS ANGELES -- Dodgers sluggers Adrian Gonzalez and Andre Ethier, sidelined by herniated disks in their backs, inched closer on Friday to returning to game action.
Gonzalez, on the disabled list since June 12, resumed taking ground balls. Manager Dave Roberts reiterated that he expects Gonzalez back sometime in August, but a rehab assignment has not been scheduled.
"He is trying to push the envelope, which is good," Roberts said of the 35-year-old Gonzalez. "When the training staff lets me know he's ready for some games, we'll slot him in. This is a good thing, it means Adrian is feeling pretty good."
Ethier, who incurred his injury in Spring Training and hasn't played this season, has been cleared to resume some baseball activity. Ethier's injury is more serious than Gonzalez's, and Roberts said Ethier, 35, isn't expected back until rosters expand in September. Last year, Ethier missed the first five months of the season with a broken leg but played well enough in September to earn a postseason roster spot.
"He's running, throwing. I don't know if he's taken swings yet," Roberts said. "But to think he would be any day before Sept. 1 is probably unrealistic. Let's get to September first, there's a long way to go, but a guy you don't want to bet against is Andre Ethier. He earned that opportunity last year. I'm just looking forward to getting him back. He's been patient, playing cheerleader, but I know he's chomping at the bit to get back."
Roberts said outfielder Alvin Toles, out for the rest of the season following surgery for a torn right knee anterior cruciate ligament, is recovering well from the operation and is still expected to be ready for the start of Spring Training.
Roberts said he had no update on right-hander Brandon McCarthy, who was bothered by a finger blister during his four-inning start Thursday night. Roberts said it was possible McCarthy might be given extra rest before his next start. The Dodgers currently have a six-man rotation.
And Roberts confirmed that Scott Kazmir, who has not pitched in the Major Leagues this year because of a lack of velocity, went home to Houston to work with body mechanics specialist Lee Fiocchi.
Ken Gurnick has covered the Dodgers for MLB.com since 2001.