Dodgers confident in Darvish despite struggles
'There's no wavering on our side as far as belief in him,' Roberts says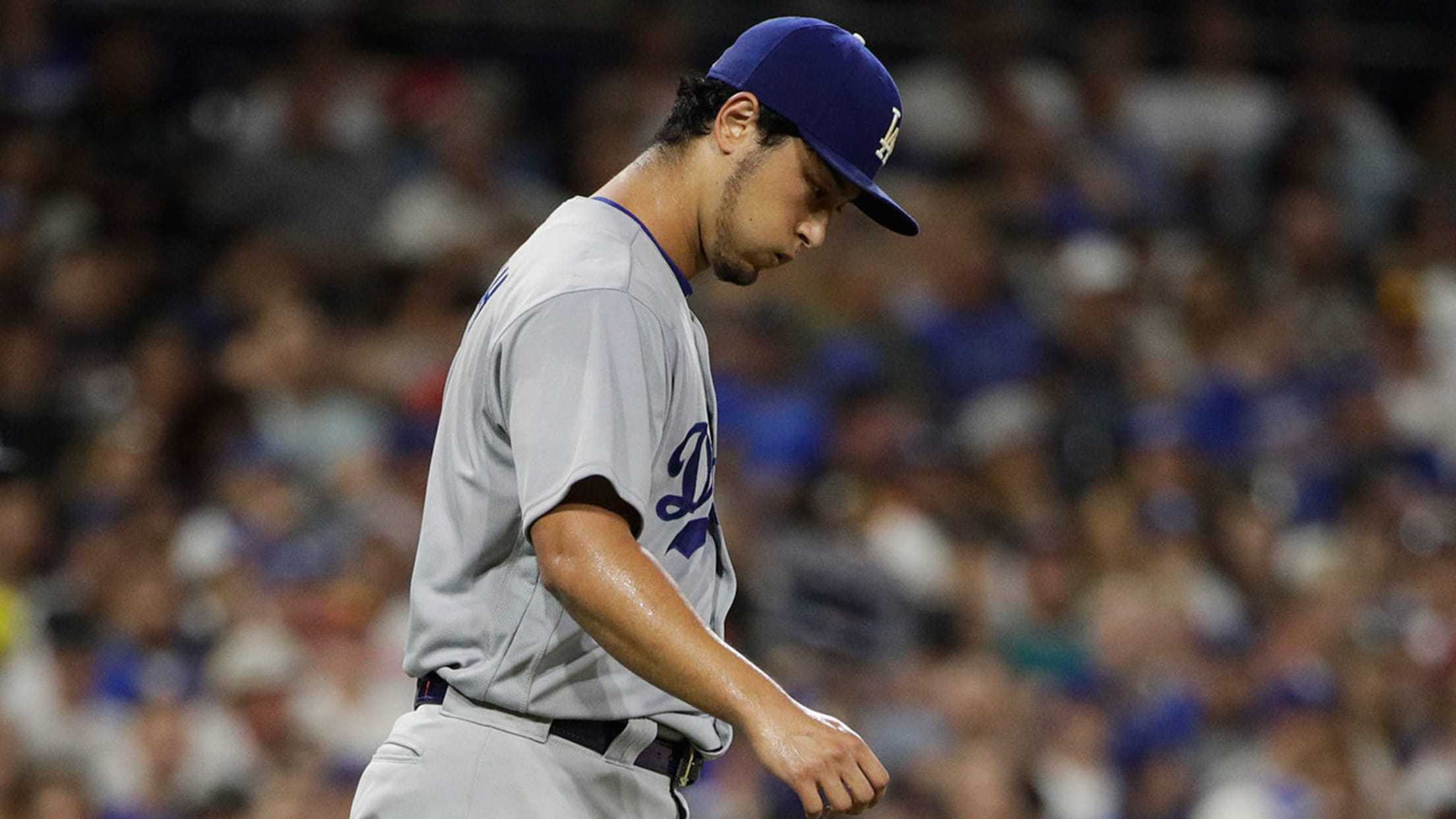 Yu Darvish allowed five runs over three-plus innings in the shortest start of his career. (AP)
SAN DIEGO -- Remember back in the day, when the Sports Illustrated cover asked if the Dodgers were the: Best. Team. Ever?On Saturday, they weren't the best team in San Diego, getting swept by the Padres in a doubleheader for the first time since 1988 only days after getting swept
SAN DIEGO -- Remember back in the day, when the Sports Illustrated cover asked if the Dodgers were the: Best. Team. Ever?
On Saturday, they weren't the best team in San Diego, getting swept by the Padres in a doubleheader for the first time since 1988 only days after getting swept in a series by the D-backs.
Pedro Baez served up a walk-off homer in the 6-5 opening loss and Yu Darvish followed with the shortest start of his career in the 7-2 nightcap defeat. The Dodgers, their once 21 1/2-game division lead trimmed to 14 1/2 games, have lost seven of eight and are 3-8 since the Sports Illustrated cover jinx was activated.
Darvish seemed healthy enough with a 97-mph fastball, but he's been throwing off a mound almost daily to work out mechanical flaws the club believes developed after his 2015 Tommy John surgery. Among the bad habits: a raised arm slot that dulled the late sideways break of his slider, and not striding directly toward home plate, cutting off the extension and finish to his pitches.
"I looked at the video after the game and it was getting better," said Darvish. "My velocity was there, had good stuff going and ground balls found the holes. It wasn't my day."
Darvish said muscle memory is the key to fixing both major flaws.
"There's a gap between what I'm thinking in my mind and what I'm actually doing on the mound," he said. "If I fix that, I feel I can pitch much better. As an example, sometimes I crow step too much to the third-base side but in my mind I'm stepping toward first-base side. It's got me off course. Say you think you are walking straight, but you actually aren't and you're trying to fix it, that's frustrating, right? It's the same thing."
Darvish gave up two leads to the Padres, who couldn't get a ball out of the infield off Clayton Kershaw Friday night, the only game the Dodgers have won this week. Darvish was lifted after allowing the first two batters of the fourth inning to reach base, charged with five runs on eight hits. He fired seven scoreless innings in his debut against the Mets, but has a 6.16 ERA in four starts since.
Manager Dave Roberts agreed that Darvish was better mechanically but also unlucky, as many hard-hit ground balls skipped through for hits. While pitching coach Rick Honeycutt works out the mechanical kinks, Roberts works to keep Darvish's head straight.
"I told Yu just to keep his confidence," Roberts said. "He's trending the right way. I know the linescore doesn't look that way. There's no wavering on our side as far as belief in him. There are no health concerns. Sometimes things go sideways, but he's had a lot of success in this league and we know it's going to come."
Ken Gurnick has covered the Dodgers for MLB.com since 2001.