Pomeranz can't keep roll going in short start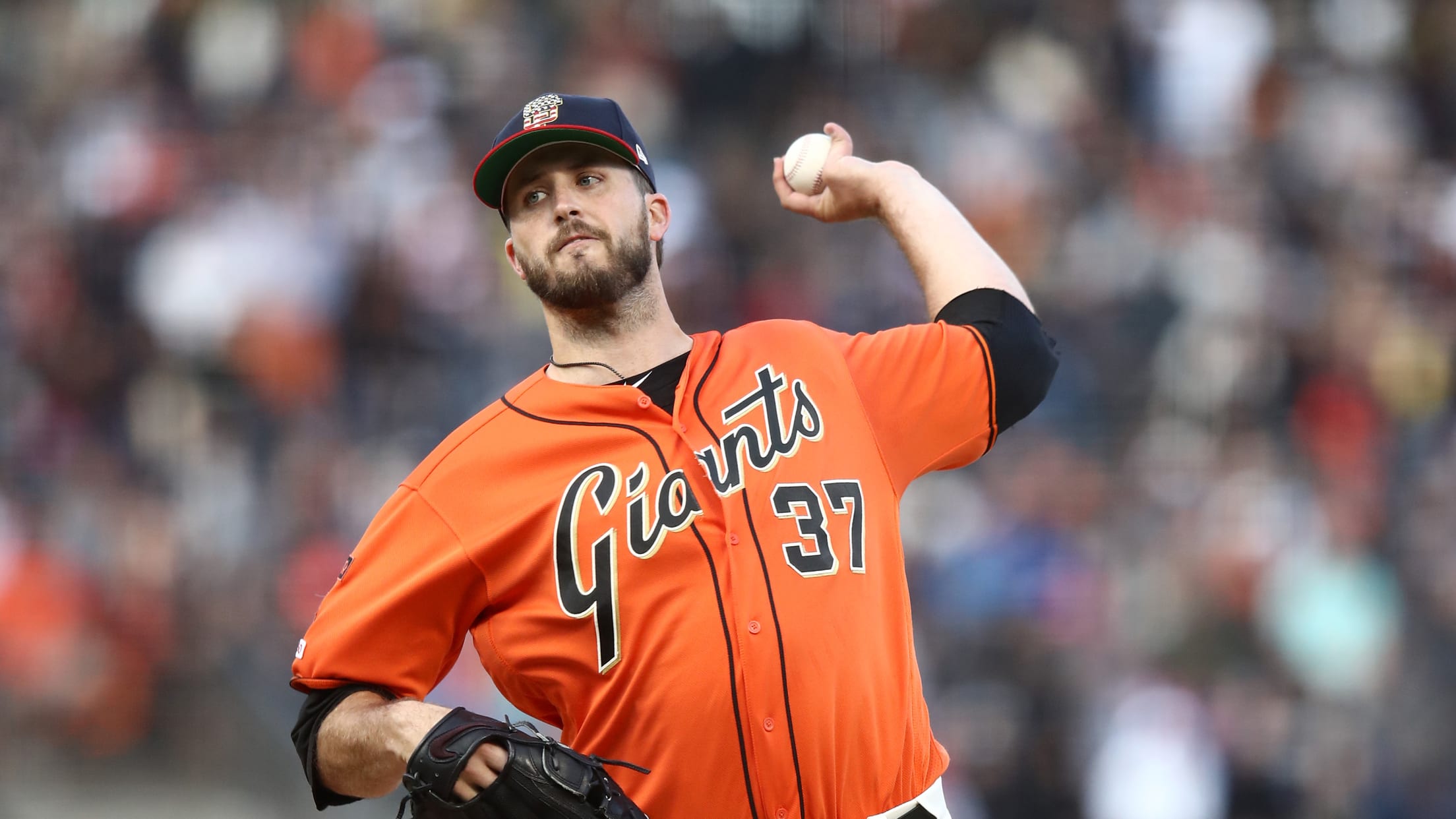 SAN FRANCISCO -- This wasn't how Drew Pomeranz wanted to head into the All-Star break. After posting a promising 3.33 ERA over five starts in June, Pomeranz struggled in his first outing of July, allowing four runs over four innings in the Giants' 9-4 loss to the Cardinals in Friday
SAN FRANCISCO -- This wasn't how Drew Pomeranz wanted to head into the All-Star break.
After posting a promising 3.33 ERA over five starts in June, Pomeranz struggled in his first outing of July, allowing four runs over four innings in the Giants' 9-4 loss to the Cardinals in Friday night's series opener at Oracle Park. Lacking the improved command that had helped ignite his recent resurgence, Pomeranz gave up six hits and walked four in the 86-pitch effort, which snapped the Giants' four-game winning streak.
"I think I just wasn't aggressive early on," Pomeranz said. "I've been pitching well because I've been going right after guys and being super aggressive like right from the get-go. I was missing pitches early, and I didn't make adjustments quick enough like I had been, by kind of turning it on and getting out of jams."
Alex Dickerson crushed a game-tying home run in the third inning, but Pomeranz surrendered a go-ahead triple to Tommy Edman the following inning and departed with the Giants trailing, 4-3. The game grew further out of reach after relievers Trevor Gott and Mark Melancon each gave up a pair of runs.
After scoring 40 runs on 53 hits over their previous four games, the Giants were held to seven hits in their return to Oracle Park, where they are 18-26 compared to 21-22 on the road this year.
"I think, more than anything, we haven't scored as much here," manager Bruce Bochy said. "The offense hasn't quite clicked here like it has on the road."
Signed to a one-year deal over the offseason, Pomeranz ended the first half with a 6.42 ERA over 16 starts, the second-highest mark in the Majors among starters who have thrown at least 60 innings this year. Only the Orioles' David Hess (7.00 ERA) has been worse.
The 30-year-old left-hander appeared to turn a corner after making a slight adjustment to his arm slot at the beginning of June, but he has still struggled to deliver consistent results and has logged only one quality start for the Giants this year.
"The first part of it sucked," Pomeranz said. "I feel like I was still throwing the ball well these last few [outings]. This is obviously a frustrating one to go into the All-Star break with."
Pomeranz appeared off from the start Friday, yielding a long home run to Jose Martinez on his sixth pitch of the game. After a single by Paul DeJong, Paul Goldschmidt crushed a first-pitch fastball 449 feet to center field, extending the Cardinals' lead to 3-0. By the end of the first inning, Pomeranz had been forced to throw 33 pitches.
"He didn't have his fastball command there early," Bochy said. "He had trouble getting it where he wanted."
Like most of the Giants' starters, Pomeranz has proved vulnerable in the first inning this year. His 20 first-inning runs this season are the second-most in the Majors, behind only the Mets' Steven Matz (23).
"It's not a fun situation to be in the hole early on," Pomeranz said. "Even though we did come back, you don't want to feel like you're fighting the whole time. I've got to do a better job in the first inning of just getting back in the dugout and not giving up any runs."
Pomeranz worked around traffic to post clean innings in the second and third, but he couldn't avoid damage in the fourth. Kolten Wong led off with a double before scoring on Edman's triple to restore the Cardinals' lead.
Pomeranz's outlook for the second half appears a bit murky. If he continues to pitch well out of the All-Star break and proves that Friday's showing was simply another blip, he could turn into another trade chip for the Giants ahead of the July 31 Trade Deadline. But if he's unable to recapture his June form, Pomeranz could find his rotation spot in jeopardy, as the Giants have other starters in the Minors, such as Dereck Rodriguez, Andrew Suarez and Conner Menez, who are pushing for looks in the Majors.
"You've got to keep your mind in the right place," Pomeranz said. "I'll remember the things I was working on and just keep throwing with those things in mind."
Maria Guardado covers the Giants for MLB.com. She previously covered the Angels from 2017-18. Follow her on Twitter.