Baker pleased with Nationals' overall play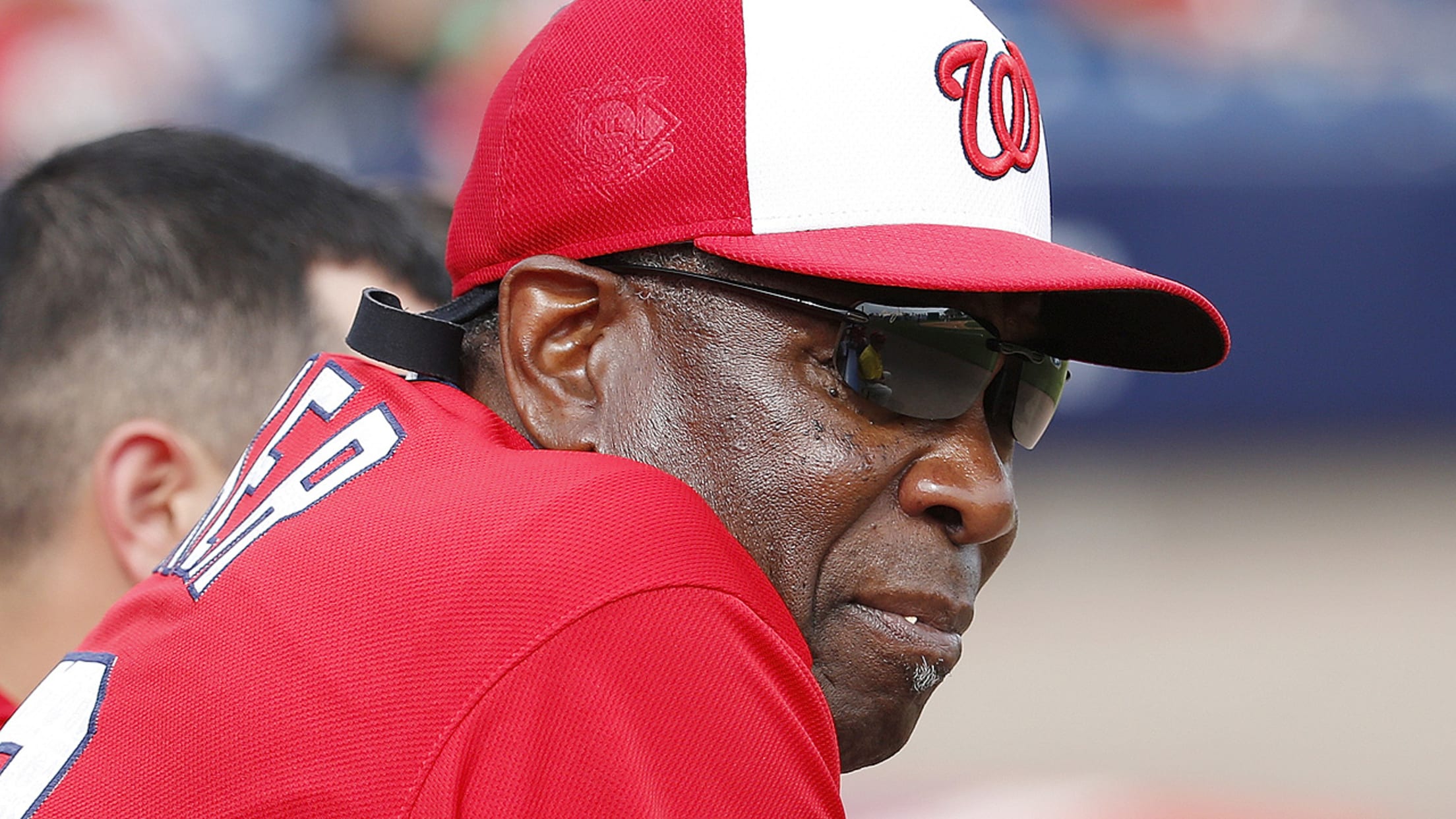 "On my teams, everybody plays. I try to get them in there as much as I can," said Dusty Baker. (AP) (Joe Robbins/Getty Images)
LAKE BUENA VISTA, Fla. -- Manager Dusty Baker put it best after watching his Nationals run past the Braves, 11-1, at Champion Stadium on Saturday night: The team was firing on all cylinders."I was pleased with our overall game," Baker said.Washington collected 14 hits, highlighted by Michael Taylor and Trea
LAKE BUENA VISTA, Fla. -- Manager Dusty Baker put it best after watching his Nationals run past the Braves, 11-1, at Champion Stadium on Saturday night: The team was firing on all cylinders.
"I was pleased with our overall game," Baker said.
Washington collected 14 hits, highlighted by Michael Taylor and Trea Turner, who went a combined 5-for-6 with an RBI and four runs scored. Right-hander Tanner Roark led the way on the mound, pitching four innings and allowing a run on three hits.
• Spring:Tickets | Ballpark | 40-man roster | NRIs
"Tanner pitched pretty well. He didn't have great stuff like he had the last two times, but that's a sign of what you can do when you don't have your best stuff," Baker said.
After the game, Baker sounded like a guy who plans to play Taylor often -- and for good reason. Taylor is 8-for-18 (.444) with a homer and three RBIs.
"[Taylor] is getting better and better, and he's going to get better," Baker said. "He is going to play. It's just a matter of when. He is going to play quite a bit [this year]. When you have four quality outfielders and a couple of other guys who are good players, that's a mark of a good team. You must have depth. [Taylor] has worked hard."
Baker was also pleased he was able to play some of the rookies. Infielder Chris Bostick, for example, had a two-run double in the seventh inning. Bostick, the No. 30 prospect in the Nationals' farm system, according to MLB.com, is now 4-for-12 this spring.
"He has worked hard, too," Baker said. "On my teams, everybody plays. I try to get them in there as much as I can. That's how I operate. If you are on my team, you are going to play. Hopefully, I'll put you in a position where you can succeed to help us win."
• Left-hander Sean Burnett continued to show that he has recovered from Tommy John surgery. He pitched one shutout inning. Overall this spring, he has pitched three innings and allowed one hit. Even though he didn't pitch in a Major League game last year, Burnett was able to have two or three bullpen sessions a week at home starting last April. That helped him get off to a good start this spring.
"I'm getting comfortable every outing. The arm is feeling good," Burnett said. "I took a lot of time last year and worked my tail off. I threw a lot last year. … Coming into this year, I was confident that I could execute pitches."