Each team's greatest postseason moment
The most memorable October event of the divisional era for every club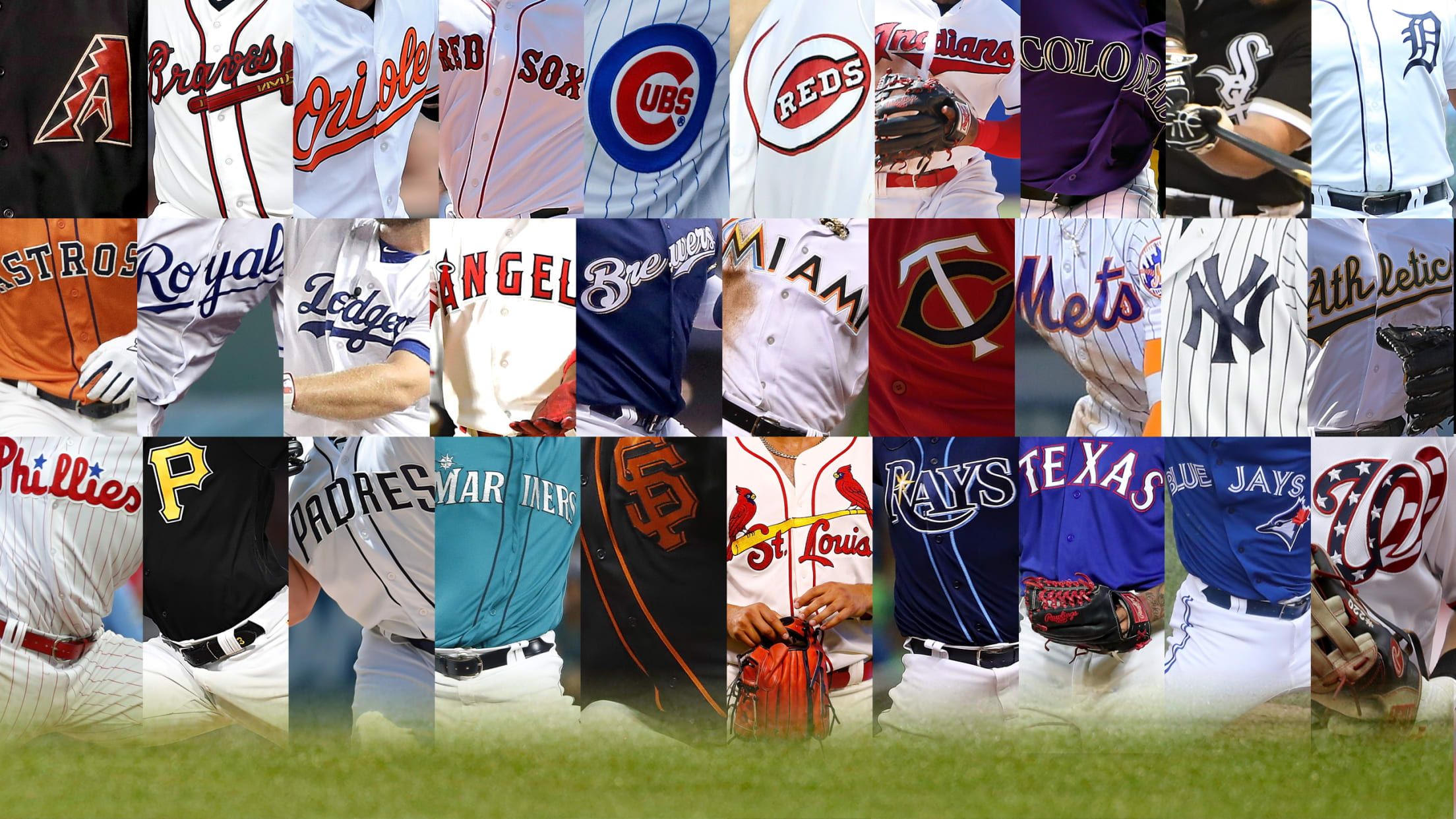 A version of this story first ran in 2018. There are just four teams remaining in this year's postseason, but every fan, even those of the Mariners (the team with the longest postseason drought, now up to 17 seasons), can relate to what it feels like to be in the
A version of this story first ran in 2018.
There are just four teams remaining in this year's postseason, but every fan, even those of the Mariners (the team with the longest postseason drought, now up to 17 seasons), can relate to what it feels like to be in the playoffs. The late nights, the constant tension, the stakes so high you can barely breathe ... and when something wonderful happens, the release and the pure, unbridled jubilation.
With that in mind, we take a look at the greatest postseason moments of the division era. Even if your team isn't a postseason team, you can remember your great October moments … and if it is, you can dream of maybe having another one this month that's even better.
(For the purpose of this exercise, we are going back to 1969, which is the start of divisional play and the birth of the postseason as we know it.)
AMERICAN LEAGUE EAST
Blue Jays: Joe Carter's World Series walk-off, Oct. 23, 1993
The Blue Jays might not have that many postseason moments, but the greatness of this one more than makes up for that.
Runner-up: Jose Bautista's ALDS Game 5 bat flip, Oct. 14, 2015.
Orioles: Brooks Robinson's incredible play, 1970 World Series, Oct. 10, 1970
The best part about this play, which might be the greatest defensive play in World Series history, is how surprised the umpire looks. Even he can't believe what he just saw.
Runner-up: David McNally's grand slam, World Series Game 3, Oct. 13, 1970.
Rays: First and only World Series trip clinched, Oct. 19, 2008
A decade ago, and still pretty jaw-dropping that all this happened.
Runner-up: Grant Balfour strikes out Ken Griffey Jr. to clinch the first ALDS victory, Oct. 6, 2008.
Red Sox: First World Series title since 1918, Oct. 27, 2004
You might remember when this happened. (It's when lifelong Red Sox fans Jimmy Fallon and Drew Barrymore got on television.)
Runner-up: David Ortiz's ALCS grand slam vs. the Tigers sent a cop joyous in the bullpen and turns the series around on Oct. 13, 2013.
Yankees: Reggie Jackson's three homers in 1977 World Series
There's a reason no one else gets to be called "Mr. October."
Runner-up: Mr. November -- Derek Jeter's World Series Game 5 walk-off homer on Nov. 1, 2001.
AL CENTRAL
Indians: Eddie Murray's walk-off, Game 3, 1995 World Series, Oct. 24, 1995
It was Cleveland's first World Series game in 41 years, and ended with a Hall of Famer sending the crowd into euphorics.
Runner-up: Rajai Davis' home run off Albertin Chapman, 2016 World Series, Nov. 2, 2016
Royals: Royals win 2015 World Series, Nov. 1, 2015
It was a magical season and a magical World Series that just seems more improbable each year that goes by.
Runner-up: The Don Denkinger play, and aftermath, 1985 World Series, Oct. 26, 1985.
Tigers: Magglio Ordonez sends Tigers to World Series, Oct. 14, 2006
The sounds that crowd makes the minute the bat meets the ball still gives you chills 12 years later.
Runner-up: Kirk Gibson's Game 5 homer, 1984 World Series.
Twins: Kirby Puckett's Game 6 walk-off, 1991 World Series, Oct. 26, 1991
The original "We Will See You Tomorrow Night."
Runner-up: Twins win 1987 World Series, their first in Minnesota, Oct. 25, 1987.
White Sox: White Sox win 2005 World Series, Oct. 26, 2015
A game that was razor-tight, in a series that was much closer than anyone remembers.
Runner-up: Scott Podsednik's Game 2 walk-off, Oct. 23, 2015.
AL WEST
Angels: Scott Spiezio's homer, Game 6, 2002 World Series, Oct. 26, 2002
The most Rally Monkey of all the Rally Monkey moments, his three-run clout cued the rally from a 5-0 deficit.
Runner-up: Troy Percival gets last out to win 2002 World Series, Oct. 27, 2002.
Astros: Charlie Morton finishes the Dodgers off, 2017 World Series, Nov. 1, 2017
This was so long ago you might not remember it, but trust me, it was wonderful.
Runner-up: Chris Burke sends everybody home after 18 innings, 2005 NLDS.
Athletics: Eck closes out the 1989 World Series, October 28, 1989
When in doubt, go with the Hall of Famer closing out a series for an all-time great team.
Runner-up: Joe Rudi's amazing catch, World Series Game 2, Oct. 14, 1973.
Mariners: Ken Griffey Jr. slides home to win the 1995 ALDS, Oct. 8, 1995
Basically, everything wonderful about the history of Mariners baseball, happening in one play.
Runner-up: Mariners win most recent postseason series, 2001 ALDS over Cleveland.
Rangers: Neftali Feliz sends Texas to its first World Series, 2010 ALCS, Oct. 22, 2010
Over the hated Yankees, no less. Runner-up: Josh Hamilton's 2011 World Series Game 6 homer, which was this close to being one of the greatest baseball moments of recent memory.
NATIONAL LEAGUE EAST
Braves: Only World Series win in Atlanta, Oct. 28, 1995
It still seems amazing that this is the only one they ever got.
Runner-up: The Sid Bream Slide, Oct. 14, 1992.
Marlins: Edgar Renteria's walk-off to win 1997 World Series, Oct. 26, 1997
Poor Cleveland.
Runner-up: The Bartman play, and all that followed, 2003 NLCS.
Mets: Mookie Wilson reaches base, Ray Knight scores, Mets win on Bill Buckner's error, Game 6, 1986 World Series, Oct. 25, 1986
A Mets comeback for the ages.
Runner-up: Miracle Mets win 1969 World Series.
Nationals: Jayson Werth's 2012 NLDS walk-off, Oct. 11, 2012
After this, the Nats lost the series. But for the moment, it was great.
Runner-up: Strasburg fans 12 to extend last year's NLDS.
Phillies: Brad Lidge gets the last out of a long game, 2008 World Series, Oct. 27, 2008
It took a couple of days for this game to actually finish, but no Phillies fan would ever complain.
Runner-up: Roy Halladay's no-hitter, 2010 NLDS against Cincinnati.
NL CENTRAL
Brewers: Paul Molitor's inside-the-park homer, 1982 ALCS, Oct. 6, 1982
A certain age of Brewers fan will never, ever forget Paul Molitor's inside-the-park home run.
Runner-up: Nyjer Morgan's walk-off over Arizona in 2011 NLDS, particularly when called by Bob Uecker.
Cardinals: David Freese's triple to tie 2011 World Series Game 6, Oct. 27, 2011
The walk-off homer in the 11th gets more air time, but this was truly one of the most insane hits in World Series history.
Runner-up: Ozzie Smith's 1985 NLCS homer off Tom Niedenfuer, the "Go Crazy, Folks" moment.
Cubs: History in 2016
This was … not a tough call.
Runner-up: Kyle Schwarber's shot atop the Wrigley scoreboard, Game 4, 2015 NLDS.
Pirates: Willie Stargell's homer, 1979 World Series, Game 7, Oct. 17, 1979
And to do it in such beautiful threads …
Runner-up: Pirates fans scare Johnny Cueto into dropping the ball, 2013 NL Wild Card Game at PNC Park.
Reds: Big Red Machine wins a Fall Classic for the ages, Oct. 22, 1975
It's only East Coast Bias that makes you think of Carlton Fisk when you think of this series.
Runner-up: Reds sweep heavily favored A's in 1990 World Series.
NL WEST
D-backs: Luis Gonzalez off Mariano Rivera, 2001 World Series, Nov. 4, 2001
Ah, the perils of playing the infield in …
Runner-up: Tony Womack's hit in 2001 NLDS.
Dodgers: Kirk Gibson pulls himself around the bases, 1988 World Series
Runner-up: Juan Uribe's 2013 go-ahead homer in Game 4 NLDS against Atlanta.
Giants: First World Series win in San Francisco, 2010 World Series, Nov. 1, 2010
Edgar Renteria hit .412 with two homers and six RBIs and the city got its first celebration.
Runner-up: Madison Bumgarner's dominance in 2014 World Series.
Padres: Tony Gwynn's bad hop double, 1984 NLCS, Game 5, Oct. 7, 1984
The biggest hit of Gwynn's career was a bizarre one, but it got the job done.
Runner-up: Padres finish off Braves to win 1998 NLCS.
Rockies: The Holliday slide, Oct. 1, 2007
He touched the plate … well, eventually. Maybe not technically the postseason either, but it came after Game 162.
Runner-up: Rockies win a fantastic extra-inning Wild Card game at Wrigley Field in 2018, effectively ending any hope of a Joe Maddon-era Cubs dynasty. (They haven't been back to the playoffs since.)
Will Leitch is a columnist for MLB.com.