Inciarte, Phillips unveil T-shirt designs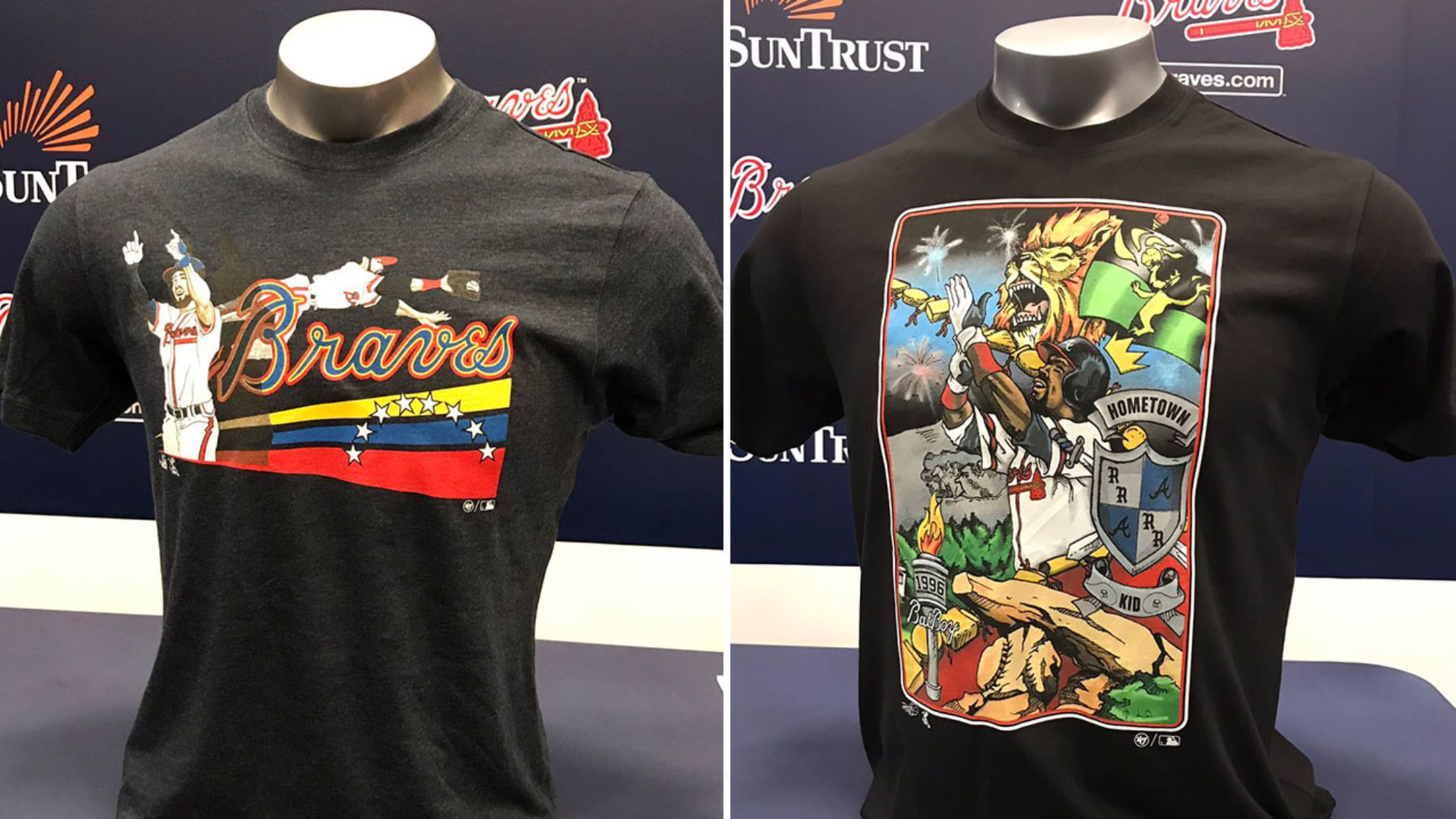 Inciarte's shirt (left) features the Venezuelan flag and two of his proudest moments as a Brave. Phillips' shirt (right) depicts imagery from his suburban Atlanta childhood to the Majors. (Braves)
ATLANTA -- Ender Inciarte and Brandon Phillips have helped design T-shirts that symbolize some of the greatest moments and memories from their respective lives. The two Braves players unveiled these shirts before Friday night's game against the Brewers at SunTrust Park."It's a very special shirt," Inciarte said. "I tried to
ATLANTA -- Ender Inciarte and Brandon Phillips have helped design T-shirts that symbolize some of the greatest moments and memories from their respective lives. The two Braves players unveiled these shirts before Friday night's game against the Brewers at SunTrust Park.
"It's a very special shirt," Inciarte said. "I tried to make it simple and not put too much stuff. I want the fans to get to enjoy it. I love it."
Inciarte's shirt includes the Venezuelan flag and two of his proudest moments as a Brave -- a diving catch he made against the Nationals in April 2016 and his reaction after hitting the first home run at SunTrust Park. His family is honored with inclusion of a birthday cake on the left sleeve. He chose the cake based on a picture of him with his late father, mother and brother.
Now presenting the @47Brand t-shirts designed by @DatDudeBP & @enderinciartem! pic.twitter.com/BE8wW2Su7S

— Atlanta Braves (@Braves) June 23, 2017
Phillips' shirt symbolizes the path he has traveled from a suburban Atlanta childhood to the Major Leagues. The veteran second baseman includes symbols that represent his time as a batboy during the 1996 Olympics, Stone Mountain and two of his favorite movies, "The Lion King" and "Coming to America."
"It's just a shirt where I want to represent everything I am on the field and off the field," Phillips said. "I just want everybody to know I'm a ATL-alien. So, I hope a lot of people go out and support not only the Braves and also myself by representing with the DatDude shirt."
The T-shirt can be purchased for $45 a piece at braves.com/playertees and The Clubhouse Store located at SunTrust Park and the CNN Center. A portion of the proceeds will benefit the Braves Foundation.
Mark Bowman has covered the Braves for MLB.com since 2001.