Hosmer's game-winner extends hot streak
Notes on Hand, Yates, Ross, Villanueva, Cordero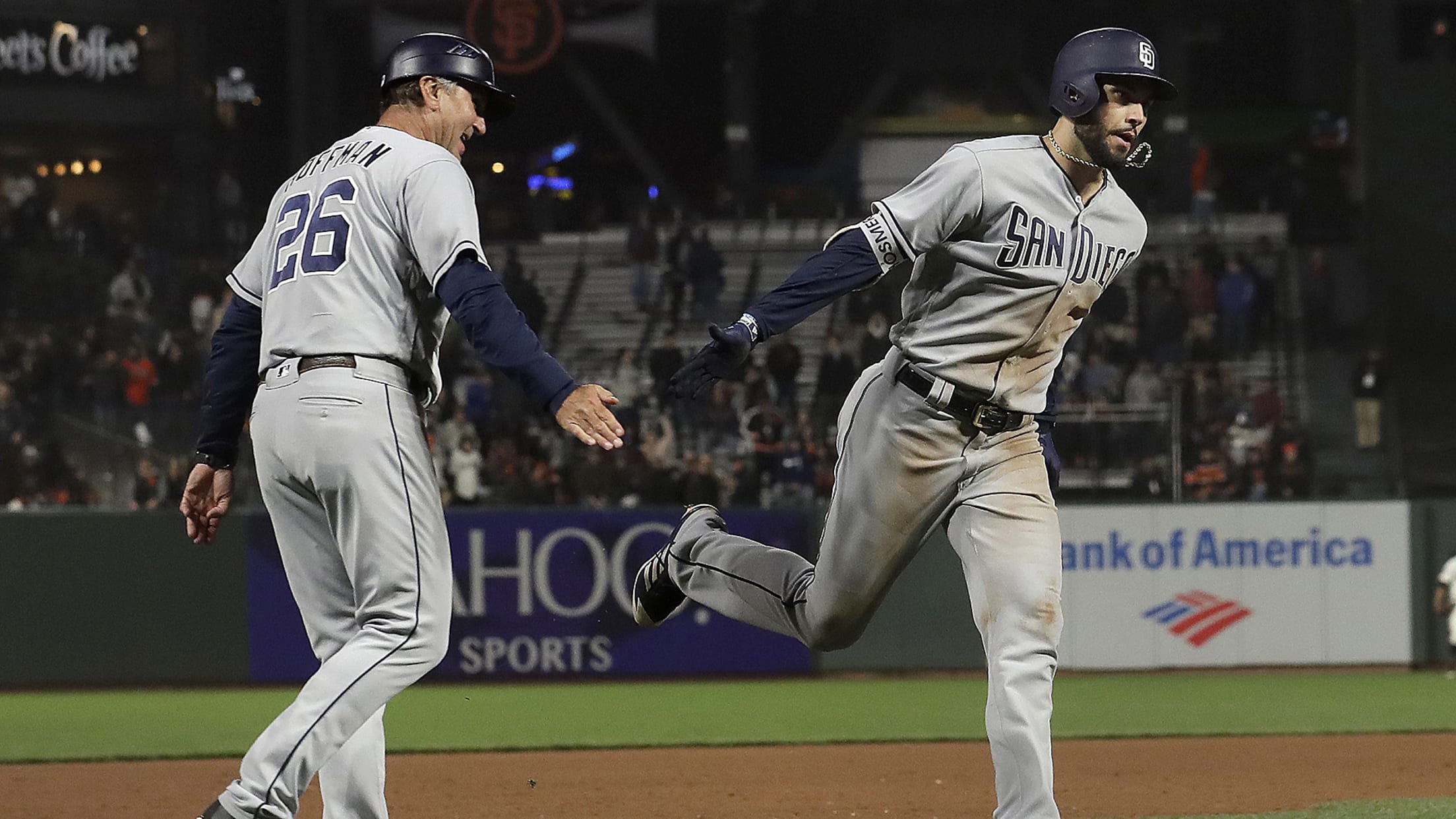 San Diego Padres' Eric Hosmer, right, is congratulated by third base coach Glenn Hoffman (26) after hitting a home run against the San Francisco Giants during the ninth inning of a baseball game in San Francisco, Tuesday, May 1, 2018. The Padres won 3-2. (AP Photo/Jeff Chiu) (Jeff Chiu/AP)
Bill Center, longtime sportswriter for U-T San Diego, is an employee of the Padres.Eric Hosmer's game-winning home run Tuesday night off Hunter Strickland established several firsts.One, it was the first hit Strickland gave up to a left-handed hitter this season. Before Hosmer's opposite-field drive into the left-field seats at AT&T
Bill Center, longtime sportswriter for U-T San Diego, is an employee of the Padres.
Eric Hosmer's game-winning home run Tuesday night off Hunter Strickland established several firsts.
One, it was the first hit Strickland gave up to a left-handed hitter this season. Before Hosmer's opposite-field drive into the left-field seats at AT&T Park, left-handed hitters were 0-for-27 against Strickland this season.
Two, Hosmer's homer was the first decisive home run for the Padres this season in the ninth inning or later.
Hosmer was 2-for-4 Tuesday night with his first triple and third homer -- scoring two of the Padres three runs. Hosmer is 9-for-16 over his last four games with three doubles, a triple and a homer. He has had two hits in each game.
Over his last five games -- around missing two games on Family Medical Leave -- Hosmer is 11-for-21 with eight walks. That is a slash line of .524/.655/.905/1.560 to raise his batting average from .241 to .298.
NOTEBOOK:
• Christian Villanueva's 11-game hitting streak ended Sunday. But his ninth homer of the season Tuesday night gave him hits in 13 of his last 14 games. Villanueva is 19-for-49 (.388) since April 13 with three doubles and six homers for 14 RBIs and 12 runs scored. He has also drawn eight walks for a .474 on-base percentage and a .816 slugging percentage for a 1.290 OPS. Villanueva leads all rookies in home runs.
• Kirby Yates has a 1.07 ERA in 10 appearances covering 8 2/3 innings this season despite pitching on a sore right ankle that placed him on the disabled list for 12 days. Yates has allowed one run on four hits and two walks with nine strikeouts. He has also worked three straight games, allowing a hit and a walk with two strikeouts in three innings.
• Tyson Ross has turned in quality starts in four of his six outings this season, including Tuesday night in San Francisco (he allowed the Giants one run on four hits and three walks with nine strikeouts in six innings). The Padres are 4-2 in Ross' starts.
• After suffering his second blown save and taking the loss Monday night while throwing 37 pitches, Brad Hand bounced back with authority Tuesday night, retiring all three hitters he faced on 11 pitches.
• Rookie outfielder Franchy Cordero is 7-for-20 in a five-game hitting streak with a double and two homers.