Sogard reveals dream matchup, 'Cool' fan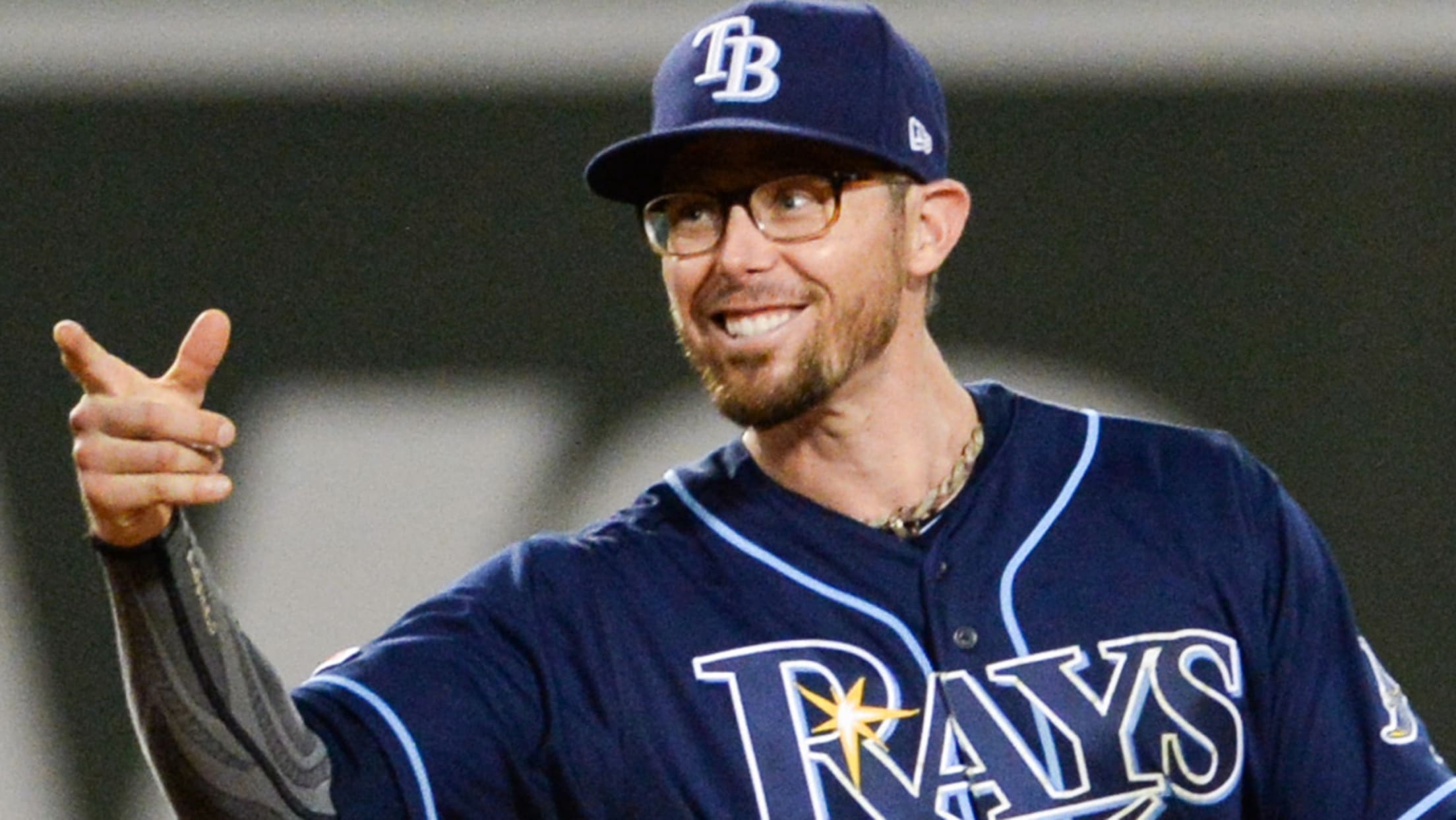 Get to know Rays infielder Eric Sogard, his dream pitching matchup, the baseball gear he has in endless supply, his connection to a famous rock band and more. If you could hit a home run off any pitcher, past or present, who would it be? Being a left-handed hitter, I
Get to know Rays infielder Eric Sogard, his dream pitching matchup, the baseball gear he has in endless supply, his connection to a famous rock band and more.
If you could hit a home run off any pitcher, past or present, who would it be?
Being a left-handed hitter, I would probably pick Randy Johnson because the dude was an animal, especially against left-handed hitters. I think having that one under the belt would be pretty sweet. I met him just very briefly in Arizona. He was pretty cool.
Which movie could you watch a thousand times?
The Sandlot. It just never gets old. It's a movie that I grew up watching. Still to this day, I think it's the greatest baseball movie out there. My favorite scene is the Squints scene with Wendy at the pool.
As an athlete, you get recognized. Who recognized you and you thought, "This is cool?"
When I was in Oakland, the drummer from Green Day [Tre Cool]. They came out and had some awards given to them, and he came over and said, "Hey, you are my favorite baseball player." It was pretty sweet, very cool.
Congratulations to @GreenDay on their induction into the Rock and Roll Hall of Fame! #GreenCollar pic.twitter.com/x18q0GfDuy

— Oakland A's (@Athletics) September 6, 2015
My best friend in the game is …
My closest friend in baseball is [Giants catcher] Stephen Vogt. We played many years together in Oakland. Both kind of came up together there, and really hit it off. Our families became good friends as well with our children. I had the pleasure to play with him again in Milwaukee. I don't know what made [our friendship] extra special, but I know for a while we were batting eighth and ninth in the order in Oakland, so that kind of connection down in the order might have fueled it.
What is one thing you have too many of?
The one thing I have too many of is baseball bats. I have probably over 100. [Where you do keep them?] Exactly, exactly. My wife gets on me. They're everywhere. You could find one anywhere around the house. I try to keep them secluded in the garage and one spot in the laundry room, but they tend to wander.
What has been your coolest moment in baseball?
It's a tough one, a lot of cool moments. I think the first game in the Major League is special. It's something you work your whole life for and to get there and enjoy the moment. I remember my first at-bat basically not being able to feel my body at all. Just being completely numb and just overtaken. It was neat. It's rare for it to happen, so I think to embrace it and enjoy it is kind of cool.
Who would you want to play you in a TV show or movie about your life?
Anybody? Anybody at all? We'll go Christian Bale. He's solid. I mean, Batman, he's cool. Why not?