Aybar sees bright future for nephew Franco
Talented 15-year-old turning heads on the international market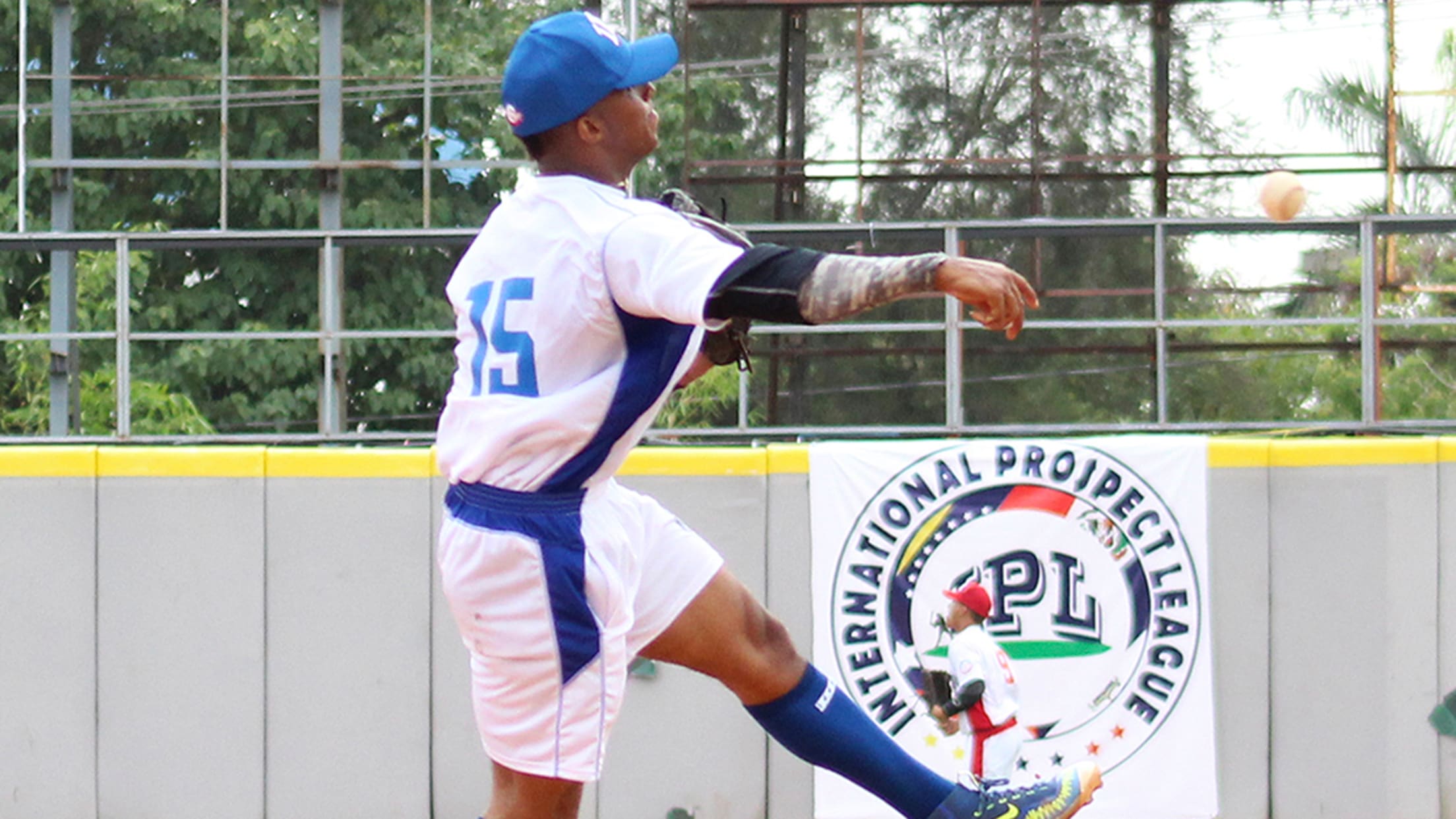 Wander Samuel Franco is a talented infielder in the Dominican Republic. (International Prospect League) (International Prospect League)
PEORIA, Ariz. -- Wander Samuel Franco is a young, switch-hitting shortstop in the Dominican Republic with big league dreams and a serious chance to make a name for himself one day.Erick Aybar knows exactly what that's like.Aybar has long been Franco's baseball idol. And as it would happen, he's also
PEORIA, Ariz. -- Wander Samuel Franco is a young, switch-hitting shortstop in the Dominican Republic with big league dreams and a serious chance to make a name for himself one day.
Erick Aybar knows exactly what that's like.
Aybar has long been Franco's baseball idol. And as it would happen, he's also Franco's uncle and mentor.
At 15, Franco is considered the best infield prospect in a country that regularly churns out top infielders. When the next international signing period opens on July 2, he'll be one of the most sought-after youngsters.
"I've spent a lot of time with him, and I think he's a pretty complete prospect," said Aybar, who is competing for the starting shortstop job in Padres camp this spring. "He can hit, he can play defense, he can run the bases. I think he's going to be a really good prospect over the years when he keeps working."
Aybar enjoys serving as a mentor for Franco in hopes that someday his nephew will reach his full potential. But he added that Franco already has the makeup necessary to do so.
"Like any other 15-year-old, he has a lot of growth left to do," said Aybar through an interpreter. "That comes with time and with age. But for his age, he knows a lot. He's very open-minded. He's very willing to take coaching. He's very observant. From a mental standpoint, he's good to go."
To his credit, Franco appears to have taken full advantage of his baseball pedigree. During the offseason, he and Aybar take batting practice together, they go to the gym together, and they run on the beach together.
Dominican shortstop Wander Samuel Franco is considered the top international prospect from the island. His two brothers are minor leaguers. pic.twitter.com/20OEVuO2T9

— Jesse Sanchez (@JesseSanchezMLB) February 22, 2017
"I'd like to be just like my uncle Erick," Aybar told MLB.com's Jesse Sanchez at this week's International Prospect Showcase at Estadio Quisqueya Juan Marichal.
Uncle Erick -- a former Gold Glove Award winner and All-Star entering his 12th season in the big leagues -- would like to see that, too.
"I've helped him out with anything," Aybar said. "And anything that I can help him out with in the future, I'm there for him."
Franco's two brothers -- Wander Javier and Wander Alexander -- play in the Minors for the Royals and Astros, respectively. Wander Samuel -- yes, they all have the same first name -- might be the best prospect of the bunch.
"It's an advantage having so many players in the family," Franco said. "I know I'm lucky to be able to work out with my uncle. He's helped me a lot, with tips on the field and how to be a professional baseball player."
Franco might get to put those tips to good use later this year.