Fedde grateful for big league camp experience
Despite rough outing, Nats' No. 2 prospect learned about hitters' approach in Majors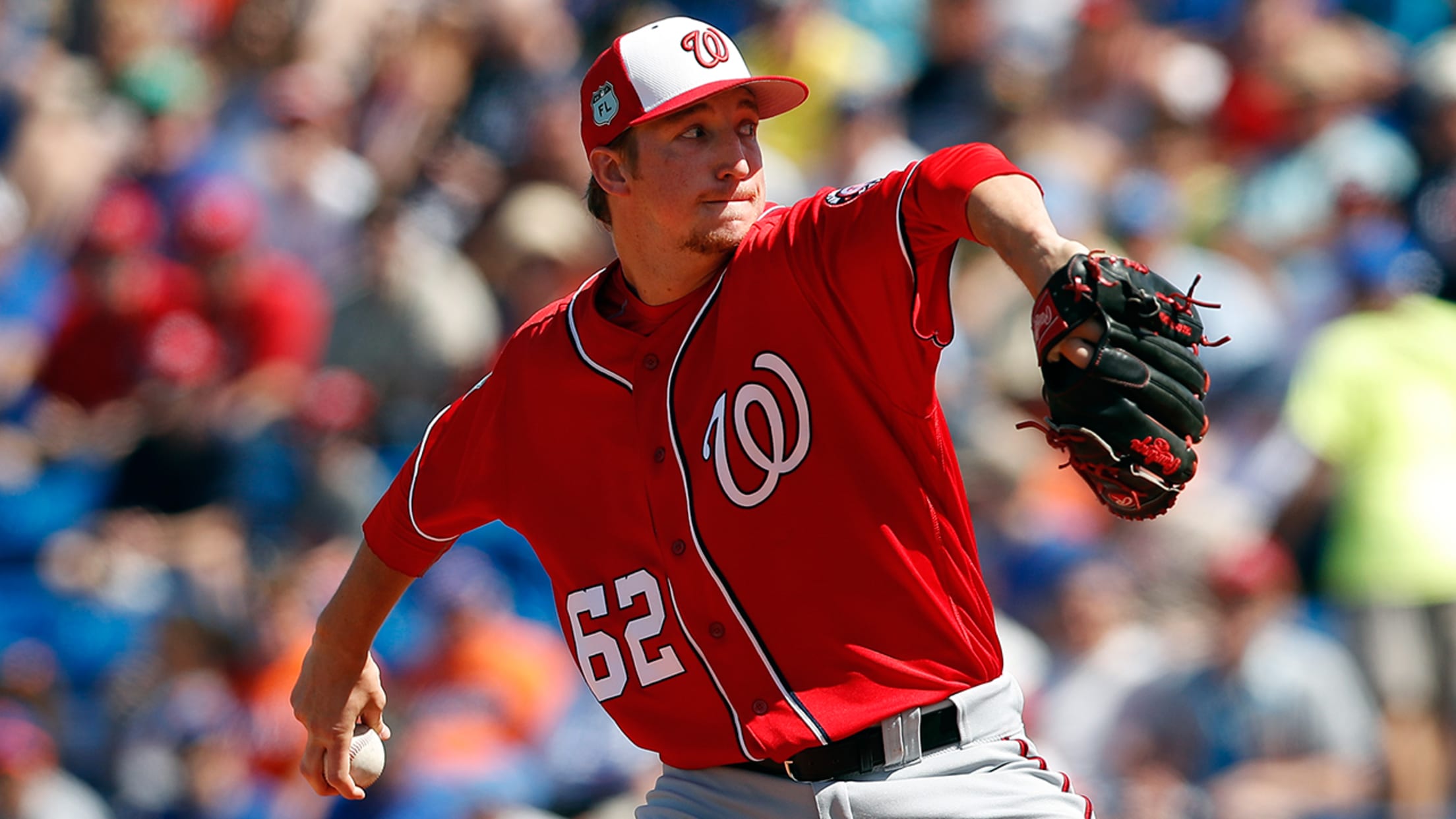 Prospect Erick Fedde labored through his worst spring start Friday, but he impressed the Nats at camp. (AP)
JUPITER, Fla. -- While watching Erick Fedde in the bullpen for the first time this spring, what struck Nationals manager Dusty Baker the most was how frequently he threw strikes.Fedde, the club's No. 2 prospect and top pitching prospect as rated by MLBPipeline.com, told Baker, "I don't like to walk people."Fedde's
JUPITER, Fla. -- While watching Erick Fedde in the bullpen for the first time this spring, what struck Nationals manager Dusty Baker the most was how frequently he threw strikes.
Fedde, the club's No. 2 prospect and top pitching prospect as rated by MLBPipeline.com, told Baker, "I don't like to walk people."
Fedde's command has been his strength during his first Major League Spring Training; he had not allowed a run in his first seven innings entering Friday afternoon. But he labored through his roughest outing of the Grapefruit League in a 5-5 tie with the Marlins, giving up all five runs on three walks and four hits -- including a three-run home run after Marcell Ozuna mashed a hanging slider -- in 1 2/3 innings.
• Spring Training:Info | Schedule | Tickets | Gear
"I think I just kind of let the game speed up," Fedde said. "My fastball command was bad, and that just kind of led to the hitters staying off of everything else."
Friday will almost certainly be Fedde's final Grapefruit League start. Max Scherzer is scheduled join the rotation next week and should take up the spot occupied by Fedde as the Nats inch closer to the start of the season. Fedde also needs to start building his stamina up as he prepares to begin the season as a starter at Triple-A Syracuse.
But Fedde has impressed in his time with the Major League club, and Baker said he would be on the Nats' radar. With Washington's lack of experienced starting pitching depth, it is possible Fedde could make his way to the Majors at some point this season.
"This has been a great experience," Fedde said. "Everything is just preparing me for the future. I'm really happy I got to have this experience, coming to early camp. It will be something I'll definitely be happy with when the time comes.
"It's really a completely different game, just the way hitters approach at-bats. That's the thing I've probably learned the most, just how the hitters approach the game and what they're looking for and how they sit on pitches. If you don't have good command, they'll wear you out for it."