Miscues to open season costly for Braves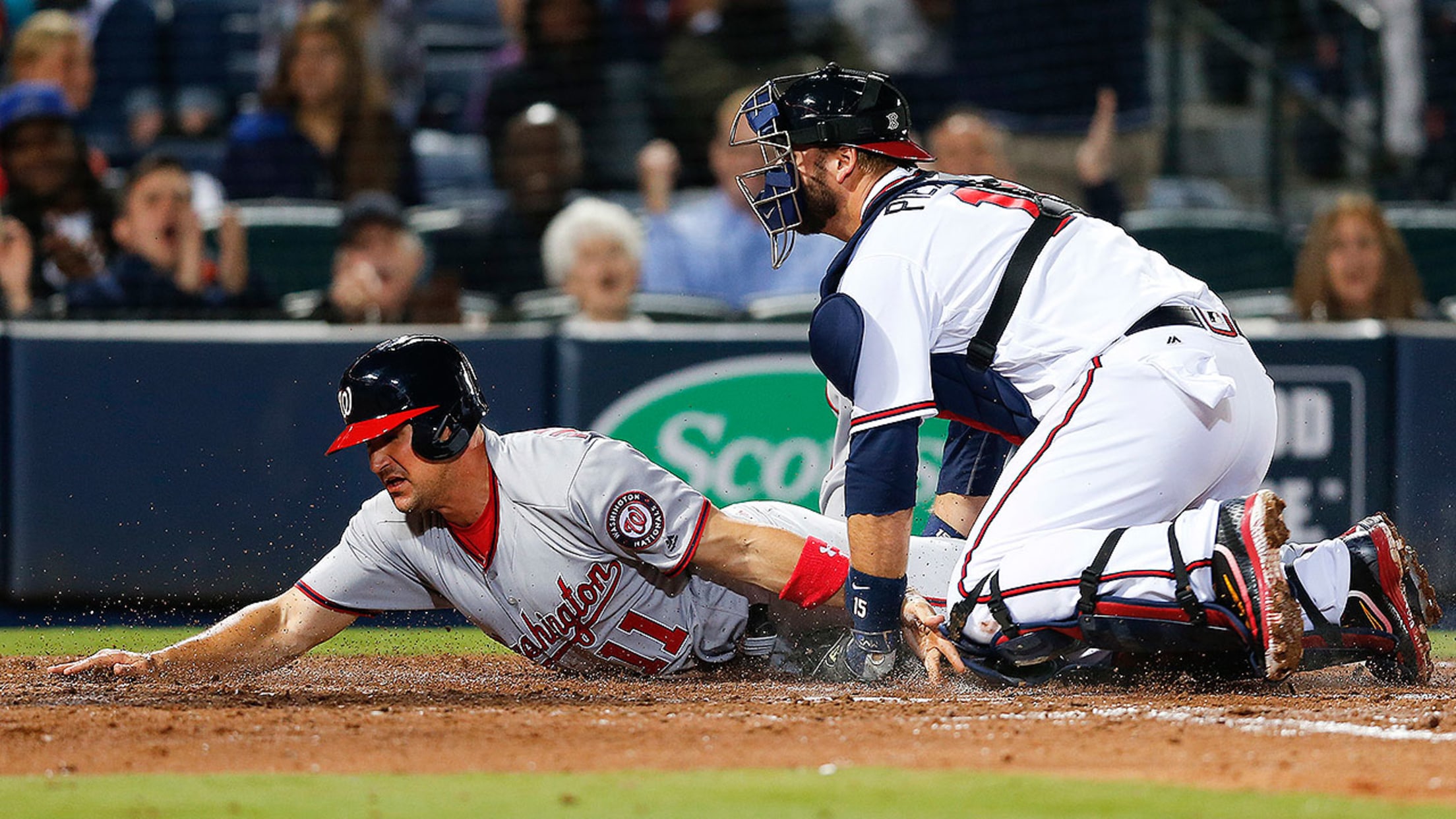 Ryan Zimmerman scores as the ball gets past Braves catcher A.J. Pierzynski on Wednesday night at Turner Field. (AP)
ATLANTA -- As the Braves exited their season-opening two-game series winless against Washington, they were forced to deal with the fact that self-inflicted defensive mistakes proved much more damaging than the challenges that Max Scherzer and Stephen Strasburg presented.After fumbling a ninth-inning lead and throwing away another chance in Monday's
ATLANTA -- As the Braves exited their season-opening two-game series winless against Washington, they were forced to deal with the fact that self-inflicted defensive mistakes proved much more damaging than the challenges that Max Scherzer and Stephen Strasburg presented.
After fumbling a ninth-inning lead and throwing away another chance in Monday's 10-inning Opening Day loss, the Braves received more than they could have asked from Bud Norris on Wednesday night. They then watched a seventh-inning lead vanish courtesy of a two-out chopper that set the stage for A.J. Pierzynski to miss another opportunity record a key out at the plate in a 3-1 loss.
"I'm not pointing fingers," Braves manager Fredi Gonzalez said. "I'm just saying our guys make those plays all of the time. You've got to take care of the baseball. Good teams, when you give them extra outs and extra opportunities, they're going to do that to you."
Gonzalez made it clear that most of his concerns about what transpired during the seventh inning were aimed at Erick Aybar, who has already provided a few reminders that the Braves no longer have the luxury of depending upon Andrelton Simmons -- the Gold Glove shortstop who went to the Angels in the trade that brought Aybar to Atlanta.
Norris had surrendered four hits and allowed just two Nationals to reach second base before Wilson Ramos hit a two-out chopper in the seventh inning. Having shaded the Nationals' catcher to pull, Aybar had to make up some ground before he snared the baseball along the edge of the grass and then pirouetted and bounced an errant throw that pulled Freddie Freeman off first base.
Aybar said he bounced the throw because he felt he could still get Ramos without taking the risk of making an high, off-balance throw that might have sailed out of play.
"That's a play you have make nine times out of 10 or 100 times out of a 100 really," Gonzalez said. "It's a ground ball to the shortstop moving to his left with Ramos running down the line."
Running with two outs on Ramos' chopper, Zimmerman never hesitated as he rounded third and headed toward the plate with the tying run. What seemed like an aggressive baserunning decision could have easily been deemed unwise had Pierzynski secured Freeman's throw before swiping to make a tag with an empty glove.
The Braves blew a one-run ninth-inning lead on Monday, when Pierzynksi was unable to secure Ender Inciarte's low throw to the plate and apply what would have been a game-ending tag on Jayson Werth. An inning later, second baseman Gordon Beckham made an errant throw that proved to be a costly mistake.
Pierzynski's inability to catch Freeman's throw on Wednesday set the stage for Matt den Dekker to deliver a two-run double for the opportunistic Nationals.
"They scored [seven] runs and our pitching was tremendous," Gonzalez said. "It seemed every time we made a mistake, they put a crooked number up there and we were not able to match them."
Mark Bowman is a reporter for MLB.com.