Suarez honored as MVP at Redsfest ceremony
Hughes named top pitcher as club hands out annual awards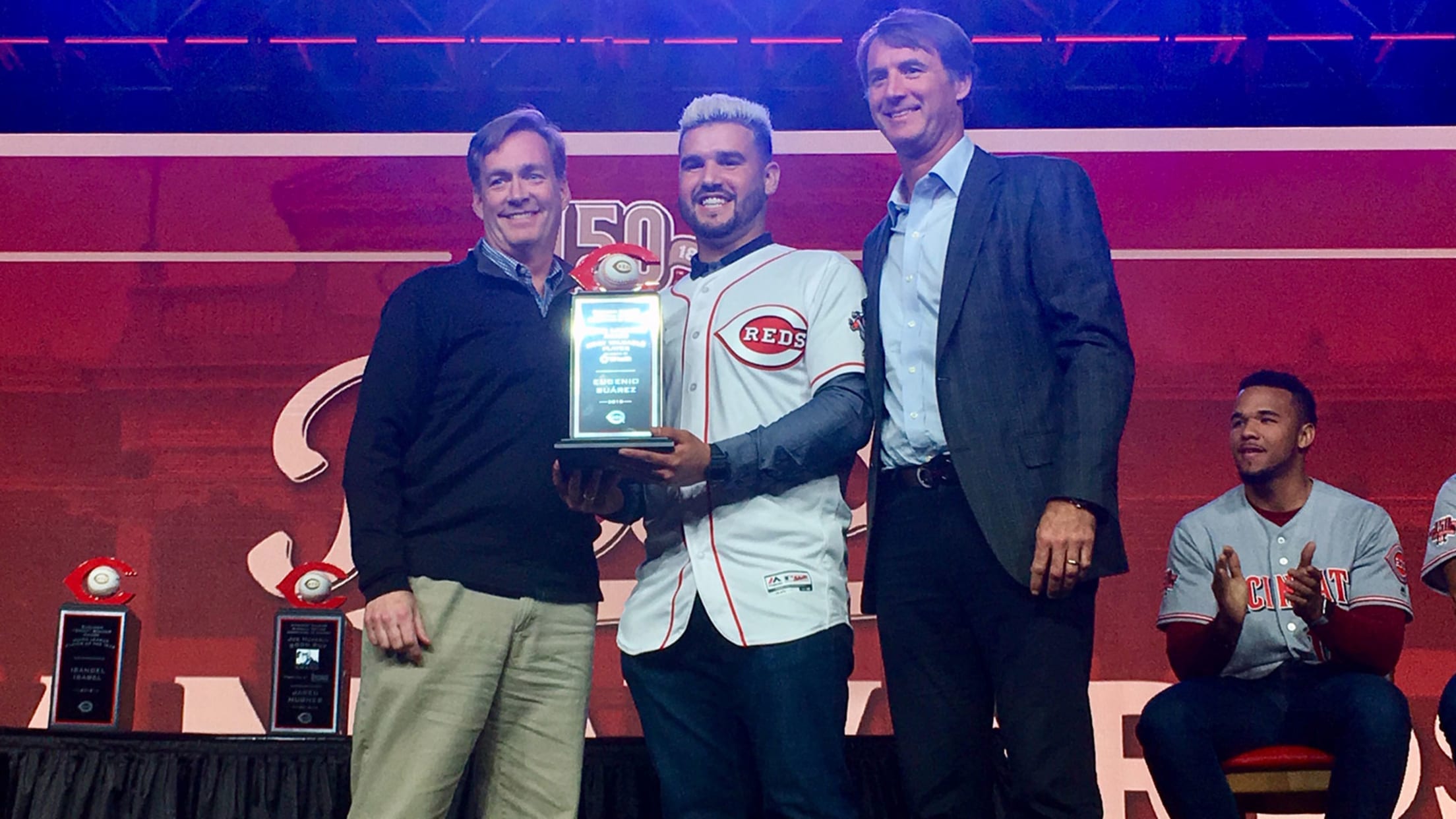 CINCINNATI -- One of the many highlights featured at Redsfest every winter is the announcement of the award winners from the prior season, which provides the perfect opportunity for the Reds and their fans to honor the players in person. Because nearly every member of the Major League roster, plus
CINCINNATI -- One of the many highlights featured at Redsfest every winter is the announcement of the award winners from the prior season, which provides the perfect opportunity for the Reds and their fans to honor the players in person. Because nearly every member of the Major League roster, plus all of the team's top prospects, participate in Redsfest every year, it's easy to gather the group of award winners on stage for a formal presentation.
The Ernie Lombardi Award, recognizing the Reds' Most Valuable Player, went to third baseman Eugenio Suarez, who slashed .283/.366/.526 with 34 homers and 104 RBIs over 143 games in 2018. He also became one of four third basemen in Reds history to hit at least 30 home runs.
• Redsfest info
Suarez was named to the National League All-Star team for the first time in 2018, and he recently toured Japan with a select group of Major League All-Stars as part of a three-city, six-game goodwill tour against Japan's All-Stars.
This year, one Reds pitcher won two awards. Right-handed reliever Jared Hughes received the Joe Nuxhall Good Guy Award, and he was also named the Johnny Vander Meer Most Outstanding Pitcher. The former recognized Hughes' affable personality, presence in the community, good-natured rapport with reporters and leadership in the clubhouse. The latter honored his sterling performance on the mound, where he compiled a 1.94 ERA and 1.02 WHIP over 72 relief appearances.
On the Minor League front, first baseman Ibandel Isabel was the recipient of the Chief Bender Award, given to the top player throughout the entire Reds Minor League system. Ibandel crushed a Florida State League-record 35 homers for Class A Daytona last season.
The award for the 2018 Reds Minor League Hitter of the Year was presented to left fielder TJ Friedl, who recorded 139 hits in 131 games between Class A and Double-A, while reaching base at a .381 clip.
The Reds Minor League Pitcher of the Year award was presented to Tony Santillan, who compiled 10 wins and a 3.08 ERA in 26 starts between Class A and Double-A.
Infielder Leandro Santana received the organization's Minor League Community Service Award.