Inbox: Examining the Twins' offseason spending
Beat reporter Do-Hyoung Park fields questions from fans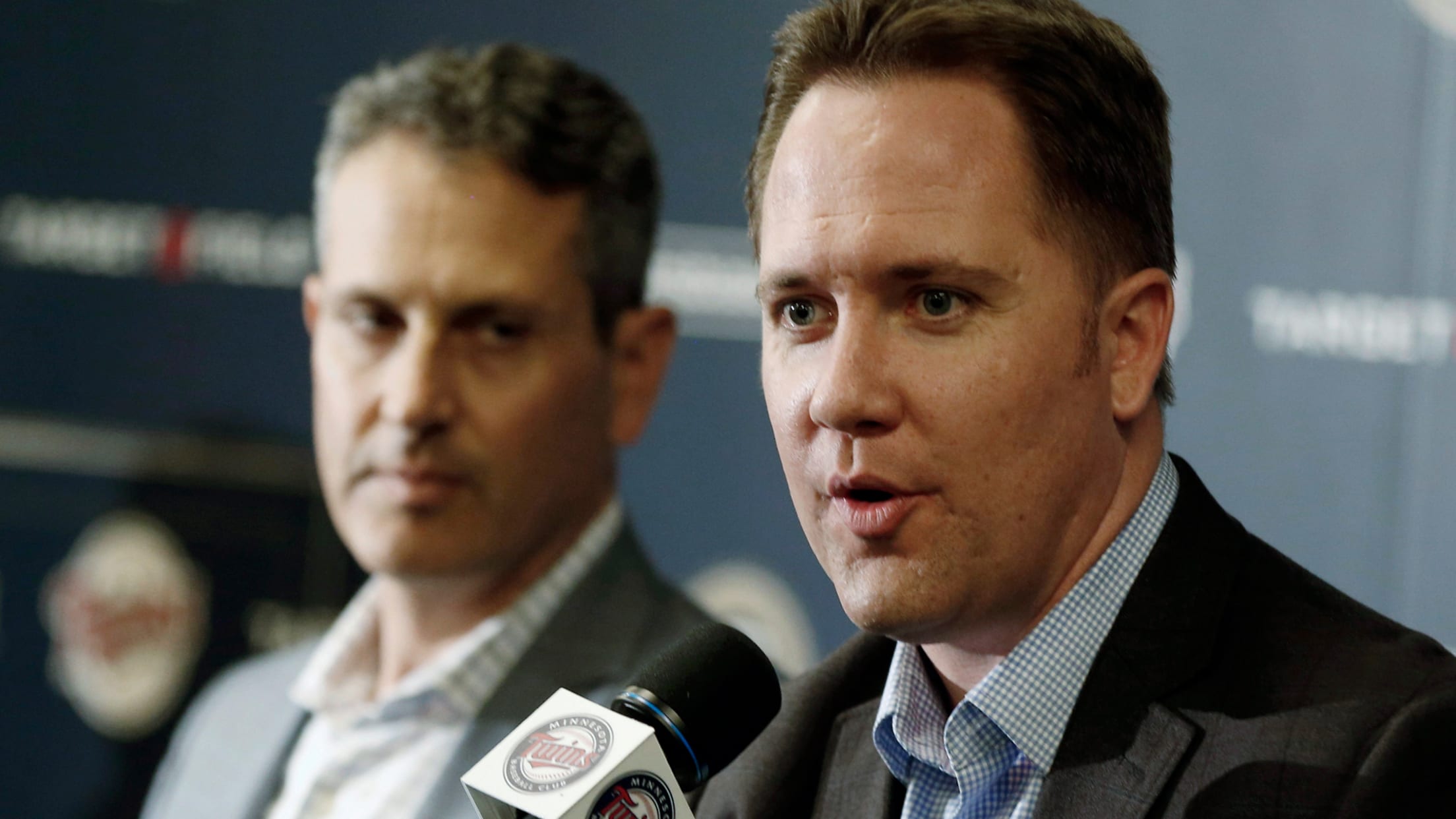 MINNEAPOLIS -- I spent Wednesday's deep, deep freeze preparing a long Inbox for today, so no extended introduction for this edition. I hope you all stayed warm.In regard to ownership/management stating they are willing to do whatever it takes to win, why have we not seen the Twins actually prove
MINNEAPOLIS -- I spent Wednesday's deep, deep freeze preparing a long Inbox for today, so no extended introduction for this edition. I hope you all stayed warm.
In regard to ownership/management stating they are willing to do whatever it takes to win, why have we not seen the Twins actually prove that? We have heard this year after year with no results. Why don't we go and make a splash in free agency?
-- Jason S., Willmar, Minn.
Coming off an American League Wild Card Game appearance in 2017, the Twins added Fernando Rodney, Zach Duke and Addison Reed to the bullpen, acquired Jake Odorizzi and Lance Lynn for the starting rotation and plugged Logan Morrison into the lineup. They entered the '18 season with the highest Opening Day payroll in club history.
:: Submit a question to the Twins Inbox ::
Sure, Lynn and Morrison didn't pan out, but that's the thing with free agents -- they're hit-or-miss, and it happened that the Twins missed on two of their biggest acquisitions last offseason. But it wasn't for lack of trying to win or an aversion to spending.
Part of why the free-agent market seems to have slowed down over the last few seasons is because baseball decision-makers appear to be agreeing that free agents are risks -- and they're much more expensive risks than homegrown talent. Not every free agent will pan out like Lorenzo Cain in Milwaukee or J.D. Martinez for the Red Sox. Just ask the Cubs, who committed $164 million to Yu Darvish and Tyler Chatwood last offseason and got a combined -0.3 fWAR for their troubles, or the Rockies, who added $106 million to their bullpen in the form of Wade Davis, Jake McGee and Bryan Shaw and got a combined 0.4 fWAR out of the trio.
If you're the Twins, without the bankroll of teams like the Dodgers and Yankees, you have to be smart about the risks that you take. Last weekend, at TwinsFest, general manager Thad Levine was talking about how you have to carefully contemplate the "who" and the "when" for a big-ticket free agent.
A lack of a pursuit for Manny Machado or Bryce Harper -- the top two free agents this offseason -- doesn't necessarily mean the team is averse to spending (and Twins leadership says that ownership is inclined to approve spending that makes sense). It just means that the Twins need to be more sure, based on their homegrown core, that their window of contention is open for several years before committing nine figures and more than half a decade to one player -- and they need to be smart about what player that is.
Is there any indication the $ not spent this offseason will be spent later, assuming a "window"'opens up, and not just get pocketed by the Pohlads?

— Tony Wirt (@Wirter) January 29, 2019
The simple answer to your question is "yes." If Minnesota's core bounces back and proves that it can perform at a postseason-caliber level, then I'd expect the team to be a buyer. Again, Twins leadership has said they have the blessing of ownership to spend on smart baseball moves. Adding to a winning team would certainly qualify.
Also, I see a lot of people pointing to money that they perceive is "not spent" because Minnesota's 2019 payroll is projected to be below the '18 mark and the Twins have Joe Mauer's salary coming off the books this year.
Fans have clamored for Minnesota to sign free agents with this money, but another important factor in the longer term is that any pitchers that the Twins sign now will mean less playing time for their developing arms. That would be fine if Minnesota was looking to go all-in on 2019, but that's not the case, and these young arms gaining valuable experience is an important part of a contending plan for 2020 and '21, when Royce Lewis and Alex Kirilloff could possibly enter the fray with the current core.
• Twins' Top 30 prospects
Another factor is that at least 14 Twins players -- approximately one-third of the 40-man roster -- are eligible for raises through arbitration next year, including José Berríos, who won't come cheap, and whatever Eddie Rosario, Max Kepler, Miguel Sanó and Byron Buxton add through their performance this season.
That's not to mention that any money locked up in long-term contracts signed this offseason is money that the Twins can't spend (or assume) at the non-waiver Trade Deadline or next offseason, when they could be more sure of their core's performance and more willing to make a big commitment. It looks like the Twins could be in the market for starting pitching this time next year, and players like Madison Bumgarner, Gerrit Cole, Cole Hamels, Rick Porcello, Hyun-Jin Ryu, Chris Sale, Justin Verlander and Alex Wood are all slated to be part of that market.
Who do you think will have a breakout season for the Twins?

Also, which Twins did you think will make the All-Star game?

— Jim Bertram (@crashcartjockey) January 30, 2019
It's too early to be thinking about the All-Star Game, but as for your breakout question, I'd keep an eye on Kepler. It might sound weird to tag a consistent 20-homer hitter and plus defender as a breakout candidate, but he improved significantly against left-handed pitching last season.
Against lefties in 2016, Kepler slashed .203/.273/.322 (.595 OPS) with 10 extra-base hits. In '17, he was down to .152/.213/.240 (.453 OPS) with five extra-base hits. Last season, though, Kepler slashed .245/.323/.422 (.745 OPS) with 16 extra-base hits. Overall, he's walking more and striking out less, so if he can bring his average against righties back up, Kepler could take a big step forward in '19.
If Kepler doesn't take the next step forward in 2019, could we see his playing time reduced to give Jake Cave more ABs?

— Kyle Jessen (@Ktjess25) January 30, 2019
Perhaps, but it's way too early to project that, and solutions to playing time are often born of necessity (injuries, etc.) deeper into a season. I wouldn't worry about Jake Cave getting at-bats. Given his .269/.316/.481 line and 13 homers in only 91 games last season, I'd expect him to see a decent amount of starts through a rotation in the outfield while also seeing time as the designated hitter and maybe even playing first base (Twins chief baseball officer Derek Falvey very briefly floated the possibility a few weeks ago) depending on how things shake out. But again, it's way too early to say for sure.
Any chance twins go with a four man rotation and a bullpen game on the fifth day this year?

— tighe herren (@tigheherren) January 30, 2019
Nice looking ahead. In fact, if you look at the Twins' early schedule, they could pitch a standard four-man rotation through the first five series of the season against the Indians, Royals, Phillies, Mets and Tigers if they wanted, without anyone pitching on short rest thanks to all of the off-days.
As for the specifics, though, it's way too early to tell. As manager Rocco Baldelli has said this offseason, strategies like the opener and the bullpen game are dictated by the strengths of an individual pitching staff more than just a desire to experiment. We'll have to see what the Twins' staff looks like coming out of Spring Training before predicting for sure.
What are the chances of Joe Mauer taking on a "coaching" or mentorship role within the organization?

— Marissa Biancardi (@Mbiancardi02) January 30, 2019
The Twins certainly like to keep their stars close to the vest after they leave the playing field, as Bert Blyleven, Rod Carew, Kent Hrbek, Tom Kelly, Jack Morris, Tony Oliva, Michael Cuddyer, LaTroy Hawkins, Torii Hunter and Justin Morneau all serve as special assistants to the team. My guess would be that, when the time comes, it would make sense for the Twins to extend such an offer to Mauer, the ultimate hometown hero, too.
But for now, Mauer is fresh off a 15-year playing career and has 5-year-old twin daughters and a 2-month-old son at home. He might enjoy being a dad for a while.
After so many changes to the organization last season into 2019 which players do you think will become the fan favorites? And why? As a fan I'm impressed with the players but we don't know them as well as we did others. I'm curious the inside thoughts. #MNTwins

— BPF (@BigPigletFan) January 31, 2019
All I'll say is that when I was on the Twins Winter Caravan last week, there were several "Ed-die! Ed-die! Ed-die!" chants that fans started organically when Rosario entered the room. Folks across Twins Territory love his energy and his passion for the game.