Felix, Paxton ramping up throwing programs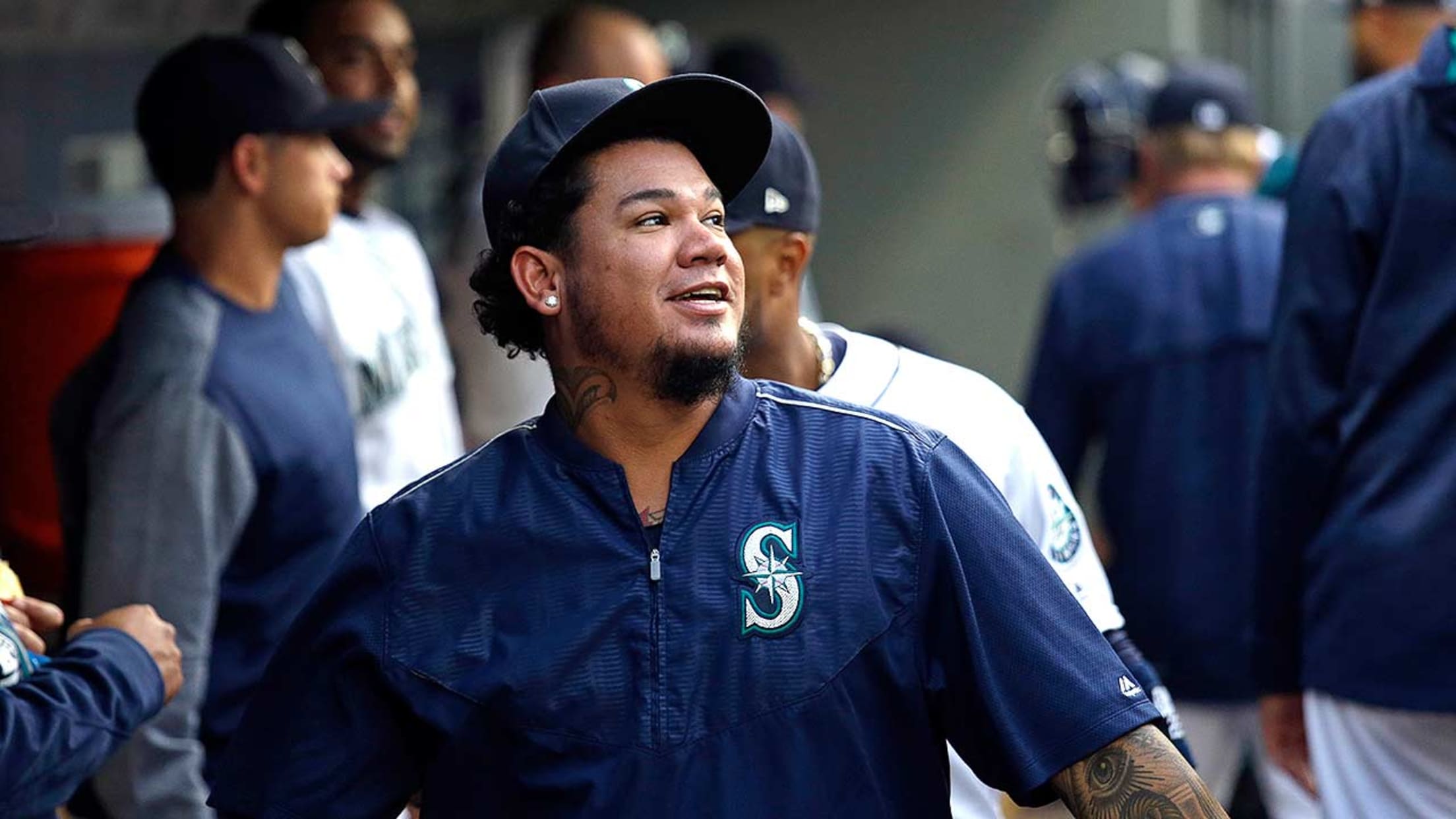 Mariners ace Felix Hernandez threw on Thursday for a second straight day. (AP)
NEW YORK -- Injured Mariners starters Felix Hernandez and James Paxton are still likely a week or so from getting back on a mound and several weeks from possible game action, but both pitchers have continued ramping up their throwing programs back in Seattle as they aim for September returns
NEW YORK -- Injured Mariners starters Felix Hernandez and James Paxton are still likely a week or so from getting back on a mound and several weeks from possible game action, but both pitchers have continued ramping up their throwing programs back in Seattle as they aim for September returns to a short-handed rotation.
Hernandez, sidelined the past four weeks with bursitis in his right shoulder, threw on Thursday for a second straight day, according to manager Scott Servais. Paxton, out for two weeks with a strained left pectoral muscle, also threw Thursday without any issues.
"They're both feeling good," Servais said. "So slowly but surely, we're moving in the right direction."
Servais said he didn't have an exact timetable, but indicated both hurlers would need to advance to more aggressive long-tossing before starting bullpen work off a mound sometime after Seattle returns home next week.
The Mariners are also without Hisashi Iwakuma, who continues throwing as well, but he has dealt with recurring issues with a sore right shoulder that has sidelined him since early May and isn't close to returning.
Heredia returns, Dyson still slowed
The Mariners got good news on rookie outfielder Guillermo Heredia, who was knocked out of Wednesday's game in Atlanta after taking a pitch squarely on his right forearm. Heredia was back in the lineup Friday, which was a welcome turn of events for a team already missing center fielder Jarrod Dyson.
Dyson is dealing with a strained right groin and it's uncertain if he'll be ready to return by Sunday, when he's eligible to come off the 10-day DL. Dyson did some light running and hitting on Friday for the first time since being sidelined on Aug. 17.
"It went better than I thought it would," Dyson said. "I've got a couple more days before I come off, but at the same time, I need to be smart and be ready to go when I do come back. I don't want any setbacks. I have to be comfortable I can run balls down and get around the bases and steal bases because that's a part of my game. If I can't play my game, there's no point in me being out there."
It's possible the Mariners could wait until they return home on Sept. 1 to give Dyson more time to recover and then activate him when rosters can be expanded for the final month.
"It's different if it's a first baseman or DH," Servais said. "Speed is his game and certainly tracking balls in the outfield and when he gets on base. So he has to be close to 100 percent, if not at 100 percent."
Martin clears waivers, outrighted to Tacoma
Outfielder Leonys Martin cleared waivers and was outrighted to Triple-A Tacoma on Friday, two days after being designated for assignment to open a roster spot for the return of reliever David Phelps.
The 29-year-old has hit .174 with three home runs and eight RBIs in 34 games with Seattle, including a .230 mark with all three homers and eight RBIs in 19 games after rejoining the Mariners the past month.
The Mariners can bring Martin back to the Major League club after 10 days, or sooner if he is selected to replace another player going on the 10-day DL, but he would need to be added back to the 40-man roster.