Felix to have Make-A-Wish reunion in Seattle
After becoming friends in 2013, ace will greet 8-year-old Sophia in home opener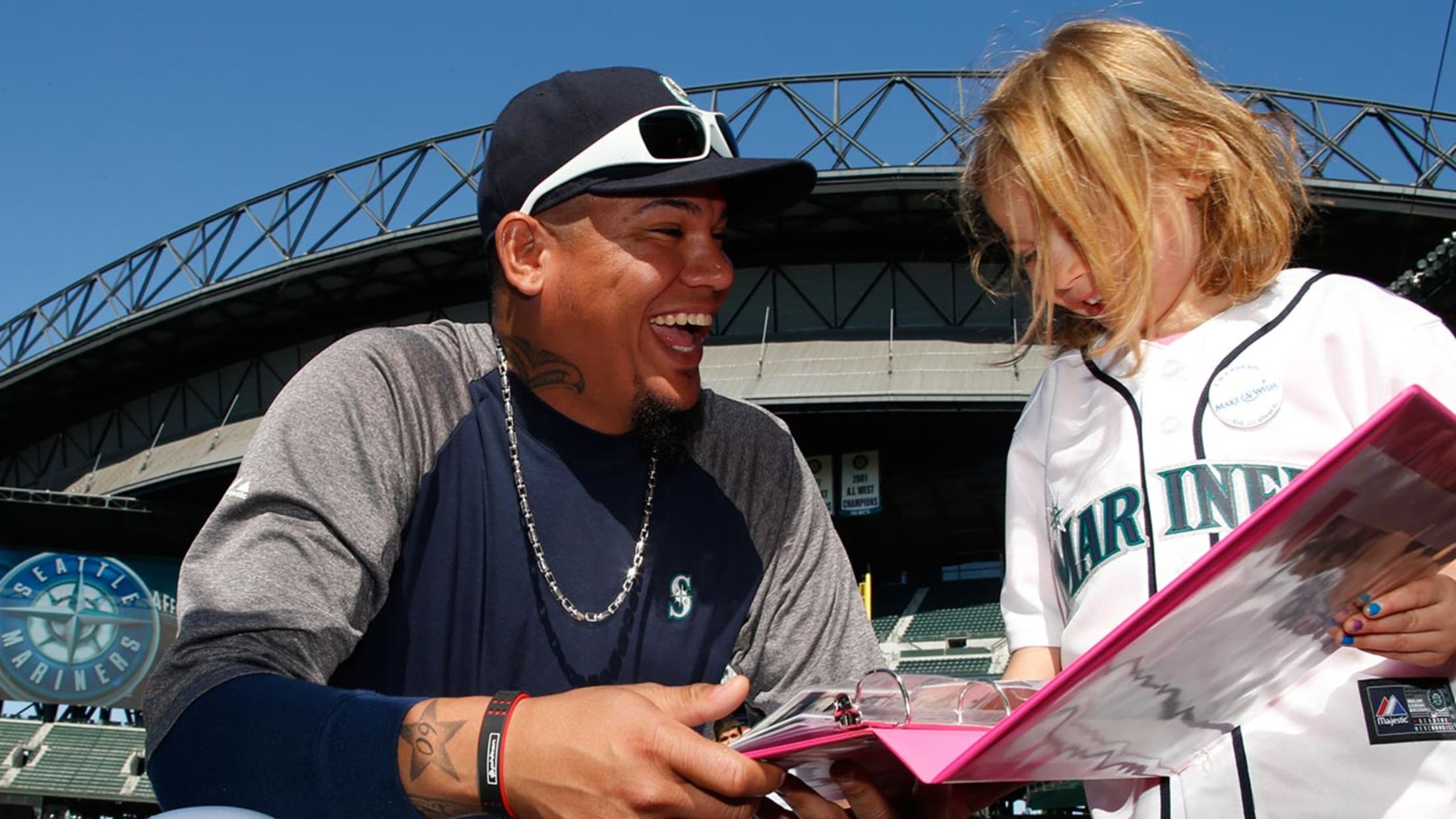 Felix Hernandez met Sophia Robinson in 2013, and he'll welcome her at home plate when she runs the bases before the Mariners' home opener on Monday. (Ben Van Houten/Mariners) (Ben Van Houten/Mariners)
ANAHEIM -- It's an Opening Day tradition at Safeco Field that touches hearts every year, the sight of a Make-A-Wish child running the bases before the first pitch and reaching home plate to the open arms of several Mariners players to help start a new season.But Monday afternoon, it'll be
ANAHEIM -- It's an Opening Day tradition at Safeco Field that touches hearts every year, the sight of a Make-A-Wish child running the bases before the first pitch and reaching home plate to the open arms of several Mariners players to help start a new season.
But Monday afternoon, it'll be a particularly poignant moment for Felix Hernandez when he greets 8-year-old Sophia Robinson at the end of her 360-foot journey in front of 45,000 fans moments before Seattle faces Houston in its 2:10 p.m. PT home debut.
The Mariners star met the youngster from Anchorage, Alaska, four years ago as part of a previous Make-A-Wish arrangement when she and her family asked if they could get the chance to meet some players before a regular-season game at Safeco Field.
Hernandez embraced the tiny girl who was dealing with a life-threatening heart condition, getting down in the warning track dirt that day to draw figures with her in front of the dugout and later entertaining her in the clubhouse and players' dining room.
"I remember we had a competition about eating corn dogs," Hernandez recalled with a smile. "That was fun. She won."

But Hernandez didn't leave it at that. The Mariners' ace kept in contact with Sophia and her family. He's had them over to his house for dinner in Seattle when they've returned from frequent hospital stays, and he's maintained a friendship with Sophia that now includes regular texting back and forth.
And, no, they're not discussing how Hernandez might be pitching or performing.
"We text a lot. Pretty much every week," Hernandez said. "We talk about life. That's all we talk about."
And that's a pretty special relationship for a girl who has undergone six heart surgeries and is due for a seventh as she deals with ventricular septal defect, a congenital hole in the heart, as well as a narrowing of the aorta that carries blood to her organs.
"We'll be friends forever. She's a strong girl," said Hernandez. "She's very special."
And so is the bond the 31-year-old Hernandez has formed with a family that appreciates the effort all the Mariners have made to help.
"You could tell they were truly impacted and interested in her," said Talia Robinson, Sophia's mom. "When you had a 6-foot-3, 230-pound guy making faces to make her smile, it made my heart melt."
Hernandez, a father of two himself, understands that feeling. And he'll be thrilled to greet his little friend with open arms as she crosses home plate on Monday afternoon.
"Being somebody I know, that's going to make it even more special," Hernandez said. "She's unbelievable. I'll just be waiting for her. She's going to be very happy."
Greg Johns has covered the Mariners since 1997, and for MLB.com since 2011. Follow him on Twitter [
---
@GregJohnsMLB]() and listen to his podcast.