Felix feels 'pain free' after first rehab outing
Hernandez will start for Triple-A Tacoma again on Sunday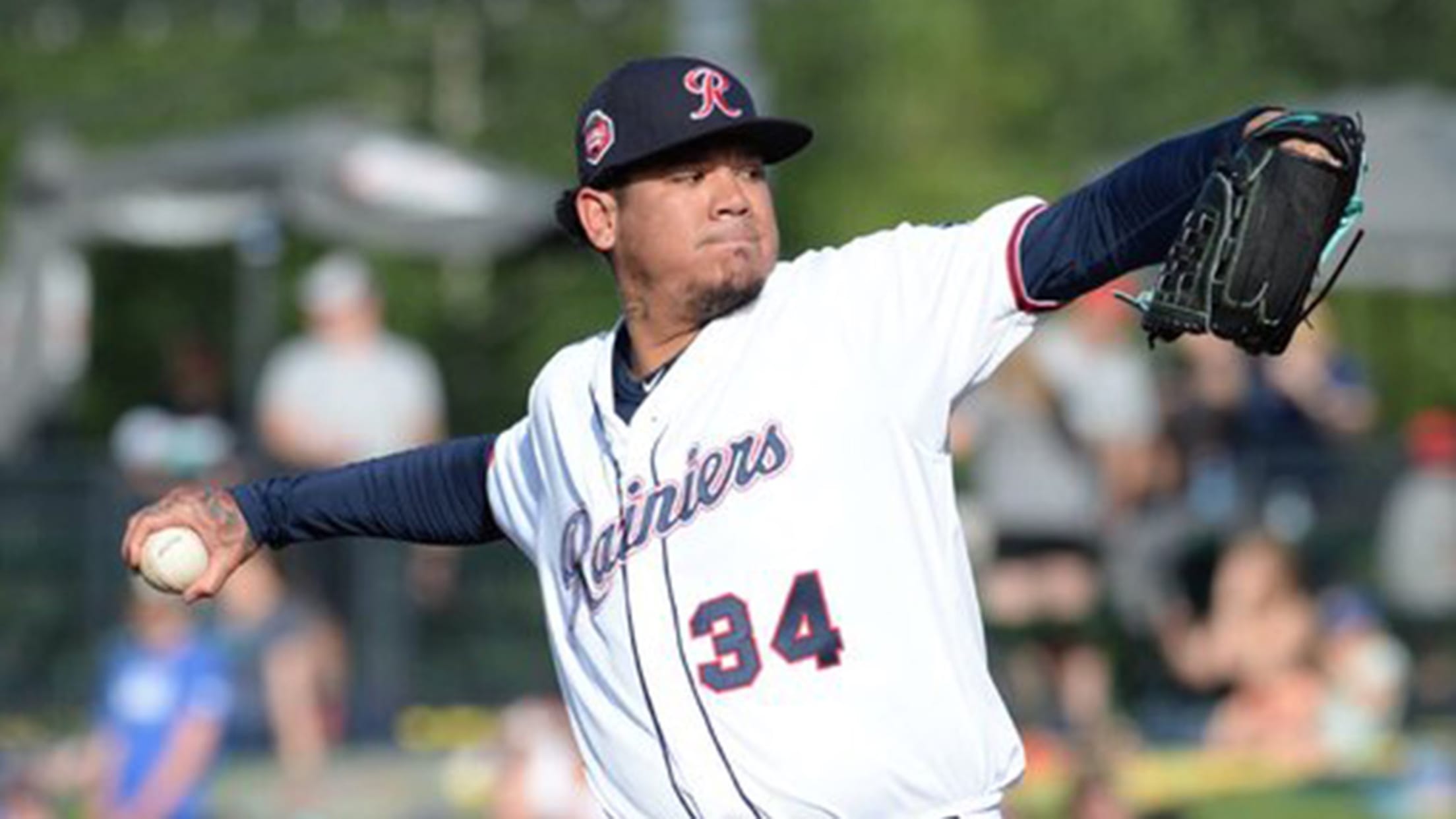 Felix Hernandez threw 50 pitches in two innings Tuesday, allowing five runs, in a Minor League rehab start for Triple-A Tacoma. (Tacoma Rainiers)
TACOMA, Wash. -- Felix Hernandez can't wait to get back to the Mariners. The feeling is mutual throughout the clubhouse and front office and the streets of Seattle, too.The Mariners ace, part of a contingent of the team's starting pitchers that has been out for much of the early 2017
TACOMA, Wash. -- Felix Hernandez can't wait to get back to the Mariners. The feeling is mutual throughout the clubhouse and front office and the streets of Seattle, too.
The Mariners ace, part of a contingent of the team's starting pitchers that has been out for much of the early 2017 season with injuries, took a necessary step on Tuesday evening by traveling south to Triple-A Tacoma and pitching for the Rainiers against the Reno Aces, Arizona's affiliate.
His teammate, right fielder Mitch Haniger, also hit the rehab trail after a month-plus on the sidelines.
Hernandez was back on the familiar mound at Cheney Stadium for his first rehab start since going on the DL on April 26 with what turned out to be bursitis in his right shoulder.
Hernandez was not sharp -- he gave up five runs in two innings, including a grand slam by Reno second baseman Ildemaro Vargas -- but he accomplished what he and the club wanted given that the Mariners' plan is for him to make another rehab start for Tacoma on Sunday afternoon. He exited the game with no physical setbacks.
Hernandez threw 50 pitches, of which 28 were strikes, walked two and struck out two, including a called third strike against Reno shortstop and former Mariner Ketel Marte. His fastball topped out at 92 mph and he mixed in breaking balls and changeups, but he never seemed comfortable.
"My timing was off," Hernandez said. "I couldn't get my rhythm, so it felt weird. But [I was] pain-free. That's the most important thing. … But I was all over the place."
In the first inning, Hernandez got through a scoreless frame on 20 pitches despite a walk, but the second was laborious. The Aces loaded the bases with nobody out, and after a strikeout of Kristopher Negron, Hank Conger singled in a run and Vargas unloaded on a 1-0 elevated fastball, hitting it over the wall in right center field for the grand slam. Hernandez got the next two batters but threw 30 pitches in the inning to call it a night.
Nevertheless, Hernandez said he felt like he could use Sunday's outing, in which he expects to throw somewhere around 75 pitches, to iron out any lingering rust. He said he fully expects to be ready to rejoin the Mariners rotation in Texas, with a likely start slated for Saturday, June 17.
Meanwhile, Haniger, who also went on the DL on April 26, his stint because of a strained right oblique, started at designated hitter for Tacoma and went 1-4 with a single and reached on an error.
"[I'm] excited to play right and get back on the field and be in the flow of the game. I feel like I could play a whole game, but it's just about not pushing it too far and just going slow because you don't want to have a setback at this point. Just stay very minimal the first couple days and then start ramping it up," Haniger said.
Prior to the game, Mariners manager Scott Servais said that the priority for Tuesday was for Hernandez and Haniger to get through the evening healthy.
"We're not looking at the results so much," Servais said. "Just feel good coming out of the game."
Both players reported success from that standpoint, although Hernandez said he would have liked to have been more dialed in.
"It's just weird," Hernandez said. "This is the first time in a month and a half. I knew it was going to happen. It feels good, though. I just need to work on my mechanics a little more, and Sunday, I think, will be better."