Rodney makes return to Target Field
Reliever was traded from Twins to A's earlier in August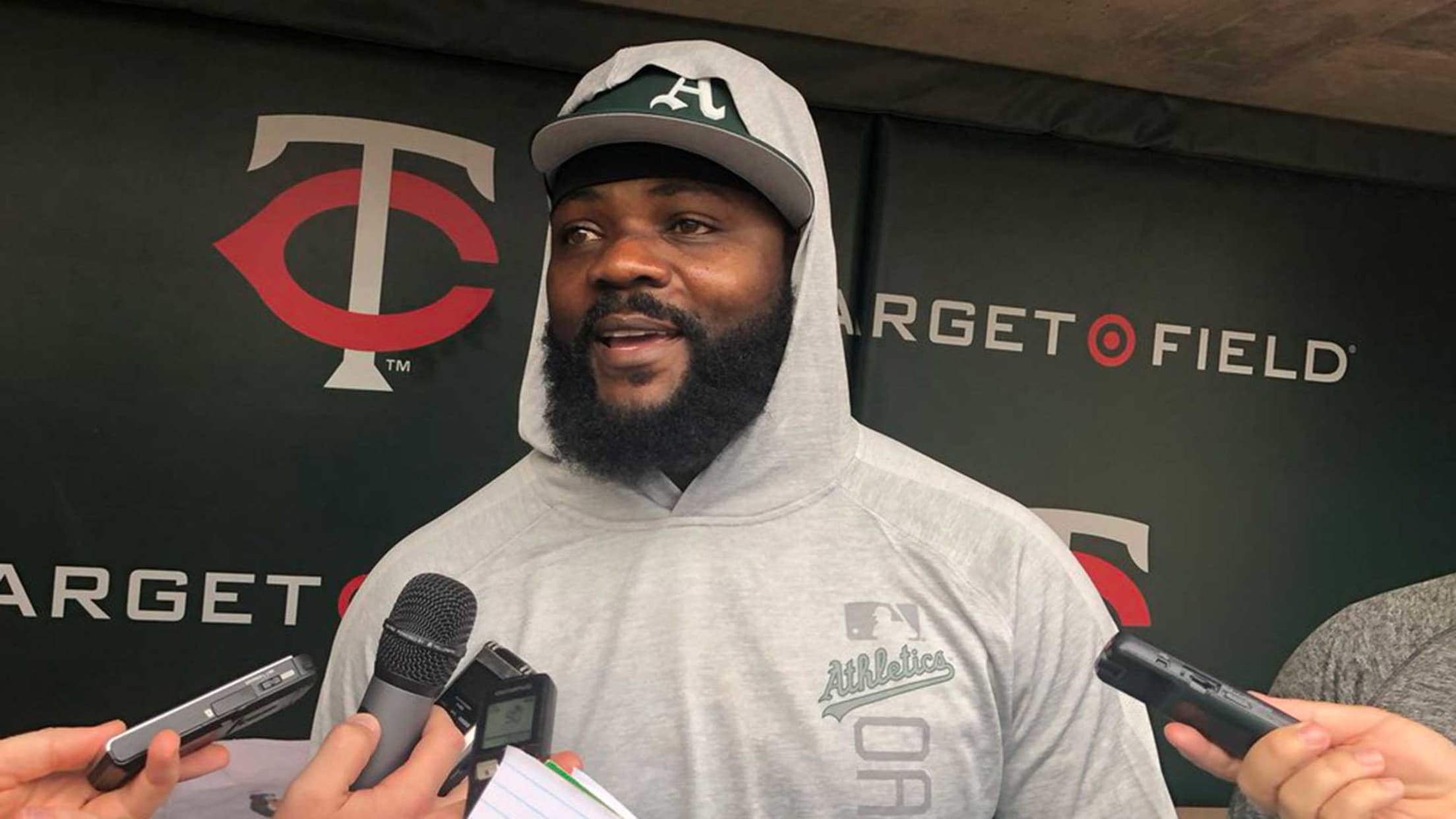 MINNEAPOLIS -- Fernando Rodney made his return to Target Field on Thursday, but don't expect any arrows to go soaring into the Minneapolis sky if the Oakland reliever locks down a big inning.Less than two weeks after the Twins sent Rodney to the A's in exchange for Minor League right-hander
MINNEAPOLIS -- Fernando Rodney made his return to Target Field on Thursday, but don't expect any arrows to go soaring into the Minneapolis sky if the Oakland reliever locks down a big inning.
Less than two weeks after the Twins sent Rodney to the A's in exchange for Minor League right-hander Dakota Chalmers, the 41-year-old veteran returned to the Twin Cities with a new uniform and the same end goal.
"Oh, we're going to win the World Series, man," Rodney said with a smile. "We've got a good team."
The Twins brought Rodney in on a one-year, $4.5 million deal in the offseason with hopes that he would be the bullpen anchor of a playoff team. He held up his end of the deal, going 25-for-31 in save attempts with a 3.09 ERA during his brief tenure as a Twins. But as it became apparent the Twins were not in position to contend any longer, the team opened up shop and became sellers at the non-waiver Trade Deadline.
Rodney was the last of six veterans to be traded by Minnesota.
"When we got to Detroit, I heard my phone ring," Rodney said. "And I say, 'Who's that number?' I answered and it's [Twins manager] Paul Molitor saying, 'We trade you to Oakland. It is the best thing for you and for us. You are going to be on a team that contends in that division.' I said thank you for the opportunity they gave me here. And, like I say, keep playing baseball."
Since joining one of the hottest teams in the Majors on Aug. 10, Rodney has settled quickly into a bullpen stocked full with live arms. Oakland also acquired Jeurys Familia in July and Shawn Kelley in August, adding to a relief corps that already featured Blake Treinen and Lou Trivino.
"It's been great having somebody with his experience," Treinen said. "I think it goes a long ways. He's been nails for us. He's made it a point to just kind of fit seamlessly into our organization. So I think in every way, shape or form you could ask somebody to come in and be a good teammate and perform, he's done it. He's just a veteran who's had great success that I think is an honor to have in your bullpen."
Rodney has yet to allow a run or walk a batter in six appearances with the A's. While he worked exclusively as a closer with the Twins, Rodney has been deployed in the seventh and eighth innings for an A's squad that has won seven of its last 10 games.
"He's been absolutely terrific," Oakland manager Bob Melvin said. "For a guy that's used to pitching the ninth inning, we've asked him to do some different things here and he's had absolutely no problem with it. Pitching a down game yesterday. So he just wants to come in and contribute however he can. He's got a really good personality to him and fits in really well with the guys. Obviously, he's been a significant factor for us."
Gone is the extravagant rendition of Lil Jon's "Live the Night" that accompanied Rodney whenever he emerged from the Minnesota bullpen -- he says he and the A's are working on a new entrance for home games in Oakland. He's also nixed his familiar routine of launching an imaginary arrow skyward whenever he finished off a save -- for now.
"No, no, we save the arrow for the postseason," Rodney said.
Now in his 16th big league season, with 325 career saves to his name, Rodney just wants to be another piece of the puzzle on a club that he believes is bound for the postseason.
"I think we were very blessed to have men that have come from other teams in Familia, Kelley and Rodney," Treinen said. "That are willing to buy into what we have going already. Whatever role they end up putting us in, I think we're all OK with it. I wanna continue to do my best because I know there are two All-Star closers behind me who could easily do my job."
Jarrid Denney is a reporter for MLB.com based in Minneapolis.