Scioscia doesn't blame fatigue for 'pen's issues
Salas allows two runs to put Rays ahead for good during Monday's loss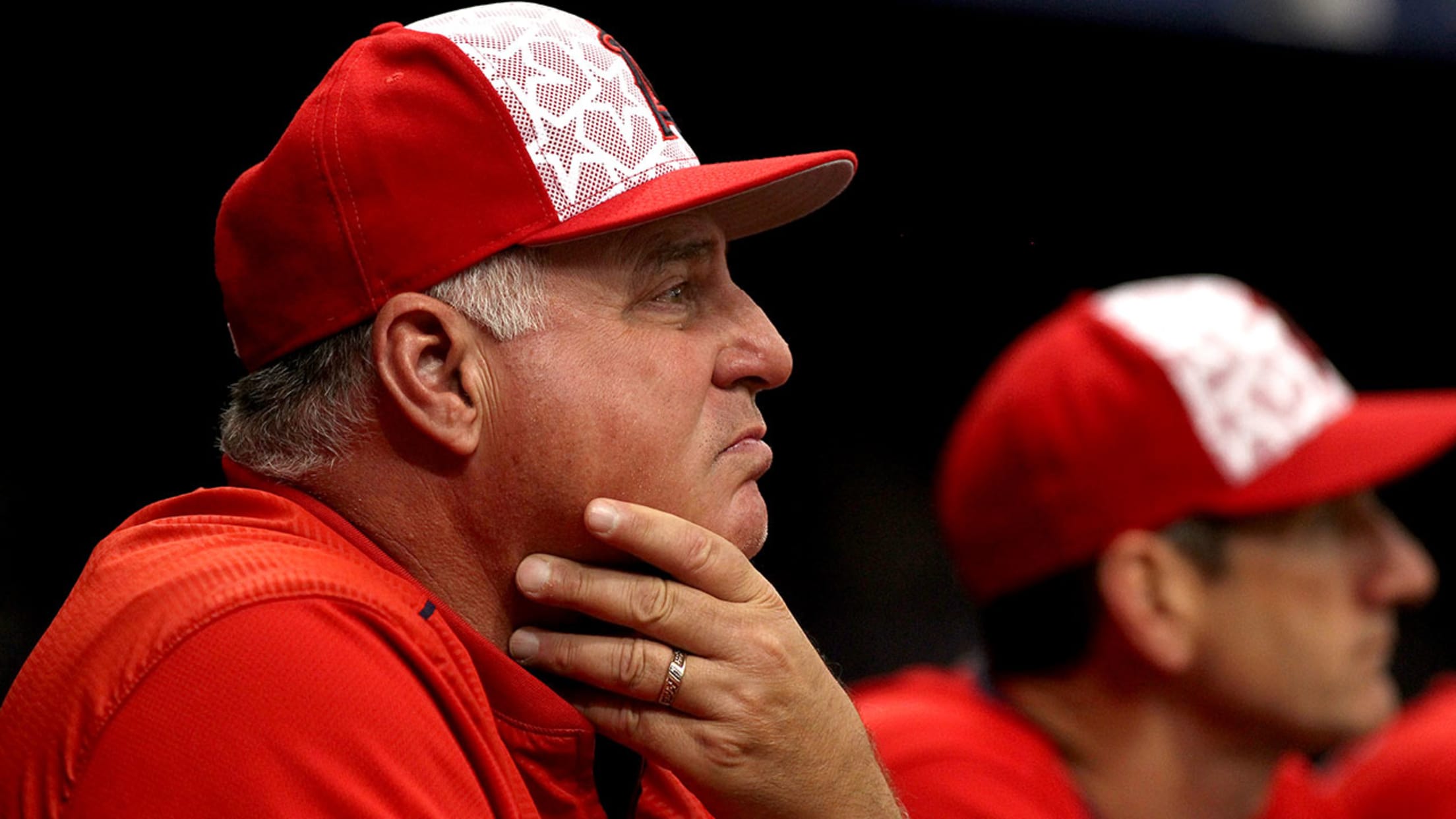 Angels manager Mike Scoscia's bullpen has the 10th-highest ERA in the American League after Monday's loss to the Rays. (Getty)
ST. PETERSBURG -- Fernando Salas suffered the loss on Monday, allowing a couple of runs in the bottom of the sixth to balloon his ERA to 9.72 over his last 16 games as the Angels fell to the Rays 4-2 at Tropicana Field.Hours before that, Jose Alvarez was sent to
ST. PETERSBURG -- Fernando Salas suffered the loss on Monday, allowing a couple of runs in the bottom of the sixth to balloon his ERA to 9.72 over his last 16 games as the Angels fell to the Rays 4-2 at Tropicana Field.
Hours before that, Jose Alvarez was sent to Triple-A because his WHIP sits at 1.60, second-highest on the team. The day before that, Joe Smith increased the Angels' deficit from two to five with a rough seventh inning. Two days before that, Mike Morin was optioned to the Minors with a 4.93 ERA. And two days before that, Huston Street gave up three runs in the ninth inning.
Those five relievers -- Street, Smith, Salas, Alvarez and Morin -- were supposed to be the backbone of this Angels bullpen; the group that would be counted on to hold leads late. But they have all struggled.
"The depth has come up and gotten us a little bit," Angels manager Mike Scioscia said. "There are some guys we know can pitch better, and we think they will. But until then, these games keep coming, and we have to get somebody up here who's going to pitch well."
Scioscia called the bullpen struggles "a peripheral thing," indicating that the rash of injuries and underperformance to his starting rotation remain the core reason his team has lost 50 of its first 83 games. But the two issues may be related.
Inconsistency within the rotation has led to an increased workload by the bullpen, which may now be feeling the effects of it.
Angels relievers have a 5.82 ERA over their last 11 games and have accumulated 279 1/3 innings over the course of this season, ninth-most in the Major Leagues. From April 27 to May 13, they endured a 14-game stretch in which an Angels starting pitcher completed six innings only once. From June 7-18, they absorbed 41 1/3 innings in 11 games.
"Usually you survive the stretch where you're throwing a lot of innings, a lot of innings, a lot of innings, a lot of innings, a lot of innings," Street said. "The hard part -- the hardest part -- is the next stretch; the next 30 innings. I definitely think that it takes a toll. I don't expect anybody to make an excuse, and I wouldn't allow them to. That's the big leagues. You have to find a way to get it done."
Scioscia doesn't necessarily pin the struggles of his best relievers on workload, however.
"I think these guys just haven't been as crisp as they can be," he said. "A small part of that could be attributed to fatigue, but at times we've made sure they've bounced back and have gotten their rest and they're fine."
Cam Bedrosian has emerged as a bright spot, with a 1.24 ERA and 9.3 strikeouts per nine innings in 33 appearances. And Deolis Guerra has yet to issue a walk in 23 innings, striking out 18 batters and giving up only six runs in that span.
But Street (4.96) and Smith (4.61) have career highs in ERA, and Morin and Alvarez are in the Minor Leagues. And Salas has now allowed 18 runs over his last 16 2/3 innings, scattering 22 hits, issuing seven walks and striking out only seven batters in that span.
"I haven't seen much difference with my mechanics, but I need to be more fine with my location and I'm confident I can get that back," Salas said in Spanish. "We just need to keep fighting. The season is long. We're only halfway there."