5 players who can't help but bounce back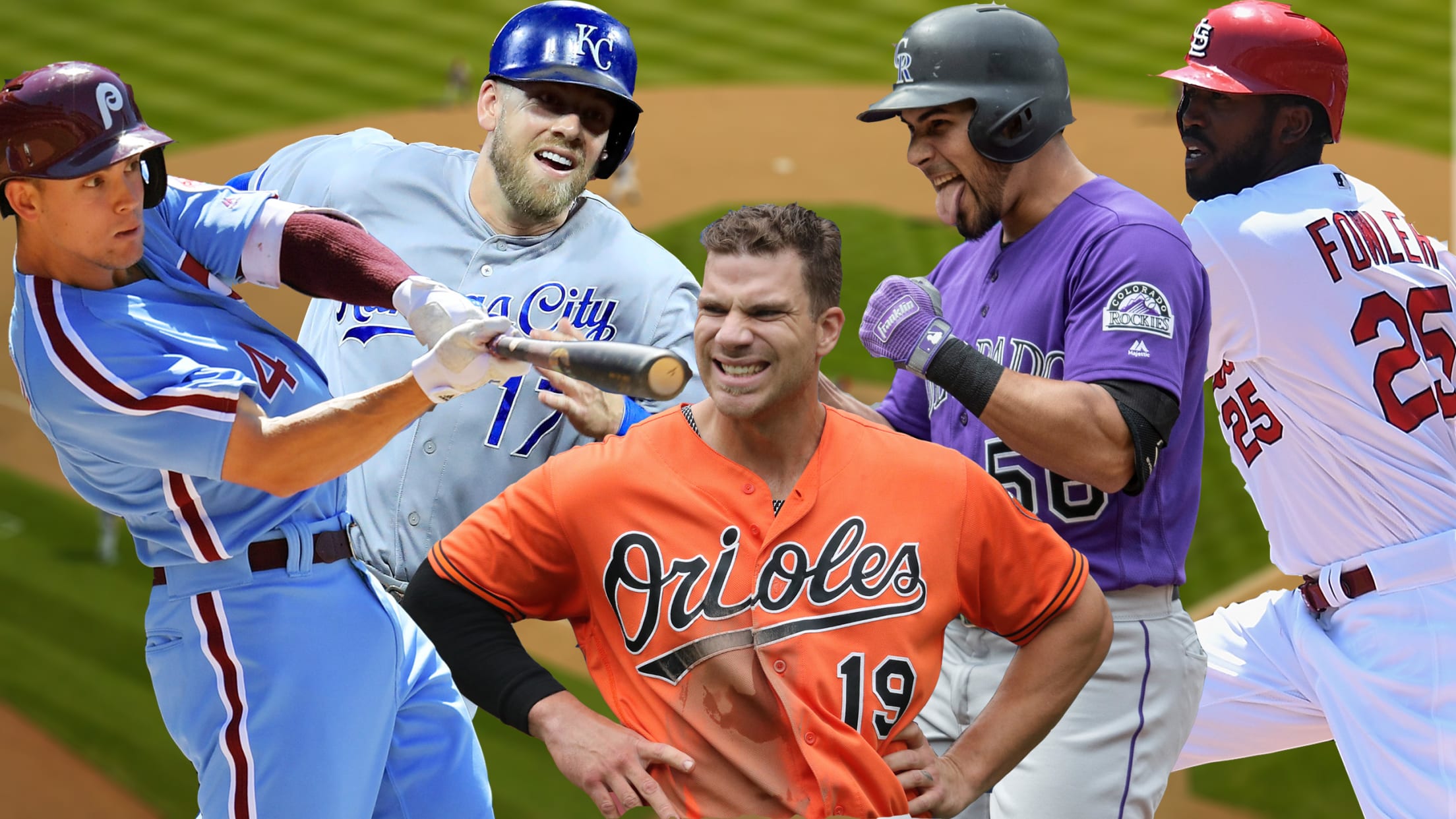 Everybody has a bad year from time to time. Babe Ruth once hit .181 in a season. (OK, it was his last year, but still.) Sandy Koufax had three different years with an ERA over 4.00. Mickey Mantle … OK, Mantle was great every year. But you get the point.
Everybody has a bad year from time to time. Babe Ruth once hit .181 in a season. (OK, it was his last year, but still.) Sandy Koufax had three different years with an ERA over 4.00. Mickey Mantle … OK, Mantle was great every year. But you get the point. Just because one particular season might happen to get away from you because of struggle, age, injury or some combination of the three doesn't mean you can't recover and get your career back on track. Everybody slumps. It's how you get out of it that matters.
This is welcome news for the five guys who had the worst performances last season. Using Baseball Reference's version of WAR, there were five hitters who, of the 1,275 hitters who made a plate appearance last season (and thus earned an offensive bWAR rating), were at the bottom. If 0.0 bWAR is replacement level, these players were well below it.
But they are not done. They will be back in 2019. Today, we look at the five guys with the lowest WAR in '18 who are still on a roster at this particular moment, and figure out their chances of contributing more this season. They may have had a tough time this past year, but there is nowhere else to go but up.
Scott Kingery, INF, Phillies, -1.4 WAR
The Phillies made headlines when they signed Kingery to a six-year deal before he appeared in an actual MLB game. That might have been a smart long-term move, but it sure looked ugly in 2018. Kingery posted a .267 OBP with just eight homers, and he got a ton of playing time, appearing in 147 games, by far more than anyone on this list. He was able to play a lot of positions -- all of them but first base and catcher, in fact -- but he didn't play any of them particularly well, according to most defensive metrics. The good news is that Kingery is still only 24 years old, and he obviously showed the Phillies enough in the Minors to make them want to give him that contract in the first place. He is locked in through 2023, so he has plenty of time to get it turned around.
Dexter Fowler, OF, Cardinals, -1.4 WAR
Last year was just a mess start to finish for Fowler, who lost his center-field slot, his leadoff slot and eventually his lineup slot altogether while he nursed repeated injuries and feuded with his (now former) manager, Mike Matheny. This is a lot of turmoil for a player who, for most of his career, has been universally beloved, not to mention incredibly productive. (Fowler had an .851 OPS his first season in St. Louis, but a .576 mark last year.)
Fowler may platoon with Tyler O'Neill in right field, and if he continues to struggle, the Cardinals may have no choice but to move on. That said, of everyone on this list, Fowler may have the best opportunity to rebound in 2019: He has a long track record of success, should be fully healthy and has the full-throated backing of his new manager, Mike Shildt. Fowler's due $16.5 million in each of the next three seasons, so it's likely he will be given a shot to rediscover his game.
Hunter Dozier, 3B/1B, Royals, -1.3 WAR
Dozier was actually just below a replacement-level hitter in 2018, hitting 11 homers and batting .229 with a rough 109/24 K/BB ratio. But what knocked Dozier down this far was his defense, particularly at third base (-1.1 defensive WAR overall). Then again, single-season defensive metrics can fluctuate, so perhaps it was not as bad as it looked. Dozier was a first-round Draft pick in 2013, so there's obviously some talent there -- he hit 23 homers in Triple-A just two seasons ago -- but he's now 27 and thus maybe a little old for a team that's rebuilding. Dozier's still probably the Royals' starting third baseman on Opening Day, and he'll have plenty of opportunities to make good one last time.
Noel Cuevas, OF, Rockies, -1.5 WAR
Cuevas showed significant power-speed potential in the Minors, and in 2017, he hit 15 homers and stole 16 bases (while hitting .312) in Triple-A Albuquerque. In 44 games at Albuquerque in '18, Cuevas hit .331, but that didn't carry over into the Majors: In 75 games, he hit .233 and walked just six times, with a lack of power that stands out when you play half of your games at Coors Field (.315 slugging). He played all three outfield positions, but only right field worked out well for him. But Cuevas is still fast with occasional pop, and as a bench bat, the Rockies aren't counting on him to play too much; if anything, 75 games was probably more than they would have liked last year. But with Ian Desmond back in the outfield now, it's getting a little crowded out there. Cuevas may see more time back in his old stomping grounds of Triple-A than he might prefer.
Chris Davis, 1B, Orioles, -2.8 bWAR
Yep, you knew we were ending here. Davis' 2018 was almost cartoonishly nightmarish: It is actively difficult to hit .168 and still get 522 plate appearances. Even worse, he's not even walking anymore, only notching 41 last year.
Davis has four more seasons under contract at $21.1 million per, but you have to assume he can find some middle ground between his performance last year and his 53-homer peak. He's always been a bit streaky, and knowing him, he'll return and hit 40 homers in 2019.
Note: Austin Jackson, who spent time with both the Giants and Mets last season, would have qualified, but he is currently not on a roster. So he is spared from this list today.
Will Leitch is a columnist for MLB.com.