At 76, this former Met is restoring his hometown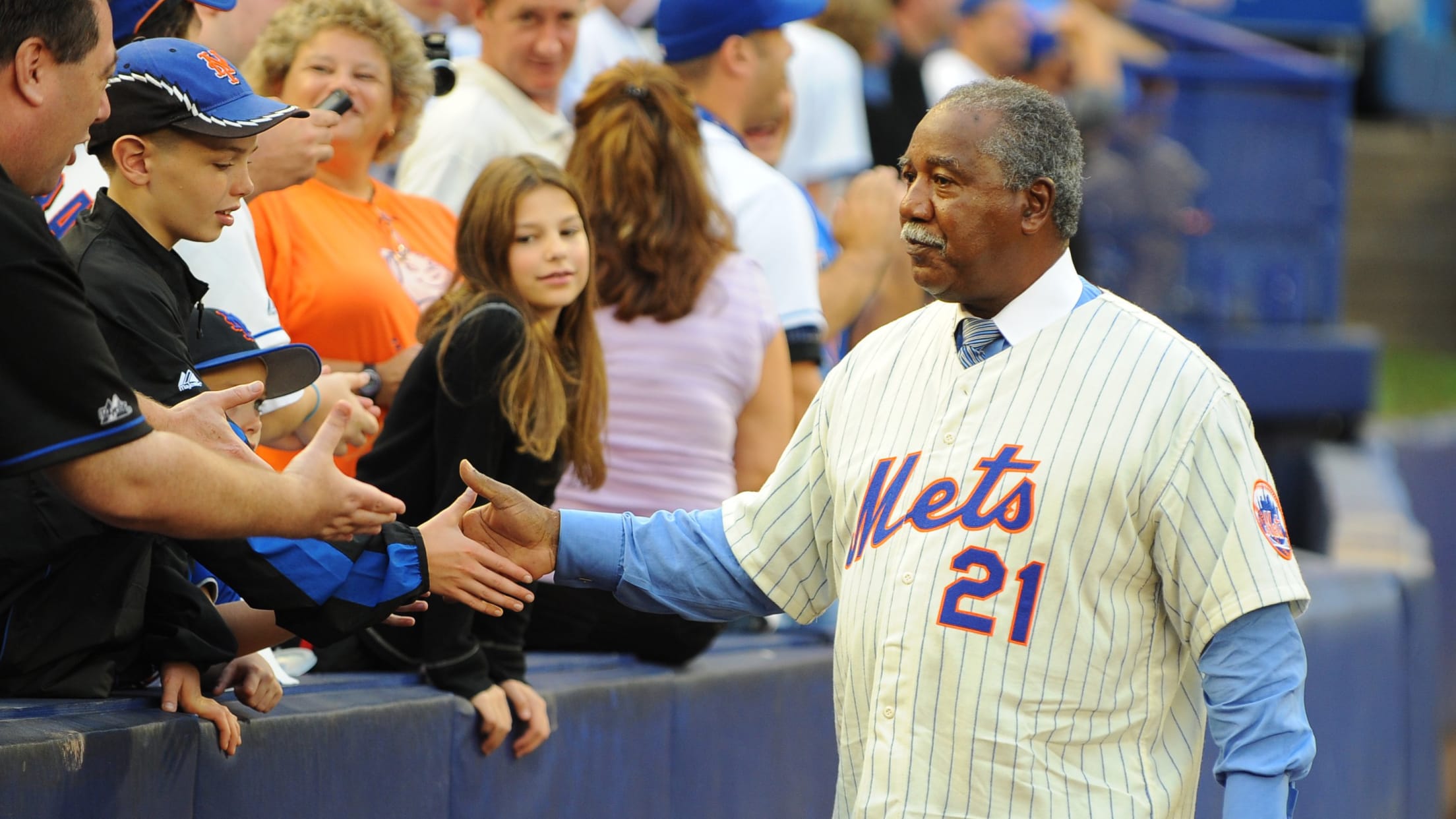 FLUSHING, NY - SEPTEMBER 28: Former Mets player Cleon Jones #21 addresses fans after the game between the New York Mets and the Florida Marlins at Shea Stadium on September 28, 2008 in Flushing, New York. The Marlins defeated the Mets 4-2. (Photo by Rich Pilling/MLB Photos via Getty Images) (Rich Pilling/Getty Images)
NEW YORK -- Today, tomorrow and most days, 76-year-old Cleon Jones will climb a ladder to paint a house, landscape a garden or any number of other things that need doing. Sometimes, it's as simple as mowing a lawn or taking out garbage. Other times, it's rotten wood that needs
NEW YORK -- Today, tomorrow and most days, 76-year-old Cleon Jones will climb a ladder to paint a house, landscape a garden or any number of other things that need doing. Sometimes, it's as simple as mowing a lawn or taking out garbage. Other times, it's rotten wood that needs replacing. In the days leading up to Christmas, Jones plans to spend his time fixing a roof.
"Ten years ago, I used to run up the ladder," Jones said, laughing. "Now I take my time going up the ladder. I'm like Humpty Dumpty. If I fall, they'll never put me together again."
In the decades since his retirement from a 13-year playing career, which included his catching the final out of the 1969 World Series, Jones has made it his life's work to clean up and refurbish Africatown, the Mobile, Ala., neighborhood where he was raised. He and his wife, Angela, are out the door by 8 a.m. each morning. They spend each day fixing up private homes and public spaces and don't return until dusk.
"We just made it a priority as a family to spearhead this, and to get up every morning and make sure that we help a neighbor," Jones said. "We go to bed with a plan to get up … and work till dark to make somebody's life worthwhile."
Raised in Africatown, Jones recalls a predominantly black industrial community that, in the 1940s and 50s, was home to more than 10,000 residents. Many of Jones' generation were the first in their families to attend college. Some took their degrees and left for good, finding more stable jobs in Pittsburgh, Cleveland or New York.
In Jones' case, he began a professional baseball career that included 12 years with the Mets. When he returned to Africatown after his retirement in 1976, Jones discovered a changed community. A decline in local industry spurred an emigration away from the neighborhood, which today has less than 2,000 people. Many homes fell into disrepair.
Proud of his neighborhood, Jones decided to do something about it.
"We embarked on trying to make a difference," he said.
He and Angela began by cleaning up lots, restoring houses for senior citizens and building new ones. Over the years, Jones began working with the mayor's office, sometimes receiving public money for his improvement projects, other times relying on fundraisers or private donations of cash or supplies. While Jones also relies on volunteers to help with the projects, he supervises most things himself. Sometimes, that means climbing on top of houses, even at age 76.
"I tell my wife every day. She says, 'Old man, you need to sit down sometimes and rest,'" Jones said, laughing. "I say, 'You know what? I have the energy.' My energy comes from my desire to do it. Because when I go to bed at night, my mind is focused on what I have to get up and do that morning. It energizes me."
In times of reflection, Jones does feel his age. He struggles to believe he nestled the final ball of the 1969 World Series in his glove nearly 50 years ago, jumping over the outfield fence to return to the Shea Stadium clubhouse because fans on the field blocked his path. The Mets intend to make this summer a celebration of the 1969 team, complete with a ceremony at Citi Field.
"I wake up and catch myself. Where did the time go?" Jones said. "Fifty years. I kind of feel like, to quote Mickey Mantle years ago, if I had known I was going to be here this long, I'd have taken better care of myself. But yeah, it's unreal that 50 years has gone by. We all have something to be thankful for, and being in sound health and sound mind, I'm thankful that God has taken care of me, and he's given me the desire and the will."
Fifty years ago, Jones poured himself into that championship team, batting .340 in the regular season and .429 in three National League Championship Series games. Since then, he has poured himself into community work, creating a life that in many ways has been more gratifying.
"If you think receiving awards makes you happy, just think about giving something to somebody who's really, really in need, how happy that makes them," Jones said. "They'll drive by your house and put a card in your mailbox, thanking [you]. They'll come up to you, stop your wife. That's where I get my joy from, is knowing that we've been able to make a difference in somebody's life."