MLB mourns death of former umpire McKean
Canadian Baseball Hall of Famer spent nearly 30 years in big leagues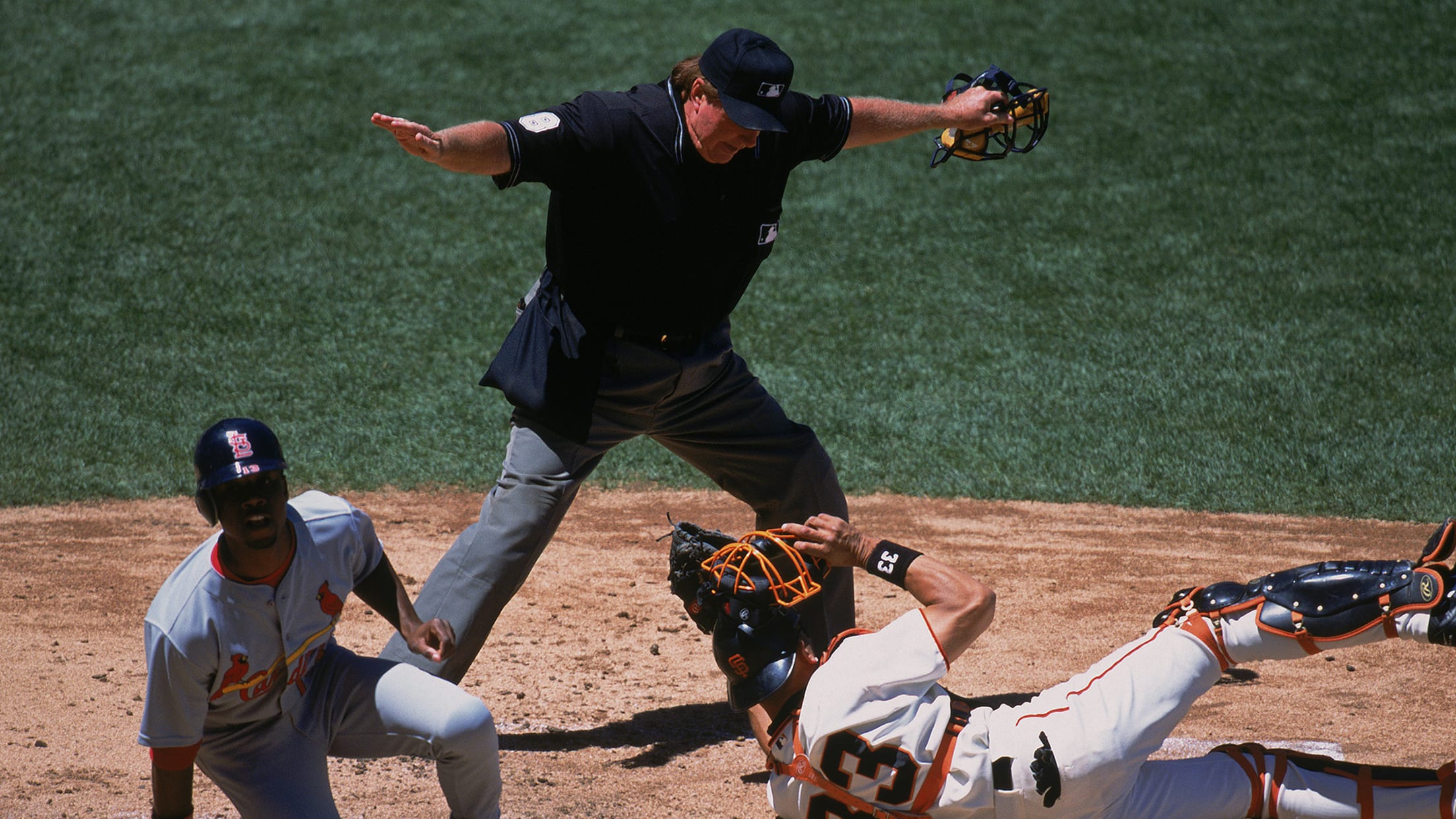 1 Jul 2001: Umpire Jim McKean calls Kerry Robinson #13 of the St. Louis Cardinals who slid into home plate while catcher Benito Santiago #33 tried to tag him while blocking the plate safe during the game against the San Francisco Giants at Pac Bell Park in San Francisco, California. The Giants defeated the Cardinals 5-4.Mandatory Credit: Jed Jacobsohn /Allsport (Jed Jacobsohn)
Longtime Major League umpire Jim McKean passed away Thursday morning, according to his family. McKean was 73 years old.Both Major League Baseball and the Major League umpires held a moment of silence Thursday at their annual meetings in Arizona."Major League Baseball sends its deepest condolences to the family and friends
Longtime Major League umpire Jim McKean passed away Thursday morning, according to his family. McKean was 73 years old.
Both Major League Baseball and the Major League umpires held a moment of silence Thursday at their annual meetings in Arizona.
"Major League Baseball sends its deepest condolences to the family and friends of Jim McKean, an accomplished Major League Umpire and later an umpire supervisor for the Office of the Commissioner," said the league in an official statement. "Jim was a highly respected figure in the sport, and we are particularly grateful that he represented our game so well in his native Canada."
A native of Montreal and later a St. Petersburg, Fla., resident, McKean logged nearly 30 years on Major League diamonds and worked the 1979, '85 and '95 World Series, along with three All-Star Games. He was working games during several notable moments in MLB history, including umpire Don Denkinger's missed call at first base in Game 6 of the 1985 Fall Classic, the controversial confrontation between Roberto Alomar and umpire John Hirschbeck in 1996 (a game in which McKean was the acting crew chief) and the first regular-season Interleague game in 1997, which he worked behind home plate. McKean was also a crew member for 10 no-hitters, though never as the home-plate umpire.
We remember 2004 Hall of Famer Jim McKean. RIP.@MLBUA pic.twitter.com/3xZWSlNYsn

— CDN Baseball HOF (@CDNBaseballHOF) January 24, 2019
News of McKean's passing evoked an outpouring of memories and support from the baseball community, pointing to the respect he had earned in the game.
"He was a good man and a good umpire,'' former Major Leaguer and manager Lou Piniella told the Tampa Bay Times' Marc Topkin on Thursday. "He was very considerate. He let you voice your opinion a bit. He wasn't quick with the trigger. I always enjoyed when his crew came to town. He wasn't controversial. He didn't make many mistakes, and if he did he was the first to tell you, 'Maybe I got it wrong.' We lost a very, very decent man.''
McKean stayed within the game of baseball after his retirement as both an umpiring supervisor and an analyst for various media outlets. He is a member of both the Canadian Baseball and the Florida State League halls of fame.