D-backs surpass $50 million mark in donations
Spring Training ends with 'Evening on the Diamond' fundraiser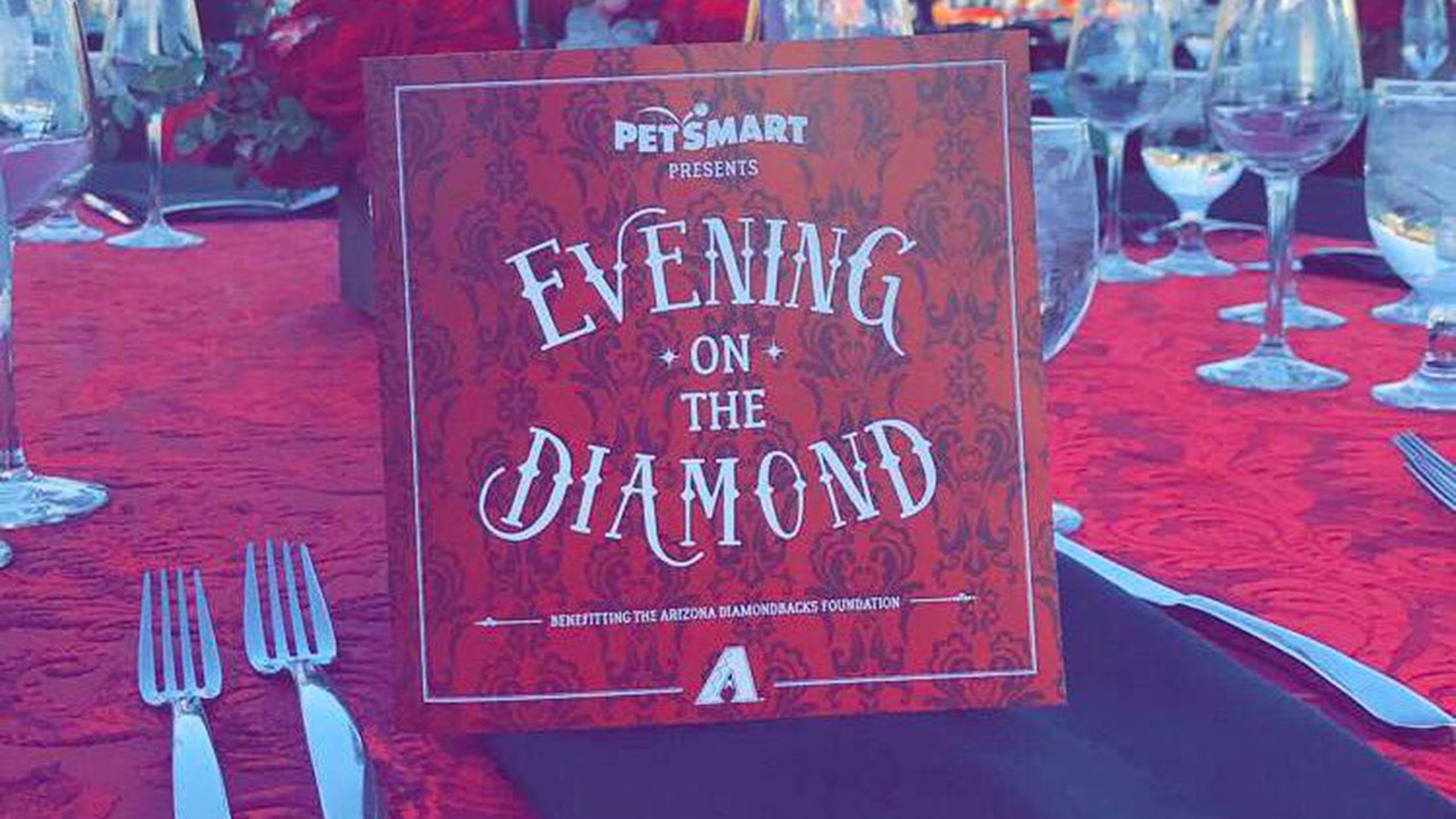 The D-backs topped the $50 million mark in community donations in their 11th annual "Evening on the Diamond" fundraiser. (D-backs)
SCOTTSDALE, Ariz. -- It was a perfectly balmy evening Wednesday at Salt River Fields for the D-backs to stage their annual "Evening on the Diamond" fundraiser.The food -- eclectic barbeque prepared by a local chief -- was good. The country music -- headlined by Dustin Lynch -- was rowdy and
SCOTTSDALE, Ariz. -- It was a perfectly balmy evening Wednesday at Salt River Fields for the D-backs to stage their annual "Evening on the Diamond" fundraiser.
The food -- eclectic barbeque prepared by a local chief -- was good. The country music -- headlined by Dustin Lynch -- was rowdy and enjoyed by all.
And as Spring Training transitions to the regular season, the D-backs did what they do best: Raise money that their foundation disperses in the form of grants to needy members of the community.
With $700,000 awarded to others on Wednesday, the D-backs topped the $50 million mark in community donations in their 11th annual "Evening on the Diamond" fundraiser, but the first held on the sprawling green outfield grass of their Spring Training facility.
"It truly closes the book on Spring Training," club president Derrick Hall said. "It's our biggest fundraiser of the year."
Tonight is the 11th annual Evening on the Diamond fundraiser to benefit the Arizona Diamondbacks Foundation. #DbacksGiveBack pic.twitter.com/hbbi65LPwy

— Arizona Diamondbacks (@Dbacks) March 30, 2017
And indeed, the D-backs are now officially finished at Salt River Fields for 2017. They will conclude the exhibition slate with games across town against the Indians at Chase Field on Thursday and Friday nights, followed by the season opener against the Giants on Sunday.
But the fundraising never ends. The D-backs are one of the champions in that category, raising money for cancer research, school programs, Little League fields and outfitting those ball-playing kids in replica D-backs colors and uniforms, among other worthy causes.
"This $50 million is only the beginning," Hall said. "We're going to surpass $100 million a lot faster than we got to $50 million."
With tonight's donations at Evening on the Diamond, the #Dbacks Foundation has given back more than $50 million since 1998. #DbacksGiveBack pic.twitter.com/yQt9W3WCsK

— Arizona Diamondbacks (@Dbacks) March 30, 2017
The D-backs raised a record $1.8 million at this event last year, and they were hoping to surpass that mark on Wednesday night through the silent auction of memorabilia and public auction of sports-oriented trips, Hall said. They will stage their annual "Race Against Cancer" on April 9 in downtown Phoenix outside the stadium. Their offseason golf tournament raises funds for wounded veterans.
The D-backs' partners include local hospitals, car dealerships and corporations. The D-backs' players, coaches, executives and legends were all there in force -- Randy Johnson, Luis Gonzalez, J.J. Putz and Willie Bloomquist, just to name a few.
The newcomers were there as well -- general manager Mike Hazen, manager Torey Lovullo, catcher Chris Iannetta. And so was the old guard in Paul Goldschmidt and A.J. Pollock.
Managing general partner Ken Kendrick met with many of his friends, fans and season-ticket holders during a pre-event cocktail party and silent auction on the concourse level, where pork and shrimp dumplings and guacamole with corn chips in small plastic cups were served.
"I always look forward to this particular evening," said Kendrick, beaming.
So do the players, many of whom were decked out in cowboy hats and pairs of high leather boots to reflect the country theme.
The #Dbacks are out in full support. Can you guess this year's theme? 🤠#DbacksGiveBack pic.twitter.com/OGnNFtEAor

— Arizona Diamondbacks (@Dbacks) March 30, 2017
"I'm really proud of this," Hall said. "The fact that our players and coaches tell us they look forward to this night means a lot to me. The theme has become Western for quite a few years now. Our players really enjoy country music, and it's been a big success.
"It's really about celebrating the coming year and kicking off the coming season."
The D-backs surprised a young high-school student, who bounced back from leukemia and a stem-cell transplant, with a $10,000 scholarship for his first year in college.
"We wish we could do more, and we probably will," Hall said.
The young man, Steven Dwyer, maintained a 4.0 grade-point average while he was battling a virulent form of cancer in which usually life-saving white blood cells devour the red. A year after the stem cell replaced all the marrow in his skeletal system, Dwyer said he'd look in the mirror and not even recognize himself.
"It's amazing," Hall said. "He maintained his GPA, remained student body president, captain of his swim team and now he's going to go swim in college."
The human spirit is indomitable, Hall knows only too well. He's a prostate cancer survivor with his own foundation. His wife, Amy, has been battling triple-negative breast cancer for the past year. She has undergone chemotherapy, surgery, radiation and is now about to start on a six-month voyage ingesting oral chemo.
But Hall's wife still attended this event, looking and sounding healthy, her dark hair having grown back, but cropped short.
No wonder Hall was smiling. He always does. Not only was this the D-backs' biggest fundraiser of the year, but for all, it was just a big night.