Kapler: Fenway a 'special, powerful place'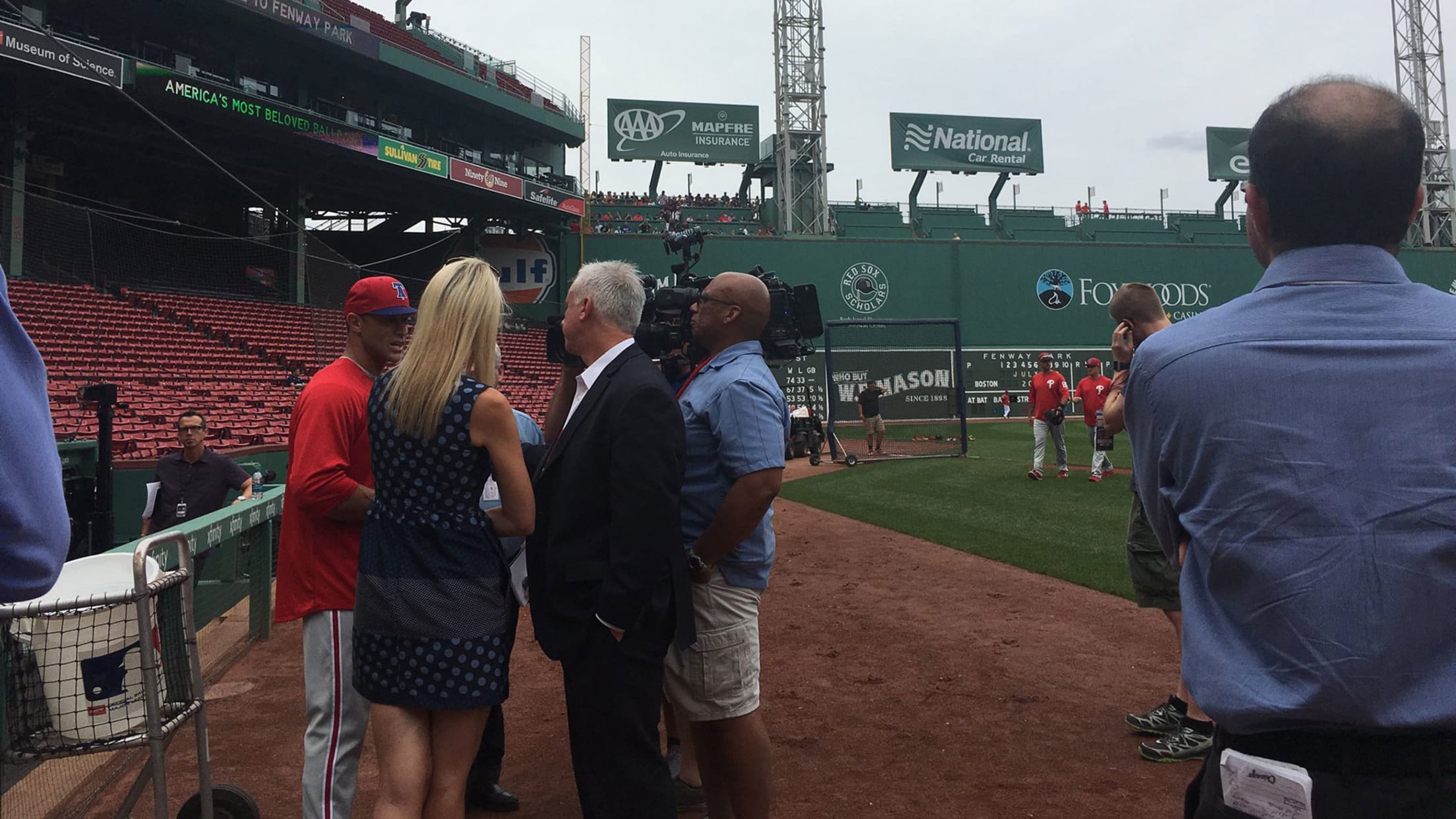 BOSTON -- Phillies manager Gabe Kapler gets goose bumps when he thinks about Fenway Park. He pointed to them on his arm as he spoke to reporters in the ballpark he used to compete in prior to Monday's series opener vs. the Red Sox.Now, where they once were teammates, Kapler
BOSTON -- Phillies manager Gabe Kapler gets goose bumps when he thinks about Fenway Park. He pointed to them on his arm as he spoke to reporters in the ballpark he used to compete in prior to Monday's series opener vs. the Red Sox.
Now, where they once were teammates, Kapler and Red Sox manager Alex Cora face off on Monday night. Before the game, Kapler reflected on the unique nature of Fenway -- the ballpark's place in baseball history and his own.
"Man, this place is kind of unique," Kapler remembers telling former catcher David Ross. "It's different than anywhere else."
Even as a player, Kapler recognized Cora's potential and his own to one day lead a team. Now, each has reached that vision in a ballpark rich with shared memories.
"I love this ballpark," said Kapler, who played four seasons with the Red Sox and won a World Series title with the ballclub in 2004. "This is a very special, powerful place."
Preparing the Phillies for Fenway
Kapler knows from experience Fenway Park poses unique challenges to his lineup. That's why before the game he gave pointers to Roman Quinn and Rhys Hoskins, who will start in right and left field, respectively.
"This is not rocket science," Kapler said, "but throw the ball against every angle."
Study the way the ball bounces off the curvy right-field corner or ricochets off the Green Monster. Whether it's live balls hit off the wall during batting practice or bounces they are throwing, Kapler advised the pair to study every angle in the outfield.
Quinn explored right field during regular BP and Hoskins did so in early BP. Kapler said he trusts the two are well prepared to handle the unfamiliar outfield.
With the setup of Fenway's outfield on his mind, Kapler made adjustments to the Phillies' lineup. As the Phillies face two left-handed Red Sox starting pitchers -- David Price on Monday and Thomas Pomeranz on Tuesday -- Kapler opted to start Quinn in right field while resting Nick Williams.
"Unquestionably will look for opportunities to use Nick in today's game," Kapler said. "And he's been as good as any of our left-handed hitters for the last two months. So obviously no indication of any lack of confidence in Nick. And, in fact, in many ways, we have a lot of confidence in him to bang left-handed pitching right now."
Asdrubal Cabrera took on the designated hitter role in his third game in a Phillies uniform. Cabrera was 0-for-8 with three strikeouts in his first two games with the Phillies.
Going into Monday's matchup, Cabrera has a .500 slugging percentage and .881 OPS in 20 at-bats against Price in his career, with three doubles and two RBIs.
"Asdrubal felt like the right guy to slide into that DH role, for no other reason than he just felt like the right guy," Kapler said. "There's no real reason to point to there."
Blake Richardson is a reporter for MLB.com based in Boston.