Moya shows grit in Twins' bullpen competition
Lefty works out of bases-loaded jam, lowers spring ERA to 0.82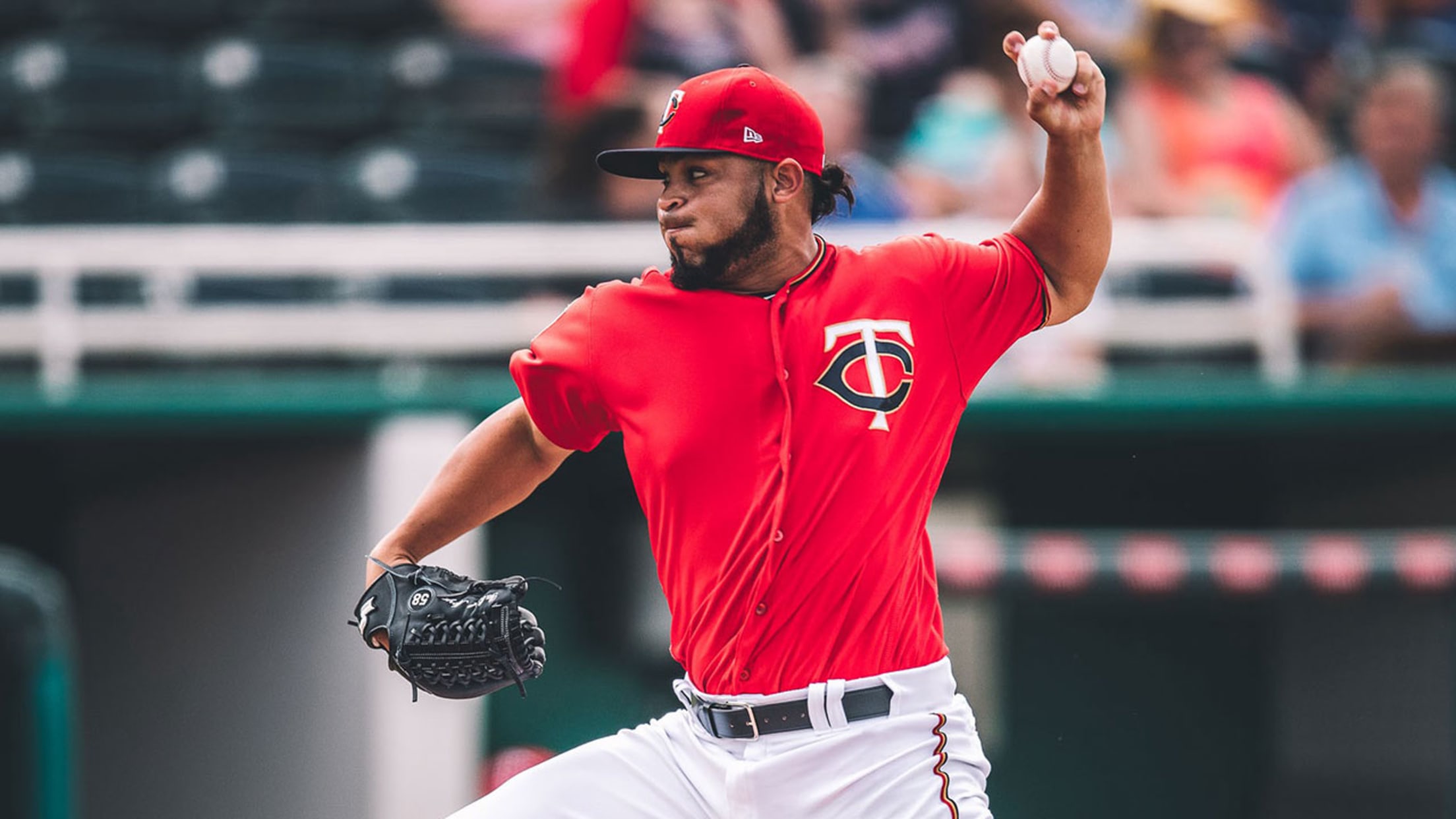 SARASOTA, Fla. -- In order to get the pitching rotation lined up for the regular season, the Twins used a menagerie of relievers in a 12-4 win over the Orioles at Ed Smith Stadium on Saturday evening. For some, it was a final chance to make an impression before final
SARASOTA, Fla. -- In order to get the pitching rotation lined up for the regular season, the Twins used a menagerie of relievers in a 12-4 win over the Orioles at Ed Smith Stadium on Saturday evening. For some, it was a final chance to make an impression before final roster cuts, including Gabriel Moya and Rule 5 Draft selection Tyler Kinley, who are both trying to claim one of the final bullpen spots.
"We've seen them for a while," Twins manager Paul Molitor said. "We kind of know where they're at."
Even though the process was a little rougher for Moya on Saturday, the outcome was what the left-hander has become accustomed to this spring. A double off the right-field wall by Chris Davis, a single by Trey Mancini and a walk to Danny Valencia loaded the bases with two outs in the bottom of the first. Moya was able to strike out Anthony Santander looking to end the frame and extend Moya's scoreless streak to eight appearances.
:: Spring Training coverage presented by Camping World ::
Although the situation was of his own making, Moya said it was good practice for when he is called in from the bullpen with multiple runners in scoring position.
"I've felt really good throughout the spring against lefties, and it helps with my confidence showing the team and the manager that I can get outs, not just lefties," Moya said through an interpreter. "It was something I want to prove. I think I did a good job of that."
Moya, who has not allowed a run since Feb. 24, is 1-0 with a 0.82 ERA and 12 strikeouts in 11 innings this spring.
"I've demonstrated everything I could this Spring Training and did everything I could in my power to show the team that I could, but that's not in my hands," Moya said. "I think I was able to show them who Gabriel Moya is."
Kinley did not fare quite as well in his inning of work. After he walked the first batter he faced in the second, Craig Gentry, Caleb Joseph doubled down the third-base line. Manny Machado singled to right to bring Joseph in for Baltimore's second run of the night. After going six straight appearances without an earned run, Kinley has allowed five in his past two outings to push his ERA from 2.25 to 5.73.
Molitor said the plan was to address the final roster moves on Sunday.
Injury updates
• Righty Phil Hughes has a mild left oblique strain from Thursday's game against the Yankees. Hughes (1-1, 6.06 ERA) has had a rough spring, allowing 11 earned runs -- including six home runs -- in 16 1/3 innings over five starts. The team will re-evaluate the veteran before the travel day on Monday. The Twins would not require Hughes' service as a fifth starter until April 11.
"Obviously, we'll have to figure out how to handle that situation depending on how much progress we see, even day to day right now, as we shape our roster," Molitor said. "If we have to go down the DL track, we will adjust that way, and if he's healthy enough to pitch, there's going to be a little enough of a gap potentially of when he can get back on the mound, and we're going to have to figure that out and see how sharp he is going to be and all those things."
• Outfielder Zack Granite sustained a right shoulder contusion while making a diving catch on Thursday. The speedy Granite was competing to become the the team's fourth outfielder, but he struggled at the plate, batting .125 (5-for-40) with no stolen bases. He is considered day-to-day.
"I think he's a little better than he was yesterday, but he's still having some limited range with his arm as far as being able to swing and get his arm up over his head and things like that," Molitor said.
Camp battles
Utility infielder Ehire Adrianza had a big day at the plate, going 2-for-5 with two runs scored and three RBIs. He homered into the right-field corner in the first off Baltimore starter Chris Tillman and then capped a five-run second inning with a double.
With the 80-game suspension of Jorge Polanco pushing Eduardo Escobar into the starting shortstop spot, Adrianza is the front-runner to take over the super utility role. He is batting .295 with two home runs and a team-leading 11 RBIs this spring.
Up next
The Twins will return home to wrap up the Florida portion of their exhibition season when they host the Red Sox at Hammond Stadium on Sunday at 12:05 p.m. CT. Veteran right-hander Kyle Gibson (1-1, 1.80 ERA), who was named the team's No. 2 starter this week, will face off against Boston lefty David Price. The game will be broadcast live on MLB.TV.
J. Scott Butherus is a contributor to MLB.com and covered the Twins on Saturday.